How can the cloud help manufacturers improve product development to drive higher levels of profitability? Tech-Clarity surveyed over 300 companies about cloud product development to find out.
The Cloud Improves Product Development Speed and Collaboration
Researchers discovered that product development speed drives profitability, but that today's status quo hampers time to market because product development resources waste too much time on non-value-added activities. On the other hand, companies that use the cloud for product development find it easier to collaborate, waste less time, and are less likely to report missing due dates due to product development challenges.
Please enjoy the summary* below. Access the full eBook from our sponsor, Onshape (registration required).
Table of Contents
Profitability Demands Product Development Velocity
Companies are Wasting too Much Development Time
Wasted Time Leads to Costly Errors and Delays
Increased Reliance on Others will Increase Wasted Time
Benchmarking Product Development Performance
The Cloud Enhances Product Development
The Cloud Fuels Collaboration
Cloud Benefits for Product Development
Conclusions
About the Research
Acknowledgments
Profitability Demands Product Development Velocity
The Need for Speed
Let's start with the business in mind. Product development is critical to a profitable manufacturing company. Manufacturers must innovate quickly to respond to market and customer needs. Responding companies confirm this, with over one-half selecting product development speed as a driver of their business success and profitability over the next three years, making it the most prevalent factor.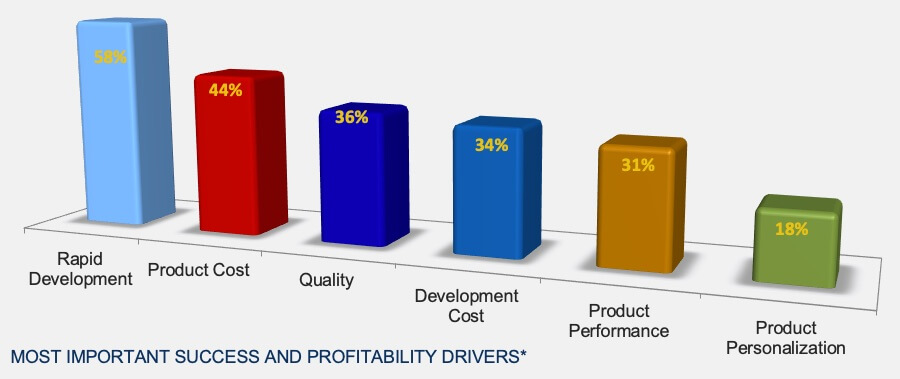 Design Necessities
Cost, quality, and performance are also commonly reported drivers. Our product development research, however, consistently shows that these are market necessities and not necessarily differentiators. Our experience shows that most companies choose to delay product delivery to satisfy quality and performance goals, sacrificing due dates, market speed, and associated leadership opportunities.
Companies are Wasting too Much Development Time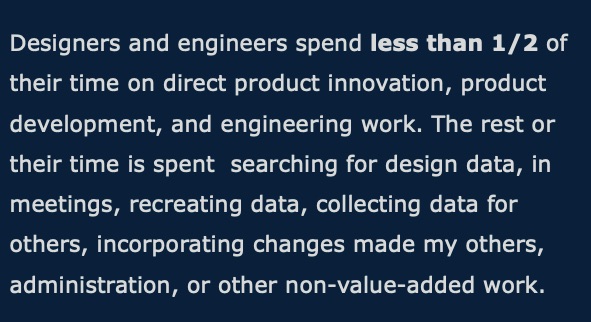 Non-Valued-Added Activities Lose Precious Time
Although time is critical, product developers spend a significant amount of time waiting for others and working on non-value-added activities. Survey respondents report waiting for data, waiting for others to finish designs, and the ever-present challenge of finding the data they need to do their jobs. Beyond that, they report losing time attending non-productive meetings.
Technical Resources Waste One-Half of their Time
The amount of wasted time is significant. Respondents report that technical resources such as designers and engineers only spend about 47% of their time directly on product innovation, product development, and engineering.  Manufacturers can't afford this when time is so crucial to profitability. Just imagine the benefits of eliminating these challenges and the impact it would have on product development speed.
Conclusions
Key Findings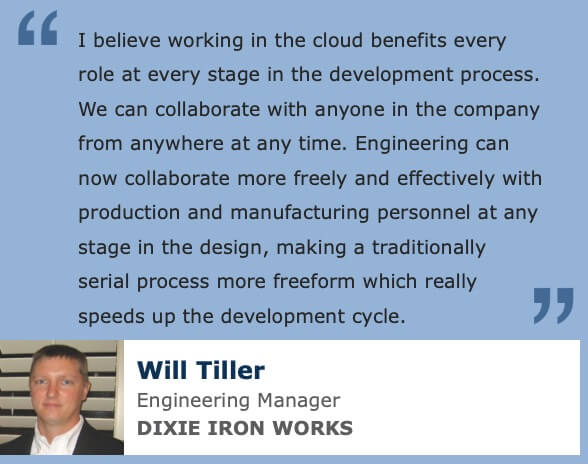 Companies need to move fast in product development in order to drive profitability, but currently waste too much time on non-value-added product development activities and suffer from delays. Many of the challenges that hamper product development speed relate to waiting for others. Unfortunately, reliance on others – both internally and externally – is both highly valuable and growing.
Top Performers, however, are more likely to use cloud systems for product development and are better able to collaborate and waste less time than Others. Both Top Performers and companies that use the cloud report much easier collaboration, both internally and more importantly externally. The bottom line is that companies that use the cloud waste less time and are less likely to miss due dates, driving the product development speed that leads to business success and company profitability.
*This summary is an abbreviated version of the research and does not contain the full content. A link to download the full report is available above.
If you have difficulty obtaining a copy of the report, please contact us using the "Contact" link below.