I had the opportunity to visit Graphisoft's Budapest headquarters for their recent Building Together | Connect event. I left the event with several key takeaways:

They showed significant progress and alignment around their strategic vision to integrate AEC design processes across disciplines

They delivered on a variety of enhancement requests for their existing customer base

They demonstrated a product roadmap process that provides transparency and advanced insights while balancing strategic and tactical enhancements 
Progress on Vision for Integrated Design
Our research shows the importance of integrating designs across disciplines in architecture, engineering, and construction (AEC). Graphisoft is aligning its offerings to better support this integrated approach by enabling digital, multidisciplinary design processes around a common model. This integration will help foster better communication and collaboration to address increased complexity and help architects create more innovative and constructible designs.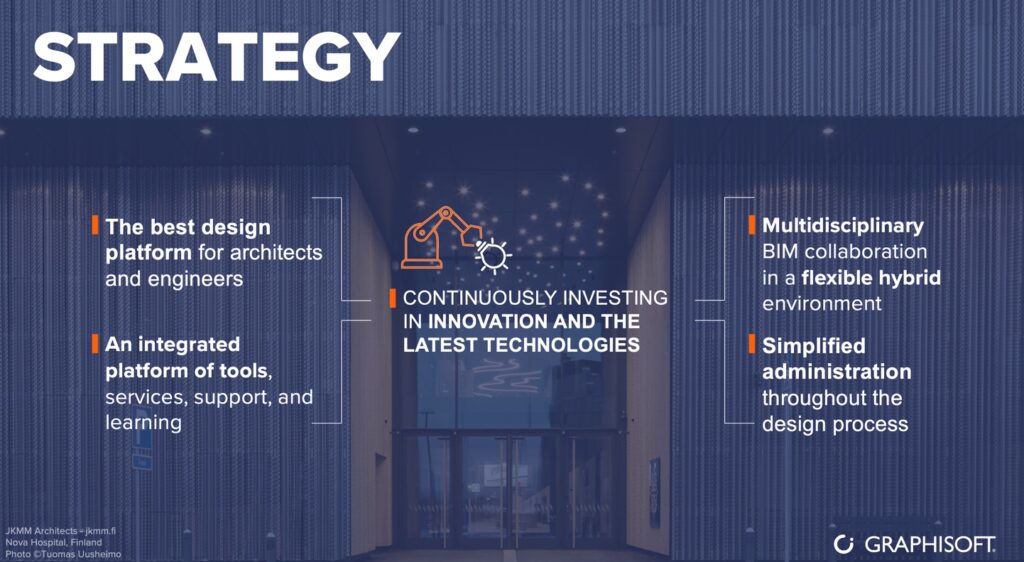 Graphisoft shared its strategy and pointed to significant progress that will help integrate the work of its traditional architect customer base with others. At the event, they shared the release of the MEP Modeler in Archicad and new capabilities in DDScad. They plan to continue to add MEP / structural capabilities with every release. They also demonstrated enhancements to BIMcloud and BIMx that help support collaboration and interoperability to support industry initiatives and standards, including open BIM. 
As a reflection of their integrated approach, they merged their product release announcements into one instead of individual announcements for Archicad, DDScad, BIMcloud, and BIMx. That might seem subtle, but it's a meaningful statement about the importance of integration and evidence of a more integral product planning process and mindset.
Delivering on Customer Requests
The launch event was open to customers and Graphisoft paid clear attention to enhancements that make life better for existing customers. Graphisoft confirmed that "architects will always be at the center of our thinking," even as they extend capabilities for multidisciplinary teams. These announcements are not the type that excite the market, but they are the tactical improvements that customers love. Some examples included integrated design option management to prevent the need to make numerous copies of a model, improved attribute management, smart distance guides, streamlined manufacturing library import, advanced model compare, and enhanced search. Graphisoft experts explained each of these in detail, and although the customer audience was remote, I could imagine their pleased responses. Graphisoft also added improved documentation for single-line drawings, which will likely make certain customers happy and also make Archicad more attractive in North America. It appears Graphisoft delivered some real value to existing customers with this release.
New Roadmapping Process
As mentioned, the announcement shared enhancements to help Graphisoft deliver on its vision but also showed strong evidence that they are listening to their customers. I met with the head of product management, Sylwester Pawluk, and Ghaleb Khadra from professional services to understand their product planning approach for the release. The plan included a mix of strategic additions like one-click LCA and tactical customer enhancements. What's new, I'm told, is that Graphisoft has adopted a transparent roadmap so customers know what to expect. They also implemented a new technology preview process to share the enhancements with customers in advance and gained a very positive reaction to the release from their pre-release preview process.
Graphisoft now offers a live roadmap on its website, and this release shows that they delivered on their promises. In addition to solid roadmap items, Graphisoft shared research initiatives they're focused on, including AI assistance, parametrics, and augmented / virtual reality. We expect to see results from these added to their roadmap over time. Again, Graphisoft is showing transparency and gaining credibility by announcing what they're working on and adding it to the roadmap as they become confident of when and how they'll upgrade their capabilities.
Final Thoughts
It's great to see progress on both vision and customer-oriented enhancements. We're excited about Graphisoft's vision to offer a more integrated AEC solution while supporting existing architect customers. To do this, we expect to see continued investment in their existing solutions. We also believe we will see Graphisoft leverage more capabilities from across parent company, Nemetschek, to fulfill their vision and bring more value to their customers. AEC software is a dynamic market with significant opportunities for vendors and the industry. We look forward to seeing what Graphisoft delivers next. 
Thank you to CEO Huw Roberts, Ron Close, Julianna Gulden, and the Graphisoft events team for inviting me to join such a well-organized, informative event. Further thanks to Sylwester Pawluk and Ghaleb Khadra for sharing product strategy and progress.
For more information about integrating design processes, see the survey results from our The State of Collaborative Design in AEC study.