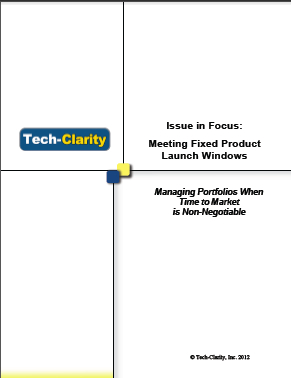 Issue in Focus: Meeting Fixed Product Launch Windows – Managing Portfolios When Time to Market is Non-Negotiable discusses the importance of stepping up product portfolio management (PPM) and new product development (NPD) performance when companies have to hit product launch windows dictated by external factors such as holidays, important industry trade shows, high fashion seasons, etc.
Please enjoy the free Executive Summary below, or click the report title above to download the full PDF (free of charge, no registration required). The full paper is also be available in the Planview Resource Center, sponsored by Planview.
Table of Contents
Introducing the Issue
Create a Realistic Portfolio Plan
Roadmap Product to Launch Window Relationships
Create Detailed Project Plans
Recognize and Account for Risk
Execute
Conclusion
Recommendations
About the Author
Introducing the Issue
Tech-Clarity research shows that reducing time to market is a high priority for companies targeting product development performance and profitability improvements. Speed is critical because the winner of the product development race can take advantage of premium pricing, higher profit margins, and a jump on the competition to lock in market share. On the other hand, the impact of delayed time to market can be significant, for example:
A pharmaceutical company may lose $1 million per day a launch is late
Government contractors missing milestones may forgo incentives and face penalties
Industrial products companies can miss customer commitments and expectations
For some companies, time to market takes on even greater criticality. These companies face fixed launch windows driven by market dynamics beyond their control. If they miss the window, the market opportunity is lost. In some cases the opportunity may be available again in the next window, but because technology and innovation move so quickly many potential market offerings are lost forever and the product may simply be scrapped. For example:
A confectionary company missing the Easter season faces significant bottom-line impact
A high-tech company delaying release beyond an important trade show or investor conference can damage their brand and be punished by investors
A toy company missing the Christmas season faces a huge lost opportunity
A high fashion apparel company missing the Spring season is just not acceptable and will damage relationships with their retail partners
Companies approaching fixed launch windows without any innovative, new products put customer satisfaction and brand loyalty at risk. As one consumer goods market insider said recently, "You can't negotiate with Christmas." If the usual brand doesn't have anything compelling to offer it gives loyal customers a reason to try a competitor's product and potentially switch their buying behavior. So when time to market is critical, companies have to step up their product portfolio management (PPM) and new product development (NPD) performance.