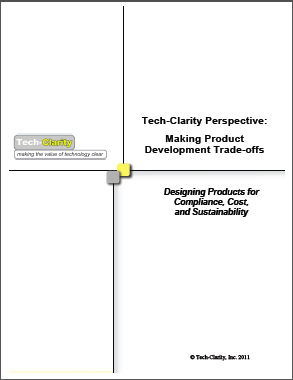 Tech-Clarity Perspective: Understanding Product Development Trade-offs – Designing Products for Compliance, Cost, and Sustainability presents results from a survey on how companies design their products to meet environmental regulatory compliance, product sustainability, and product cost targets. Shares survey data and perspectives from two leading manufacturers on how they collect data and manage the trade-offs between these important design criteria.
Please enjoy the Executive Summary below, or click the report title above to download the full PDF (free of charge, no registration required).
Feel free to watch the Related Webcast sponsored by PTC (free of charge, registration required).
Table of Contents
Executive Overview
The Product Development Balancing Act
Barriers and Challenges
Design for Environmental Compliance
Design for Sustainability
Design for Cost
Enabling Optimal Design Decisions
Enabling Efficient and Effective Data Collection
Conclusion
Recommendations
About the Research
About the Author
Executive Overview
Over the last five to ten years, product environmental compliance has become increasingly critical to protecting top line revenue. Now, manufacturers also face emerging sustainability requirements stemming from corporate "green" initiatives, market pressure, scrutiny from NGOs like Greenpeace, emerging customer mandates, and even financial pressure from investors and sources like the Dow Jones Sustainability Index. To remain profitable, companies have to address compliance and sustainability while minimizing the impact on product cost. "We can't sell a product if it's not compliant so cost doesn't enter into the equation for regulatory compliance. Since we are in a business that needs to remain viable, we must thoroughly investigate and assess our voluntary green initiatives with regards to impact to cost in other areas," explains Kim Braun, an Environmental Compliance Engineer for Microsoft.
Engineers and product developers have to address all of these criteria – compliance, cost, and sustainability – early in the product lifecycle when changes can still be made. Unfortunately, these are not independent criteria. Changes to one aspect can have a dramatic impact on the others. Similar to a juggler spinning plates, product developers have to focus on all aspects at once or they may all come crashing down. To address this, leading companies are building compliance, cost, and sustainability analysis into their design processes. "We try hard to embed it in design excellence and not make it a separate process," explains the leader of corporate environmental compliance for a leading consumer products company.
To understand the challenges manufacturers face in designing products for environmental compliance, sustainability, and cost, Tech-Clarity surveyed over one hundred companies and interviewed two leading, global manufacturers. The research identified two major themes that hinder companies from optimizing designs:
Collecting the right data to make informed decisions
Making the information readily available to product developers in time to make decisions
These issues lead to delayed time to market, loss of market share, and high costs. Part of the issue is the fragmented processes and software systems used to support the design process. On the other hand, well designed, integrated enterprise systems can enable product developers to analyze the impact of design decisions and make tradeoffs earlier in the product development process to develop more optimal products. With the right processes in place, systems also help drive efficiency so companies can have a repeatable, cost-effective process to ensure compliance, sustainability, and cost optimization without compromising efficiency or time to market.