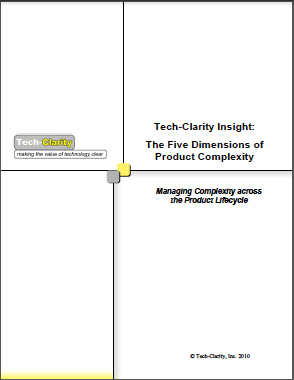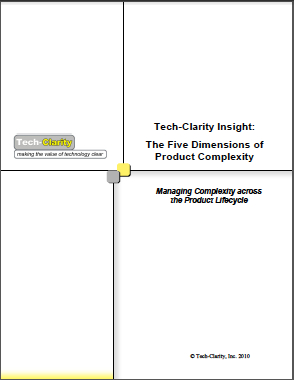 Insight: The Five Dimensions of Product Complexity – Managing Complexity across the Product Lifecycle highlights the trend toward increased product complexity and how it has made developing profitable products more difficult. Details the five dimensions and discusses how PLM software helps manage the complexity on an enterprise scale, helping manufacturers achieve greater efficiency and better products.
Please enjoy the Executive Summary below, or click the report title above to download the full PDF (free of charge, no registration required).
Table of Contents
Executive Overview
The Curse of Complexity
1st Dimension: Mechanics
2nd Dimension: Mechatronics
3rd Dimension: Global Markets
4th Dimension: Global Design and Manufacturing
5th Dimension: Lifecycle Profitability
Managing the Complexity – PLM
Conclusion
Recommendations
About the Author
Executive Overview
The simple reality is that today's products are complex. They are complex to design, complex to produce, and complex to support. Across the manufacturing industries, the trend over the last ten years has been increased complexity. This challenge, whether it is inherent to the product itself or the difficult manufacturing landscape of the twenty-first century, has made the job of developing and delivering profitable products more difficult. One company facing increased complexity is Mercury Marine, a leading manufacturer of recreational marine propulsion engines. As Fred Bellio, Director or Processes, Systems and Global R&D for Mercury Marine explains, "People don't recognize how much impact product complexity has on their cost and their business."
Effectively managing product complexity, in all of its forms, is an important business issue. This report examines how manufacturers address the five critical dimensions of product complexity to achieve maximum profitability, including:
Mechanical Complexity
Mechatronics
Global Markets
Global Design and Manufacturing
Lifecycle Profitability
Then, this report describes how PLM (Product Lifecycle Management) solutions help manage these five dimensions of product complexity on an enterprise scale, resulting in greater efficiency and better products. PLM was originally developed to manage complexity by improving processes such as change and configuration management, key tools for combating product complexity. As product complexity has increased, PLM has evolved, expanding to manage more aspects of product development, including a richer view of the product, more people involved in product innovation, more phases of the product lifecycle, and enabling more product-related processes. These capabilities make PLM the right tool to manage product complexity and enhance product profitability.