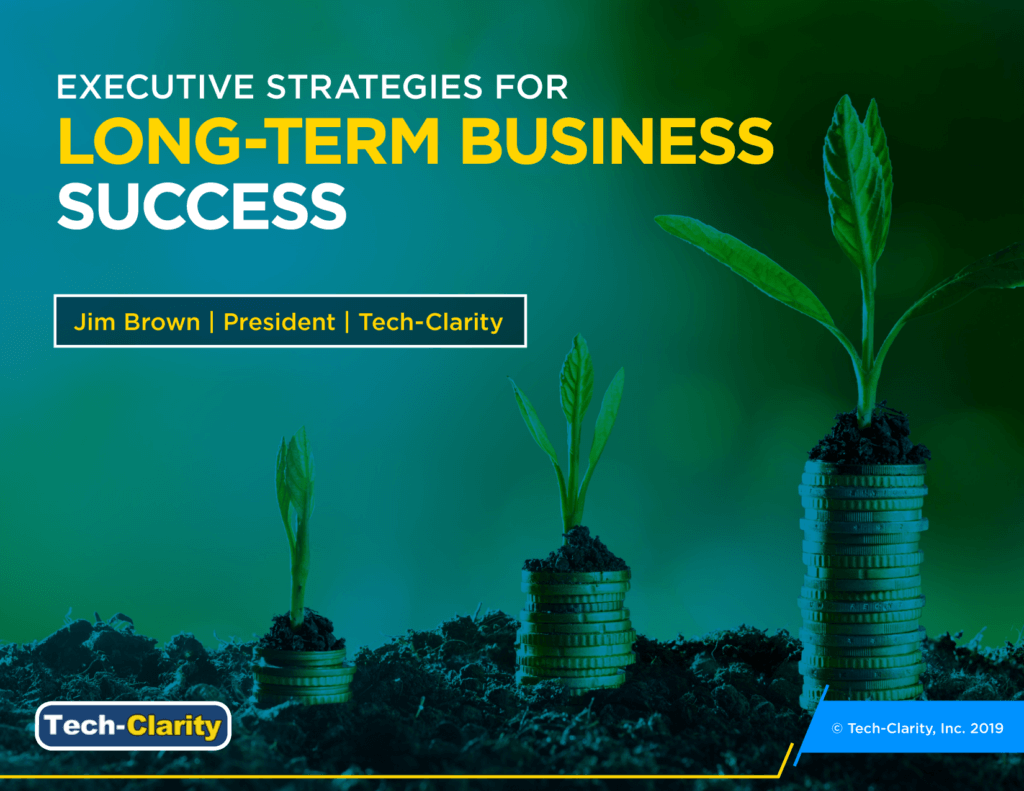 What is the impact of disruptive industry forces like digital transformation and sustainability on long-term business success, and how are companies responding? Companies are facing pressure from all angles, threatening their long-term survival and success. Business is digitalizing and customers are demanding more. The workforce is aging. Natural resources are increasingly constrained as populations grow and urbanize. New technologies like artificial intelligence and the IoT are creating opportunities but upsetting the status quo. As if that's not enough to deal with, political uncertainty is the new reality.
What sustainability pressures are executives worried about and what strategies are they adopting in response? We surveyed over 150 executives from companies with greater than 1,000 employees to find out.
Please enjoy the summary below. For the full Executive Strategies for Long-Term Business Success research, please visit our sponsor Dassault Systemes (registration required).
Table of Contents
Disruptive Forces Threaten Business Sustainability
Business Risk and Disruption are on the Rise
What Drives Long-term Company Success?
What's Driving Company Strategy?
Innovation Basics and Beyond Lead to Success
Workforce Development is Critical to Success
Economic, Environmental, and Social Sustainability
Executives Must Lead Their Companies to Succeed
Execution Faces a Variety of Barriers
Sustainability has Unique Challenges
Managing Change is a Multi-Faceted Issue
Conclusions and Next Steps
About the Research
Acknowledgments
Business Risk and Disruption are on the Rise
Market Reinvention is Increasing
Surveyed executives share that their markets have experienced increased business risk and disruption over the last five years. About three-quarters of companies say this turmoil has increased, with almost one-quarter saying it has increased "significantly."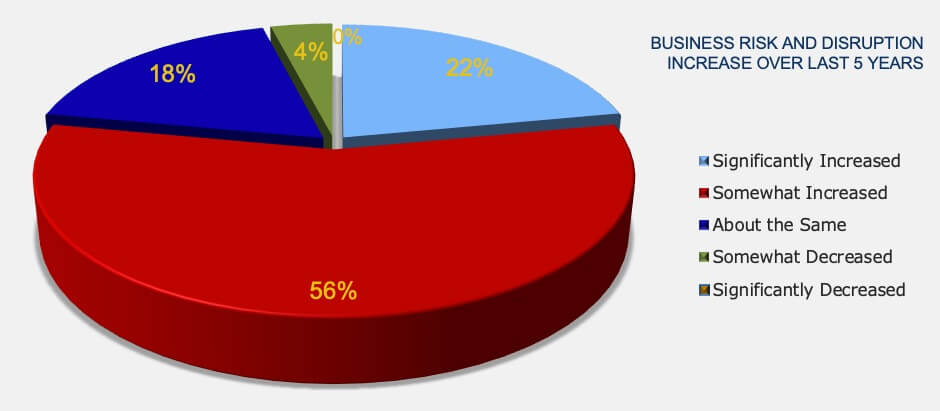 Larger Companies Face Greater Risk
Larger companies are experiencing greater challenges. A full one-half of companies with over 10,000 employees say that risk and disruption have increased "significantly." The status quo is changing, and market leaders are at risk of disruption while challengers have great opportunities.
Few are Exempt from the Impact
Today's industrial revolution is extremely broad. Out of all of the companies surveyed, only 4% said that this market upheaval has decreased. No participants indicate it has decreased "significantly."
It's Time to Act
Executives have to sustain business performance despite these conditions – or better yet find a way to capitalize on the disruption. Let's take a deeper look at the business sustainability challenges companies face and what they're doing about it.
What's Driving Company Strategy?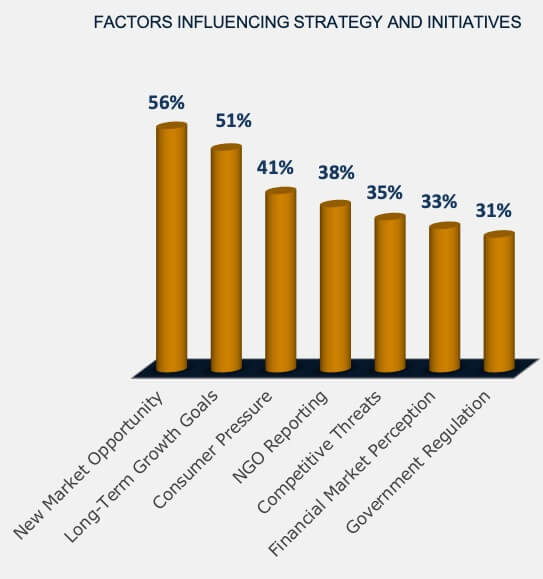 Executives are Looking to the Future
With disruption and competing needs, what do companies take into consideration when developing and executing their business strategies? The most commonly reported corporate strategy and initiatives drivers are new market opportunities and long-term growth objectives. In fact, only 13% of respondents indicate that short-term profits influence their direction, reflecting a longer-term horizon for these decisions.
Companies Respond to Outside Pressure
Executives also report that consumer pressure and non-governmental organization (NGO) reporting influence their strategy decisions, as do financial market perception and regulation.
Although the overall results show only about one one-third of respondents say regulation impacts strategy, C-Level execs are 40% more likely to view governmental regulations as a driver than VPs and Directors. In addition, companies with over 5,000 employees are almost twice as likely to drive strategy based on government regulation.
Regulation and Oversight Drive Sustainability
Corporate responsibility and environmental issues do not directly make the list of top strategic influences, but other driving forces such as consumer pressure, NGO reporting, and regulation influence these important issues indirectly.
The influences vary by regions. For example, North America is more focused on consumer pressure and regulation than the average across regions, while Europe is more focused on NGO reporting. These factors likely drive these markets toward sustainability.
Conclusions and Next Steps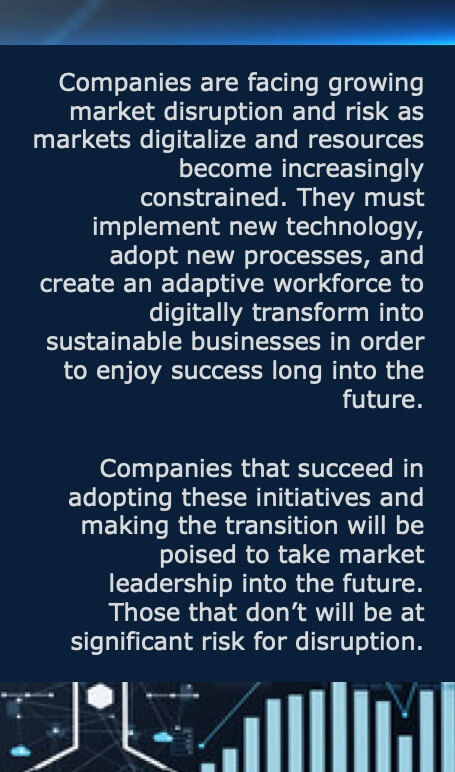 Industry Risk and Disruption Demand Change
Global markets are undergoing major disruption. Companies have to adapt to survive and prosper into the future. Current shifts in business models, technology, the environment, and socio-economic factors can challenge leaders and provide challengers the opportunity to become a disruptor. One thing is certain, the status quo is changing rapidly.
Companies are Choosing their Sustainability Initiatives
Executives are identifying and prioritizing the actions they believe will take their businesses into the future. Today, companies are focused most commonly on economic sustainability, with a strong emphasis on product and service innovation. They are keenly focused on making the transition to digital business models in order to stand the test of time.
At the same time, they recognize the need for greater environmental and social responsibility, particularly reacting to regulatory demands. In addition, customer perceptions and NGO reporting are likely encouraging sustainable approaches.
Finally, executives recognize they need to invest in the workforce of the future. This includes getting the most out of existing resources as well as attracting and retaining new talent. In order to gain value from their human resources, they are also focused on the ability to capture company knowledge and know-how.
Putting Initiatives into Action
There are numerous initiatives underway, each with their own level of executive sponsorship, funding, enterprise change management, and technology support. Companies have to take on the challenge of prioritizing and supporting each of these initiatives in order to create long-term, sustainable business success. In particular, surveyed companies would benefit from more attention to enabling enterprise technology.
*This summary is an abbreviated version of the research and does not contain the full content. A link to download the full report is available above.
If you have difficulty obtaining a copy of the report, please contact us using the "Contact" link below.