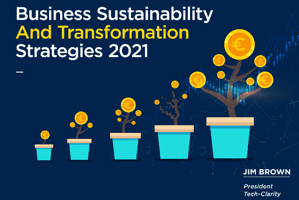 With the crisis phase of COVID-19 passing, how are companies adjusting corporate strategies and priorities to address intensified business risk and disruption? How are they setting transformation strategies to ensure long-term business success and profitability in the face of rapidly evolving business models, new technology adoption, environmental concerns, socio-economic issues, and political uncertainty? We surveyed 246 organizations to find out.
Please enjoy the summary* below. For the full research, please visit our sponsor Dassault Systèmes.
You can also read our 2020 research, Business Sustainability and Survival 2020, as well as our 2019 research, Executive Strategies for Long Term Business Success.
Table of Contents
Business Risk and Disruptions Have Grown
COVID-19 Disruption Brought Surprises
Some Are More Prepared For Future Disruptions
2021 Returns to Balanced Response to Disruption
Actions and Strategies Realigned (Exiting Crisis Mode)
Strategic Drivers Return to Long-Term Sustainability
Importance of Technology To Long-Term Success
A Wide Variety of Technologies Are Strategic
Pursuing A Variety of Tech-Supported Initiatives
Executing Initiatives Is Still A Challenge
Technology Adoption Challenges
Conclusions and Next Steps
About the Research
Acknowledgments
Risk and Disruption Countered By Transformation
The Crisis Is Passing, But Business Risk and Disruption Persist
In 2019, our Executive Strategies for Long-Term Business Success1 study found that business risk and disruption had increased for about three-quarters of survey participants over the prior five years. Clearly, business risk and disruption are not new.
In 2020, our Business Sustainability (and Survival) Strategies 20202 research found that the COVID-19 disruption led many organizations to go into survival mode. The impact of the pandemic was unpredictable and had a more prolonged impact than other recent disruptions including earthquakes, tsunamis, volcanic activity, hurricanes, and human-created events like terrorism and armed conflict. Although they remained committed to important strategic initiatives like digital transformation and innovation, they lost focus on other essential pillars of long-term business sustainability.
Although some are still struggling personally and professionally, our 2021 survey of 246 organizations finds that many organizations have emerged stronger because they innovated and implemented new technology to survive. The result is a market divided into organizations that are more agile and prepared for the next disruption and others who are at significant survival risk.

2021 Returns to Balanced Response to Disruption
Survival Mode 2020
In 2020, we shared how organizations were responding to the disruption. The results were simultaneously encouraging and discouraging. We saw that organizations enhanced their activity on some long-term business sustainability priorities while putting others on the back burner. We believe this was a short-term survival tactic. We learned that organizations were:
Accelerating digital transformation
Maintaining investment in innovation and agility
Decreased attention, slowed down, or even put on hold developing the workforce of the future and improving environmental impact

2021 Reaction Reflects a More Long-term View
The current survey results indicate that organizations are returning to a more balanced response across the pillars of business sustainability. Over the last year, we've seen workforce development and environmental sustainability focus rebound. The number of organizations that report they are increasing focus or accelerating environmental sustainability efforts tripled from 12% to 36%, and those that are increasing attention on workforce development grew by 255%. These changes are encouraging, but also reflect the reality that many took a step back from these needs due to the magnitude of the disruption. The return to a balanced approach will help organizations recover and transition to a new normal.
Importance of Technology To Long-Term Success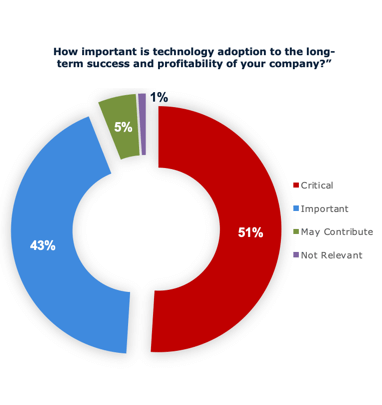 Digital Transformation Is Becoming The Norm
We put greater emphasis on technology in this year's survey because almost one-half of businesses increased focus and/or accelerated digital transformation last year due to the pandemic. This is not just due to the pandemic, of course. Our survey on the state of digital transformation3 found that more than one-half of respondents believe that digital initiatives are "important" if not "critical" to their business strategy. This survey supports that, showing the high strategic importance of digital transformation. It also points to the need to enable more remote work and collaboration, which requires new, digital technologies.
Sustainability Requires New Technology Adoption
How important, then, did respondents report that technology adoption is to their company's long-term success and profitability? Just over half say it's critical, and a full 94% state that it's at least important. The answer is not surprising. Many traditional organizations are in the process of becoming digital businesses. The message is clear; technology is a vital enabler of long-term business sustainability.
Conclusions and Next Steps
The Crisis Is Subsiding
Our 2021 survey finds that responding to COVID-19 disruption is no longer the most pressing inhibitor to focusing strategy on long-term business success and profitability. Researchers found that company strategies are now more balanced and organizations can better address all of the pillars of long-term business success – including those related to corporate responsibility.
Stronger Capabilities
During the disruption, many organizations accelerated digital transformation, enhanced innovation, and increased their agility. They also adopted new, digital technologies and ways of working to better collaborate and support remote work. In many ways, those organizations that invested in these types of digital transformation are better prepared for the next disruption.
Risk, Disruption, and Opportunity
Despite the reduced impact of the current disruption, business risk skyrocketed between 2019 and 2021. The disruption led to new risks like new competitors. Further, organizations still need to address rapidly evolving business models, new technology adoption, environmental concerns, socio-economic issues, and political uncertainty.
Be Better, Adapt, Or Risk Being Obsolete
Now that the short-term crisis has passed, organizations can focus on the three pillars of long-term business sustainability. But organizations must remain agile, continue to transform, and learn to be prepared to respond to future disruptions. They must continue to adopt new technology and business models, despite initiative execution and technology adoption challenges. Lastly, they must remember to maintain a balanced strategy that includes product and service innovation, workforce development, environmental stewardship, and corporate social responsibility.
*This summary is an abbreviated version of the ebook and does not contain the full content. For the full research, please visit our sponsor Dassault Systèmes.
If you have difficulty obtaining a copy of the research, please contact us.