What soft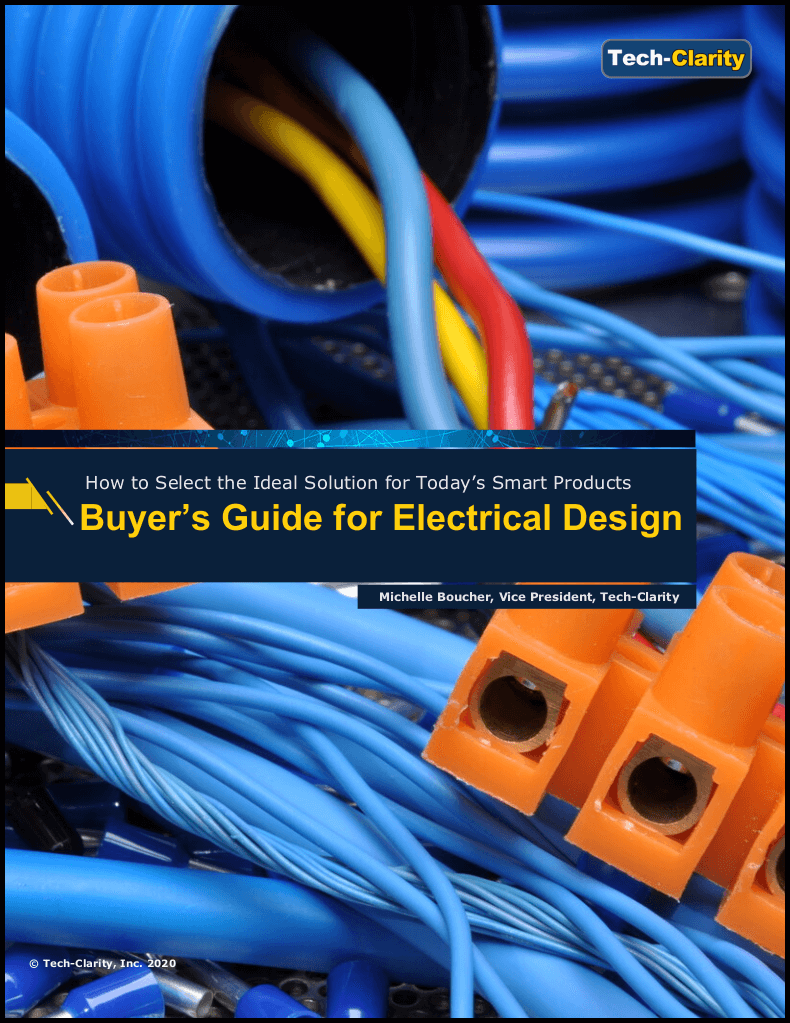 ware capabilities will help you improve how you integrate mechanical, electronics, and electrical designs?
Tech-Clarity's buyer's guide, How to Select the Ideal Solution for Today's Smart Products: Buyer's Guide for Electrical Design, explores this question. As companies strive to make modern products smarter, innovative and more affordable, the integration of mechanical, electrical and electronic systems has become critical.  Unfortunately mechanical and electrical engineers speak different languages, use separate tools, follow different design approaches and have inherent knowledge silos.  Companies that have solutions to overcome these challenges will have a significant advantage in the global economy.
Please enjoy the summary* below. Please visit our sponsor, Siemens, for the full research (registration required).
Table of Contents
Executive Overview
The Growing Importance of Electrical Design in Product Development
Address the Challenges of Electrical Design
Define the Electrical Distribution System
Engineer Wiring and Harness Design in the Context of the Complete Product
Plan Electrical Routing
Prepare for Manufacturing
Service Requirements
Vendor Requirements
Identify Unique Company Needs
Conclusion
Recommendations
About the Author
Acknowledgments
Executive Overview
Today's modern products are rarely purely mechanical. Companies rely on electrical and electronic systems more than ever to make products smarter, add innovation, and lower cost. As such, electrical design has become increasingly critical to product development. However, to be successful, mechanical and electrical designs must seamlessly integrate. The problem is that mechanical and electrical engineers speak different languages, use separate tools, and follow unique development approaches.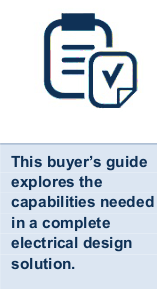 To make matters worse, there are inherent knowledge silos across the two domains. Ignoring these challenges and not finding solutions to break down barriers and bring the teams closer can come at a significant cost to the company. Tech-Clarity research [1] finds collaboration challenges results in:
Higher cost
Market delays
Missed customer expectations
Lost revenue opportunities
Poor quality
Companies who can successfully navigate the challenges and put the right solutions in place will have a significant advantage.
A Complete Digital Model
One approach is to develop a complete digital model of the product, including all mechanical and electrical components of the design. For many companies, this can be a first step for developing a digital twin of their products. A way to achieve it is to use an integrated product development platform that supports the entire product development process.
The Right Solution
However, this approach will not be successful for today's modern products without the right capabilities to support electrical design. With the right electrical design solution, engineers can save time, avoid errors, and spend more time innovating.
About This Guide
This buyer's guide explores the capabilities needed in a complete electrical design solution. It consists of four major sections covering software tool functionality, service requirements, vendor attributes, and unique company considerations for a complete solution to support electrical design, especially in the context of developing the entire product (Figure 1). Each section includes a checklist of key requirements to consider when selecting a solution.
This guide is not an all-encompassing requirements list. It provides a high-level overview. PCB Design is also an important component of electrical and electronic systems design, but for the purposes of this guide, it was considered out of scope. For more information on a complete integrated product development suite beyond electrical design, read the Tech-Clarity report, "Buyer's Guide for Engineers: How to Select Essential Tools for Product Design."
Recommendations
Based on industry experience and research for this report, Tech-Clarity offers the following recommendations:
Create a digital thread across your development process with an end-to-end integrated product development suite that includes electrical design.
Consider solutions that support defining the electrical distribution system, wiring and harness design, electrical routing, and preparing for

manufacturing.

Support collaboration across mechanical and electrical engineers. Wiring and harness design should be done in the context of the entire product and exchanging ECAD / MCAD data should be automated.
Ensure you have traceability and changes automatically update across the entire product, including the electrical design.
Use an electrical design solution that will support the development of a single high-fidelity model to support your digitalization strategy and create a single source of truth.
Ensure your solution will have the support behind it to make it a success at your company.
Select a vendor who will be a good partner.
[1] Michelle Boucher, Transformational Product Design: How to Achieve Success Designing Smarter Products, Tech-Clarity.
*This summary is an abbreviated version of the ebook and does not contain the full content. Please visit our sponsor, Siemens, for the full research (registration required).
If you have difficulty obtaining a copy of the research, please contact us.