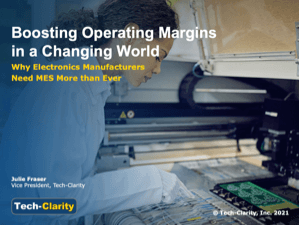 Given the unpredictable supply and market, how can electronics manufacturers prosper? Read Boosting Operating Margins in a Changing World: Why Electronics Manufacturers Need MES More than Ever to see that even the best SMT software is not enough. You'll hear from us and three major electronics companies' executives on:
Recognizing that new business models have expanded the scope and negative impact of the hidden factory 

Meeting customer expectations with smooth IT/OT data flows inherent in Industry 4.0 

Focusing on end-to-end manufacturing data flows

Standardizing on modern electronics MES for greater profit margins
For related research, please read The Manufacturing Data Challenge.
Please enjoy the summary* below. For the full research, please visit our sponsor Critical Manufacturing (registration required).
Table of Contents
Revenue Opportunity Puts Pressure on Plants 

Hidden Factory 

New Business Models 

Manufacturing Data Challenges 

Managing Manufacturing Data 

Industry 4.0 

Business Pressure to Invest 

Helping Manufacturing Data Flow 

Benefits of Standardizing on MES 

Recommendations  

Conclusion / Call to Action 
Executive Summary
The smart connected world presents enormous growth opportunities for electronics manufacturers, including components, boards, substrates, contract manufacturers, and OEMs. Yet, that growth comes with product and application diversity and price pressures. That combination of factors creates tremendous challenges to keep operating margins and profit healthy. Improved manufacturing data management can address many of those challenges. Fortunately, a proven solution is to add a modern Industry 4.0-ready manufacturing execution system (MES).

Conclusion
Operational Benefits 
Modernizing the manufacturing data landscape has clear benefits for electronics operations. Systems must deliver visibility and coherent data for
• day-to-day operating
• ease of delivering data to customers
• being agile in the face of relentless change
• ability to support advanced analytics for continued improvements 
Bottom-line Impact 
Good manufacturing data management can also support lower operating costs, continuous improvement, and productivity. Modern MES, with its data flows and context, can help nearly everyone. This includes IT and OT staff trying to maintain their systems, engineers working to understand how well their designs are performing, operators and supervisors making splitsecond decisions, or executives making business and partnership decisions. 
Top-line Impact 
Customers demand that electronics companies ship reliable and complete data with products. Modern MES delivers track and trace, but so much more to ensure data and products meet requirements. In this way, MES can boost top-line revenues, design wins, and ongoing loyalty. 
Act Now to Protect Profits 
Electronics companies must not be complacent. Applications, products, and business models are changing. Many older systems cannot support the business's most profitable aspects, such as outsourced services for design, assembly, testing, and logistics. The good news is, today's modern MES can act as the manufacturing data management system you need to meet expectations and boost operating profits.
*This summary is an abbreviated version of the research and does not contain the full content. Please visit our sponsor Critical Manufacturing for the full research (registration required). 
If you have difficulty obtaining a copy of the report, please contact us.