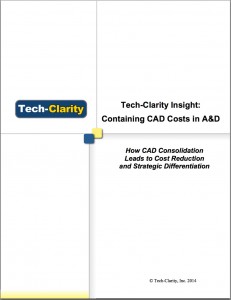 Tech-Clarity Insight: Containing CAD Costs in A&D – How CAD Consolidation Leads to Cost Reduction and Strategic Differentiation explores how aerospace and defense companies can save money by consolidating CAD solutions. The report examines key criteria in a CAD solution that are needed to support design best practices for A&D companies.
Please enjoy the summary below, or click the report to download a PDF overview (free of charge, no registration required).
For the full report, please visit our sponsor Siemens at their Aerospace & Defense page.
Watch the related episode of Tech-Clarity TV, Consolidating CAD for A&D. 
Table of Contents
Executive Overview
Considerations for A&D
Consider CAD Consolidation to Reduce Cost
Low Cost of Solution Ownership
Improve Collaboration with Suppliers/Customers
Increase Reuse
Support Lightweight Aircraft Design
Capture a System Level View
Identify Problems Early
Extend Access to Engineering Information Beyond Engineering
Conclusion
Recommendations
About the Author
Executive Overview
The Aerospace and Defense (A&D) industry faces significant pressure to manage costs. In an industry fraught with cost overruns and missed deadlines, those who are most successful removing cost enjoy competitive differentiation and greater profitability. One strategy to remove cost from the development process is to consolidate Computer Aided Design (CAD) applications. Past research from Tech-Clarity shows there are significant cost savings from CAD consolidation. This report builds upon that research with a focus on A&D.
While cost may be the initial reason for considering CAD consolidation, the benefits go far beyond cost. As Tech-Clarity's Consolidating CAD – The Benefits of a Unified CAD Strategy points out, "Cost savings are attractive and are certainly attainable through consolidation. Beyond cost savings, though, are even greater strategic benefits."
With this in mind, it is important to ensure the unified CAD solution supports best practices in A&D design. This will have the twofold impact of driving innovation as well as saving costs. Part of these savings comes from the ability to take advantage of proven, repeatable processes. It's easier for the entire team to be following the same repeatable process when using consistent tools. Repeatable processes mean greater efficiency plus less risk that will drive up costs. Selecting the right tool is an important part of making sure those processes and best practices are supported. The right tool is one that has the breadth of solution to support those design practices to not only support today's needs, but also the ability to carry A&D companies decades into the future.