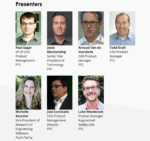 As our changing world impacts product design, how should CAD evolve? How can CAD support your efforts to adopt some of the latest technologies?
During the PTC on-demand virtual session, "The Renaissance of CAD: What's New, What's Now & What You Can Do With It" you will hear about some of the latest advancements in product design and how CAD has evolved to support them. Sessions include topics on IoT, generative design, simulation, additive manufacturing, and augmented reality.
During the simulation session, Tech-Clarity's Michelle Boucher shares highlights from her recent research on simulation. Watch Michelle's session here. To read more about Michelle's research on simulation click here.