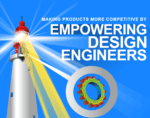 How can you empower design engineers to make more informed decisions that can help set your products apart from the competition?
Tech-Clarity's Empowering Design Engineer infographic helps answer this question based on a survey of 195 companies.
The infographic reveals top qualities that will make products more competitive over the next five years. These product qualities depend on good engineering decisions. Yet, 76% rate these decisions as 'somewhat hard' to 'extremely difficult.' 
The infographic uncovers a potential approach to make these decisions easier. The infographic also explores how new approaches to simulation may help.
View the full infographic from our sponsor PTC (no registration required).
To learn more, see the related Revolutionizing Simulation for Design Engineers research report.