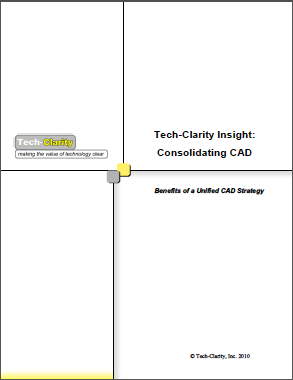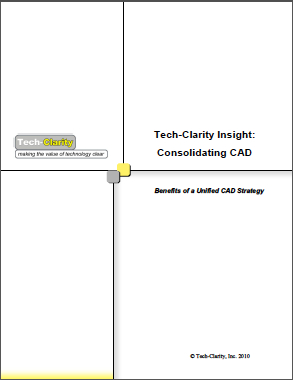 Tech-Clarity Insight: Consolidating CAD – Benefits of a Unified CAD Strategy examines the strategic and tactical value of standardizing on a single CAD package. The research papers provides a framework for determining the cost savings available from consolidating tools.
Please enjoy the free Executive Summary below, or click the report title above to download the full PDF (free of charge, no registration required).
Note: We are in the process of updating this research to consider the integration of broader design suites beyond mechanical CAD for detailed design. Stay tuned…
Table of Contents
Executive Overview
Lean IT Overhead
Reuse
Collaboration
Enabling the Bigger Product Development Picture
The Corporate Advantage
Conclusion
Recommendations
About the Author
Executive Overview
The recent down economy found many companies looking at the potential benefits of consolidating their software systems. One system that manufacturers should consider standardizing is Computer Aided Design (CAD). Even in good times, manufacturers should consider standardizing on a single CAD solution. Clearly, companies in any market conditions find cost savings attractive, and these are certainly attainable through consolidation. Beyond cost savings, though, are even more strategic benefits.
At the workgroup level, manufacturers can take advantage of ease of design collaboration and reuse of CAD models. Broader benefits include the ability to share best practices across the enterprise. Even more strategic is the ability to unify product development processes and data across the enterprise. Common processes and centralized data are particularly advantageous as a part of a full system for product design and development that includes analysis tools, data management, product compliance, documentation, and other related innovation tools.
At the highest level, standardizing CAD software offers corporate benefits. For example, a single CAD environment can enable a "design anywhere – build anywhere" strategy. This approach allows companies to rapidly adjust to market changes and resource shortages, and offers the ability to transfer design or production to new facilities without concern for incompatible design data, tools, or processes. Of course not all businesses have the opportunity to unify their CAD solutions due to customer and supplier constraints, but there are multiple advantages for those that can.