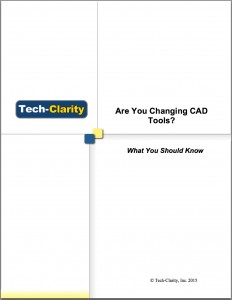 Are You Changing CAD Tools? What You Should Know shares survey results exploring the motivating factors behind changing CAD tools as well what companies can expect when making a change. The research examines the experiences of companies who have gone through a CAD change. It reveals key metrics such as the how much legacy data companies convert, how long to resume full productivity, and how much training is involved. The research also identifies what Top Performing companies look for in both a CAD tool and the vendor who provides that tool.
Please enjoy the summary below, or click the report to download a PDF overview (free of charge, no registration required).
For the full report, please visit our sponsor, Dassault Systèmes SOLIDWORKS, (free of charge, registration required).
Table of Contents
Executive Overview
Understand Business Needs for Design
What Drives a Change in CAD?
Set Expectations for the Change
Identifying Top Performers
Identify the Right CAD Solution
Extend CAD
Conclusion
Recommendations
About the Author
About the Research
Executive Overview
If you are competing in today's global economy, it is not easy. Significant global competition plus pressure from new entrants and innovative start-ups make it difficult to stand out. To improve competitiveness, Tech-Clarity's study, Product Lifecycle Management Beyond Managing CAD, finds companies have shifted focus from market factors like time-to-market or cost to product-centric strategies. Design tools, especially CAD, are key to executing these product strategies. With the right design tools, companies are better positioned to quickly bring high-performing, high-quality, innovative products to market. Companies looking to upgrade these tools to keep up with competitors may want to consider switching CAD tools.
So what should you do if you find your CAD tool is holding you back? What if your company needs to update CAD tools? Why would you consider a change? What should you expect? Is it worth the time to convert archived data into a new format? Most importantly, do the benefits outweigh potential risks?
Tech-Clarity surveyed 192 companies to answer these questions. While there are many interesting findings, the most striking is that business reasons rather than problems with CAD tools have become more influential when choosing a CAD tool and are motivating factors behind the need to switch tools. Growing influencers include supply chains, relationships, the vendor's vision for design, and the CAD vendors' full breadth of offerings. This big picture view of CAD indicates higher levels of management make buying decisions and they view CAD as a strategic piece of a larger product development solution.
The biggest challenges of switching CAD tools are overcoming the learning curve and reusing legacy data. However, not all legacy data needs to be converted and in fact, companies only convert about half of it, 52%. Despite the efforts involved, companies who have made a CAD change tend to be very happy. Eighty-three percent (83%) rate their satisfaction a 4 or 5 on a scale of 1 to 5.
The study also identified what successful companies look for. When selecting a new CAD tool, Top Performers are more likely to consider ease of use, Technical Support, software quality, and market share, which includes the size of the user community. Since implementing their current CAD tools, Top Performers have reduced development time by 19%, development costs by15%, and the time to implement ECOs (engineering change orders) by 16%, putting them at a significant competitive advantage. They have also been able to increase the number of design iterations by 17%, which leads to greater innovation.