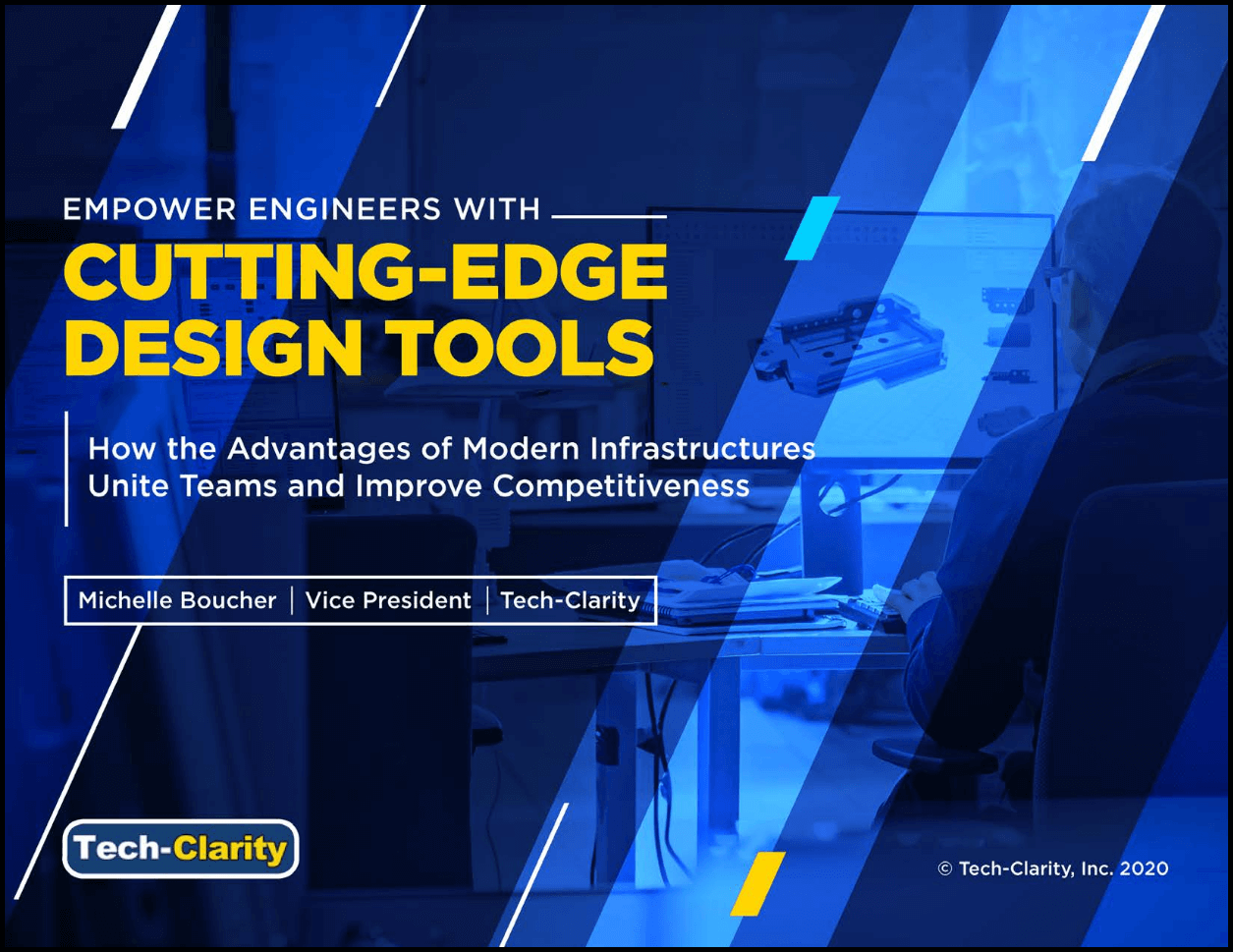 Do your design tools hold product development back? With the pressures of global competition, and the never-ending struggle of bringing innovative, cost-effective products to market efficiently, a smooth product design process is paramount.  Unfortunately, the vast majority of companies, 99%, report they experience design bottlenecks that hold them back, which consequently hurts their success and diminishes their profitability.
Tech-Clarity's research report, Empower Engineers with Cutting Edge Design Tools studied this further. The findings reveal an inherent deficiency in today's design environments hurts collaboration across design teams, especially when they are geographically distributed or involve third-parties. On the other hand, modern infrastructures take advantage of the latest innovations to enable a smooth flow of information across locations and provide the competitive advantage businesses need to succeed.
By surveying 240 companies, Tech-Clarity has identified the primary sources of bottlenecks in the design process and their impacts on the company. A startling 99% reported that design bottlenecks can negatively affect the company in numerous ways, including delayed time-to-market, excess cost, and poor quality. This report explores these issues further and identifies how to solve the challenges associated with design bottlenecks.
Please enjoy the summary* below. For the full report, please visit our sponsor SOLIDWORKS (registration required).
TABLE OF CONTENTS
 The Reality of Today's Product Development Environment
 Understand Collaboration Needs
 Silos Create a Barrier to Collaboration
 Understand Bottlenecks
 Impact of Bottlenecks
 Explore Solutions to Overcome Bottlenecks
 Use Technology to Solve the Problem
 CAD on the Cloud
 Do Not Underestimate Security Concerns with Existing Infrastructure
 Conclusions
 Recommendations
 About the Research
 Acknowledgments
The Reality of Today's Product Development Environment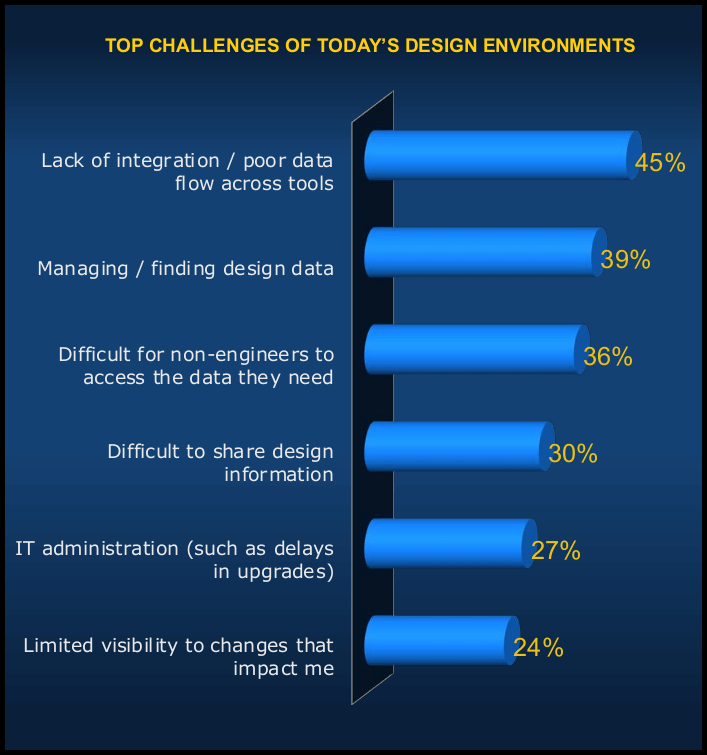 Staying Competitive
To successfully develop competitive products, companies must focus on a variety of factors, especially product performance, innovation, and quality. Achieving this falls on the shoulders of engineers, but juggling so many different requirements makes the job tough. To achieve these goals, product development teams must be empowered to make the best design decisions efficiently. However, several factors stand in the way.
Limitations of Product Development Environments
To identify factors that slow down engineers, we asked survey respondents about the top challenges of today's design environments (see graph). Due to all the criteria engineers must think about, they need access to a lot of information. Unfortunately, poor integration across tools makes it hard to find what they need. It also means it's hard to know about changes that impact other parts of the design. Plus, design information tends to be in a format that is not easy to share nor easy to understand, especially for staff with less technical knowledge. This limits opportunity because when more people provide input, you can explore more ideas. More ideas lead to superior innovation and improvements in usability, quality, and manufacturability. IT limitations also create challenges. It takes time to maintain all the different software tools. Also, hardware investments are costly.
These problems are so widespread, surprisingly, only 5% do not experience challenges with today's design environments. In other words, 95% of companies suffer from design environment challenges that lead to design bottlenecks and collaboration problems. Let's explore these challenges further to understand their impacts.
RECOMMENDATIONS
Next Steps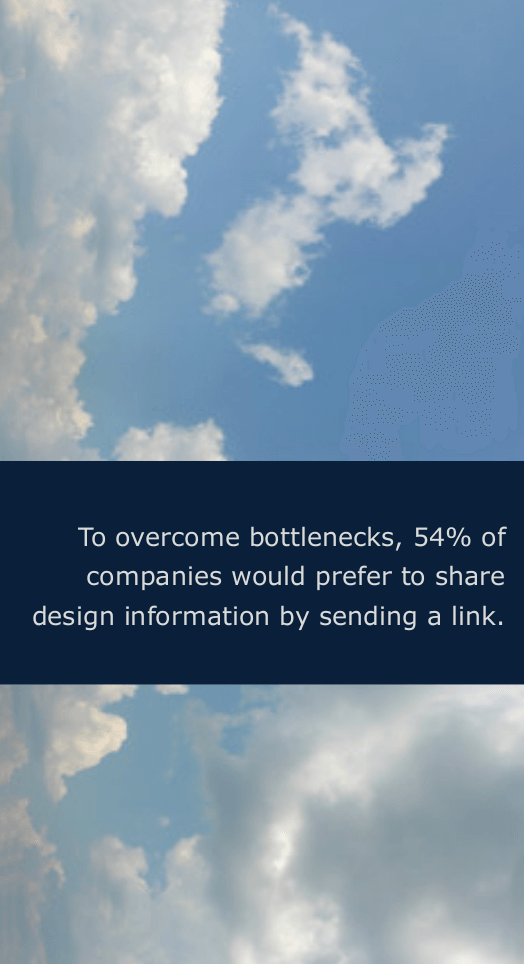 Based on industry experience and research for this report, Tech-Clarity offers the following recommendations:
Invest in product development to improve competitiveness and boost profitability.
Understand how challenges in the design environment contribute to collaboration challenges and bottlenecks.
Do not underestimate the business cost of collaboration challenges.
Consider options that allow design data to be shared via a web browser and on any device as a way to improve collaboration.
Consider a CAD solution on the cloud as a way to overcome design bottlenecks and improve collaboration.
Do not underestimate security risks in your existing infrastructure. A cloud solution may offer greater security protection.
*This summary is an abbreviated version of the eBook and does not contain the full content. A link to download the full eBook is available above.
If you have difficulty obtaining a copy of the research, please contact us.