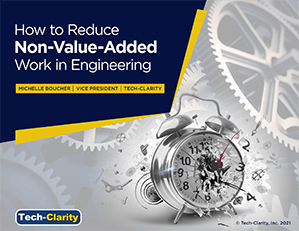 Did you know engineers waste so much time on non-value-added work, they only spend about 54% of their time actually designing? How can you prevent them from wasting too much time on non-value-added work?
Our research uncovered some significant engineering inefficiencies that contribute to this including:
29% percent of engineering time is spent working with outdated information

After implementing a change, depending on product complexity, it takes 4.7 to 10.3 days for to get updated data to the entire team

94% say they need updated data faster than they currently get it
On the positive side, 100% percent of manufacturers see business value in reducing non-value-added work. Read our eBook, How to Reduce Non-Valued-Added Work in Engineering to learn how to reduce wasted effort and increase focus on value-added engineering and innovation work.
Please enjoy the summary below.* For the full report, please visit our sponsor Dassault Systèmes SOLIDWORKS (registration required).
This research is an update to our 2014 report, Reducing Non-Value Added Work in Engineering and its updated 2018 report, How-To Guide: Avoid Non-Value-Added Work For Engineers. The new research also explores how trends have evolved over the last several years.
For further research on this topic, you can also read the related report How to Stop Missing NPD Due Dates.
The Value of Engineering Time
Engineering Time Is a Valuable Asset
How can you reduce non-value-added engineering work?
Engineers are under constant pressure to meet tight deadlines. They need time to balance quality, cost, and performance criteria as well as to innovate and solve problems. Unfortunately, they waste too much of their valuable time on non-value-added work. Imagine the opportunities if engineers could reduce those tedious activities to focus more energy on engineering work that leads to better designs.
This Research
Based on a survey of over 220 manufacturers, this research study examines how engineers spend their time. It identifies time-consuming activities that waste time and present opportunities for improvement. This research is an updated look at a study of 248 manufacturers conducted in 2014 and examines how trends have evolved over the last seven years.

Table of Contents
Executive Summary
Identify Bottlenecks
Assess Non-Value-Added-Time
Preparing Data for Others
Business Value of Eliminating Non-Value-Added Work
Recognize the Time Required for Check-ins
Outdated Information Impacts Engineering Changes
The Impact of Outdated Information on Collaboration
Identifying the Top Performers
Strategies to Improve Efficiency
Technology as a Collaboration Solution
Consider the Security Risks of Email
The Benefits of Real-Time Data Updates
Recommendations
About the Research
Acknowledgments
Executive Overview
Engineering is Key to Competitive Differentiation
Today's market is so competitive; it is hard to stand out. To be successful, companies must empower their engineering teams to differentiate products on innovation, quality, performance, and cost. While finding the time to balance those criteria is challenging, many current processes make it even harder. Consequently, engineers report they waste a third of their time on non-value-added work, which is consistent with what we saw in 2014. Worse, 29% of their time is spent working with outdated information. It has become  an even bigger problem than it was in 2014 when engineers reported working with outdated data 20% of the time. Unfortunately, this leads to even more wasted effort and rework.
Further, companies anticipate that going forward, 43% of engineering work will be done in flexible, work anywhere environments. This will only add to the complexity of engineering team environments, creating even more risk for outdated information and additional non-value-added work. Engineers need new ways of working.
One way companies can improve this situation is to provide engineers with real-time access to design data, in the right context. This keeps the data up-to-date and at their fingertips. The result should be increased engineering bandwidth, allowing more time to focus on making products more competitive. This approach also improves the growing need to improve collaboration beyond design engineers, with 83% saying it would be helpful if design data could be shared more easily with analysts and 86% wanting to share design data more easily with manufacturing.
Determining Best Practices
To determine best practices for accessing design information, Tech-Clarity analyzed survey responses from over 220 manufacturers to understand how they manage data, communicate engineering changes, and collaborate with both internal and external development team members.
The research shows that to improve efficiency, companies who are most successful, Top Performers, are 56% more likely than their lesser performing competitors to enable real-time access to design information and 52% more likely to adopt a platform of integrated engineering tools.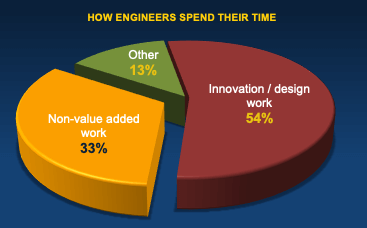 What Can You Learn from This Research?
This report explores best practices for streamlining access to design data in real-time. It also exposes some challenges manufacturers should be aware of as they strive to maintain a competitive edge in today's complex and cutthroat environment. The report also reveals how manufacturers can plan for a modern design environment that will support them through the 2020s.
Recommendations
Recommendations and Next Steps
Based on industry experience and research for this report, Tech-Clarity offers the following recommendations:
Understand how engineers spend their time and improve processes and collaboration to minimize time wasted on non-value-added work.
Consider solutions such as PLM or PDM to centralize design information and support change management and collaboration.
Evaluate options to design components in the context of the overall assembly. This will improve collaboration, make it easier to identify interdependencies between components, and provide a better understanding of the impact of changes.
Consider technologies that enable real-time updates to keep CAD data up-to-date while minimizing or eliminating check-in times.
Establish means for secure, real-time collaboration with both internal teams and third parties to minimize delays in getting updated CAD data from them and assuring your IP is protected.
*This summary is an abbreviated version of the ebook and does not contain the full content. For the full report, please visit our sponsor Dassault Systèmes SOLIDWORKS
If you have difficulty obtaining a copy of the research, please contact us.