Tech-Clarity's Design Review Buyer's Guide – Selecting the Right Visualization and Collaboration Solution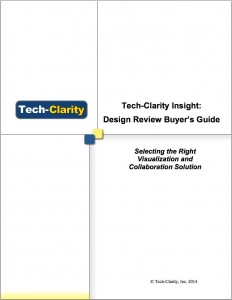 helps manufacturers develop criteria to evaluate design review software based on a set of high level criteria. Tech-Clarity's Buyer's Guides go beyond software functionality to provide a framework of requirements that impact implementation success and long-term ROI, including:
Software capabilities
Implementation
User adoption
Support
Vendor characteristics / attributes
Industry or unique business needs
Please enjoy the summary below, or click the report to download the PDF (free of charge, no registration required) thanks to our sponsor, PTC.
You can also hear more about the Design Review Buyer's Guide on Tech-Clarity TV on our YouTube channel.
Table of Contents
Executive Overview
The Design Review Business Case
Analyze Design Review Solution Capabilities
Assess Service Requirements
Consider Vendor Requirements
Special Considerations
Conclusion
Recommendations
About the Author
Executive Overview
The Design Review Buyer's Guide is a reference tool to help manufacturers select the right software to support design review and validation. The guide is composed of four sections covering software functionality, service requirements, vendor attributes, and special company considerations (Figure 1). Each section includes a checklist of key requirements that should be analyzed when selecting visualization and collaboration software to enable and improve design review.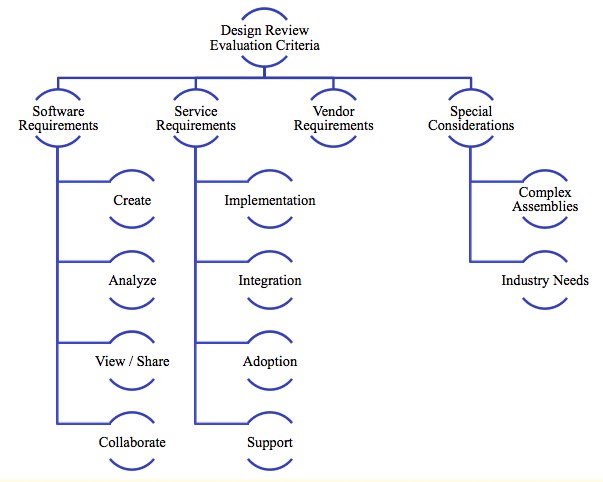 Design review is a proven, low-risk process that helps manufacturers enhance quality, reduce time to market, improve productivity, and bring more innovative products to market. It supports a product development process that solicits input and feedback from a variety of people with varied expertise and points of view. This collaborative approach allows manufacturers to tap into their distributed product expertise and get products right the first time.
Achieving these desirable benefits requires more than sharing CAD files or implementing visualization tools. The guide identifies key business capabilities that must be adopted and the software needed to support them. It goes beyond software functionality to address the broader needs of the business, offering buying criteria that cover product, infrastructure, implementation, service, and business requirements. The guide also touches on special considerations for those with highly complex products and a few special considerations to consider by industry.