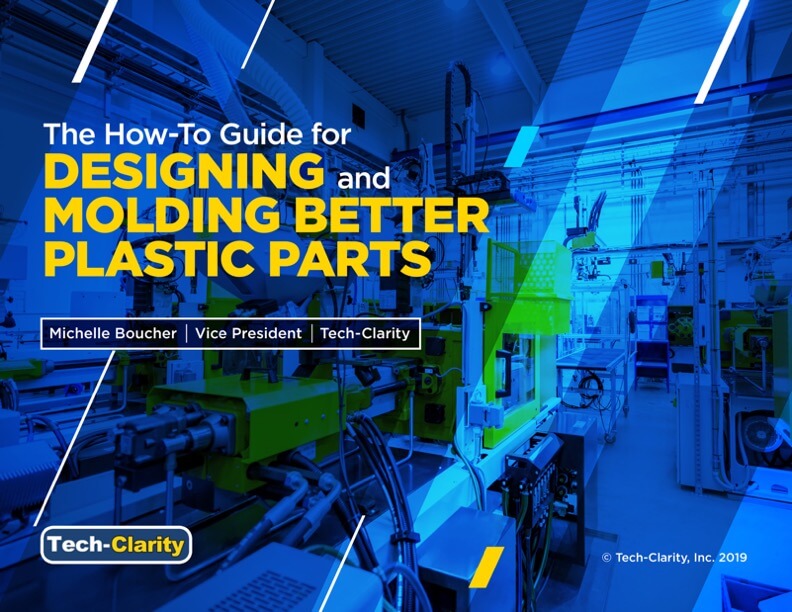 What's the cost of poor-quality plastic parts? How can you avoid that cost?
Findings from Tech-Clarity's eBook, How-to Guide for Designing and Molding Better Plastic Parts  reveal that 96% of surveyed manufacturers report finding manufacturing defects during mold trials. Highlighting why that's so painful, manufacturers report that correcting these defects during the mold trial adds 26% to the total cost of the mold. Interestingly, many of these defects could be avoided with adjustments to the part design. The challenge is identifying potential problem areas earlier during the design process to make the necessary corrections so that plastic parts are produced as designed.
This eBook compares the needs of both part designers and mold designers, sharing their personal advice. It reveals five recommendations to help you improve the quality of plastic parts.
Please enjoy the summary* below. For the full report, please visit our sponsor SOLIDWORKS (registration required).
TABLE OF CONTENTS*
Opportunities for Better Plastic Parts

How Do You Stay Competitive

Common Design Challenges

The Impact of Manufacturing Defects
Where to Focus to Improve Part and Mold Design
The Needs of Part and Mold Designers
Conclusions
Recommendations
About the Research
Acknowledgements
Opportunities for Better Plastic Parts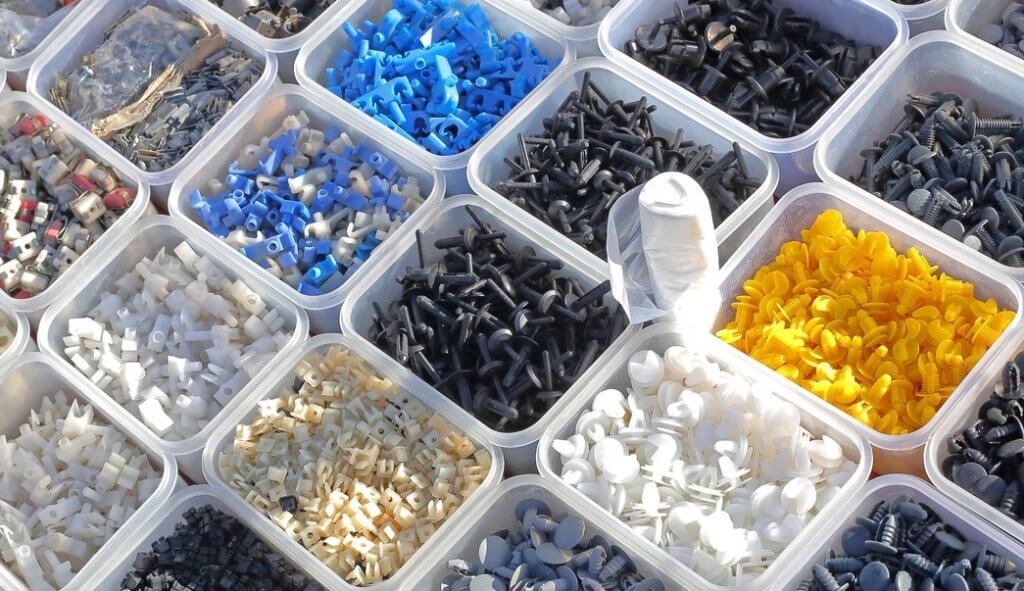 Lower the Cost of Quality
What's the cost of poor-quality plastic parts? Tech-Clarity research finds that part quality is critical to product success, yet manufacturing defects in plastic parts is one of the top issues that negatively impacts product competitiveness. Unfortunately, it is hard to avoid manufacturing defects as 96% of surveyed manufacturers report finding them during mold trials. The cost is quite high as manufacturers find
that correcting these defects during the mold trial adds 26% to the total cost of the mold. Imagine if you could lower some of that cost by making better decisions during design to avoid those issues before the mold trial?
This research study, based on a survey of 265 manufacturers, examines common challenges with plastic part and mold design, their impacts, and how to overcome them. The research reveals five best practices to help you ensure your plastic parts will be produced as designed.
How Do You Stay Competitive?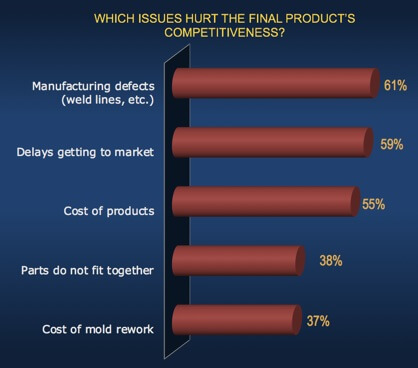 Getting Ahead
What's most important to winning your customer's business? It doesn't matter if you are designing plastic parts or the mold; companies indicate quality, cost, and reliability are most important (see lower graph). Unfortunately, if you don't meet these objectives, not only will you fail to win new business, but the final product will be less competitive.
What Hurts Competitiveness?
If you can't produce plastic parts as designed, the entire product will be less successful. Companies rate manufacturing defects as the top issue to negatively impact competitiveness. Defects can range from cosmetic problems such as flow lines or burn marks to more severe issues that hurt the structural integrity. These problems ultimately gives customers the impression that the product suffers from poor quality.
Other resulting issues include market delays and excess cost. Problems found during the mold trial will contribute to both of these issues as the troubleshooting, reworking of the mold, or part design changes consume both time and budget. During that time, a competitor may beat you to market, or you may have a reduced window of opportunity to collect revenue. Excess costs either cut into profitability or dictate a less competitive price.
Improve Design
These problems reflect poorly on the entire product. Even an exceptional design will not realize its full market potential if the plastic parts give the impression the product is inferior. It's critical to properly design plastic parts and ensure the mold produces them as designed.
Recommendations
Recommendations and Next Steps
Based on industry experience and research for this report, Tech-Clarity offers the following recommendations:
Facilitate collaboration between part and mold designers. Mold designers can provide insight to optimize the part design for injection molding, and part designers can clarify part requirements for the mold designer.
Use technology to supplement experience. Modern software tools contain many automated features that will guide designers.
Support design for manufacturability with injection molding simulation. Injection molding simulation will catch many manufacturing defects during design so that you can correct them early on, reducing the number of problems found during the mold trial.
Use injection molding simulation early and regularly. The earlier you use injection molding simulation during part design, the more you can optimize the part for injection molding, so there is less risk of manufacturing defects, and the mold design can optimize cycle time.
Integrate injection molding simulation and design. An integrated solution streamlines the process of preparing the design model for analysis, reducing a barrier to simulation.
*This summary is an abbreviated version of the research and does not contain the full content. A link to download the full report is available above.
If you have difficulty obtaining a copy of the report, please contact us using the "Contact" link below.