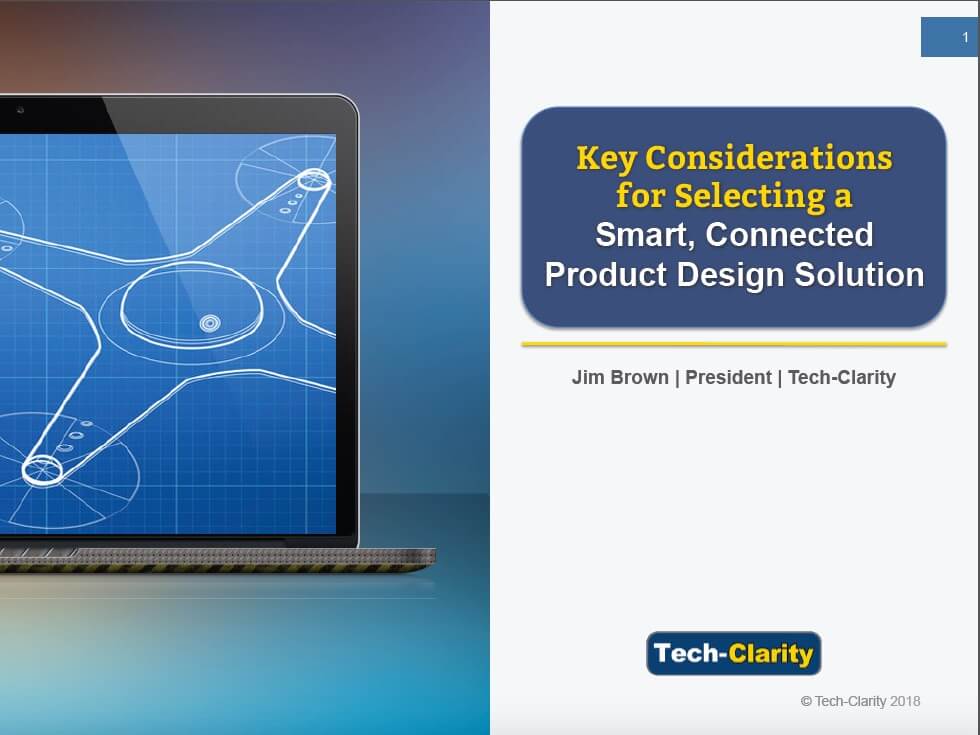 How does product design, development, and engineering need to change in order to support digital products?
Key Considerations for Selecting a Smart, Connected Product Design Solution eBook shares that today's new product development (NPD) processes simply aren't comprehensive enough to effectively design smart, connected products. What do manufacturers need to look for in their engineering software solution to support products in the IoT era and support their digital transformation? The guide shares requirements that manufacturers can use to select the best software for their needs considering functionality, selecting the right partner, and what to look for to ensure effective implementation and adoption. The eBook shares considerations for multiple aspects of the engineering process ranging from conceptual design through validation and verification.
Please enjoy the summary below*.
For the full report, please visit our sponsor PTC (no charge, registration required).
Product Development Needs to Evolve to Support Today's Products
Manufactured products have evolved rapidly over the last decade or so. Items ranging from cars to coffee makers have transitioned from primarily mechanical things to smart, connected products that interact with other products as part of a system in a system of systems world.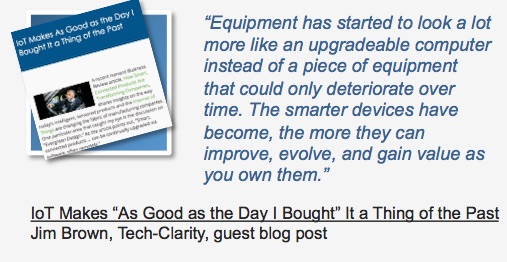 These products are much more than just a piece of equipment. They incorporate intelligence, data, and the ability to communicate with cloud and corporate software that together can be leveraged to change the customer value proposition. Some companies are even offering their products as a service (PaaS), charging for usage or output instead of the product delivering it.
Today's new product development (NPD) processes simply aren't comprehensive enough to effectively design smart, connected products. What needs to change? Companies need to:
Include all functional departments early in the NPD process, for example inviting corporate IT to specify cloud and enterprise system enhancements
Change the product design process to incorporate new decisions such as where to place sensors
Adapt the product innovation process to take advantage of new insights available from smart, connected products in the field, including actual operating conditions
Conclusions and Recommendations
It's time for companies to make the transition to designing smart, connected products. The business benefits are compelling, and we believe that those that implement these capabilities first will put their competitors at a disadvantage.
To adapt, companies need to make changes to their NPD processes and technology. They need to involve more disciplines early in the design process, include a new series of decisions in their design process, and learn from real product performance by "closing the loop" between design and operation.

In order to take advantage of the digital opportunities, companies must evolve modeling, design collaboration, and simulation to support connected design including design decisions related to:
Conceptual design and requirements
Data design
Sensor strategy
Communication plan
Validation and verification
In addition to finding the right software, they should focus on implementation and adoption needs to make sure their investments will result in improved business results. Lastly, they should make sure to partner with a company that has both business and technical expertise to help direct them through their transition. This partner should also be investing in the IoT and digital enterprise so they can offer guidance along the journey and provide an opportunity to grow as market needs evolve.
It's time to act. With the move toward a sharing economy, we believe that companies that simply develop and sell products will put themselves at a significant disadvantage to companies that design, develop, and stay in touch with their products throughout the product's life. Companies that don't embrace digitalization and start offering more than a physical product stand the risk of being commoditized.
*This summary is an abbreviated version of the report and does not contain the full content. A link to download the full report is available above.
If you have difficulty obtaining a copy of the report, please contact us using the "Contact" link below.