I just learned about a new solution from a briefing from PLM provider Duro. The briefing, by coincidence, followed a recent conversation on LinkedIn about the value of a simple approach to managing product data. The discussion brought me back to a lot of my early research on "how much PLM is enough" and generated a lot of discussion about how a simpler approach to managing product data may be right for some manufacturers. It's an important topics and one that Duro is well aware of.
Duro Launches PDM One
The news is that Duro launched a new PDM One solution that builds on a rich cloud file management platform, in this case, Dropbox. The value of Dropbox is clear, and many companies use it to manage and share files of all kinds, including product design and development files. Dropbox has invested heavily in the ability to manage, secure, backup, synchronize, revision control, and share files. But they lack the experience, domain knowledge, and focus required to support the intricacies of design file management. Duro, on the other hand, has significant domain expertise in supporting product design and engineering with a specialization in high tech device development. Duro already has a cloud PLM solution for lean hardware development. Now, they've extended on that knowledge to create a basic PDM system that extends Dropbox capabilities to protect and manage CAD files, support check-in/out, and allow collaboration across the supply chain. This solution will be embedded into Duro PLM for easy access.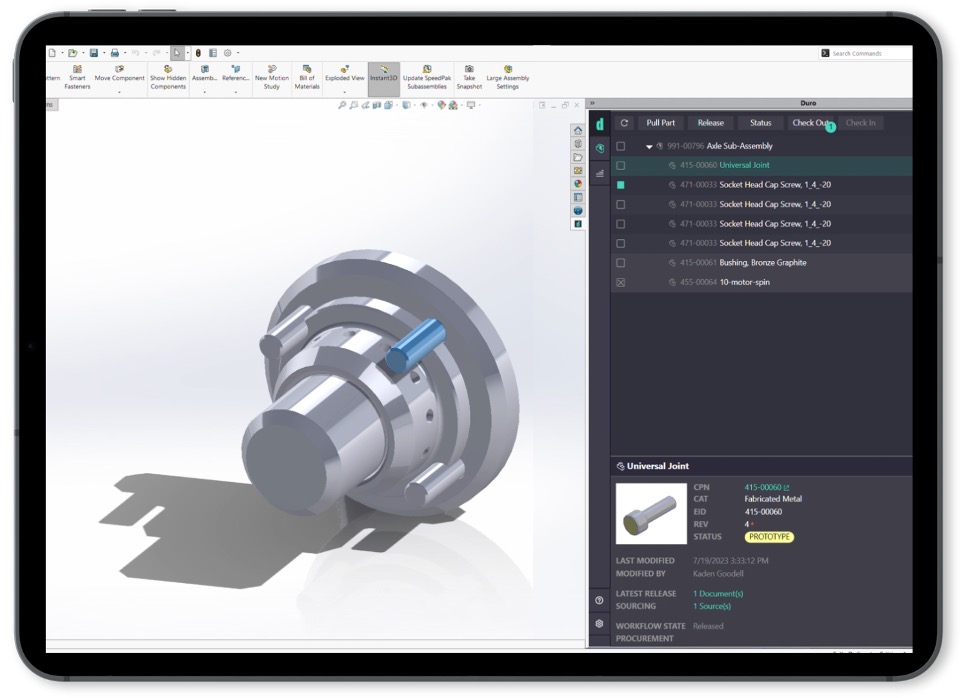 Plans for the Future
Duro also plans to provide customers with the option to use Box, Google Drive, or Microsoft OneDrive to give customers the choice to use what best fits their business, and likely the one they are already using. They've implemented PDM One in a file-centric way that mimics folder structures that many smaller companies and startups already use to manage their files and lifecycle states. 
Today, PDM One is what we would call design data management or basic product data management (PDM) and it offers a more comprehensive offering in combination with their product lifecycle management (PLM) solution. It will be interesting to watch how the solution evolves and how it is adopted by customers. It's a clever approach that leverages a robust cloud data platform and extends it for simple data management. Duro has work to do to build integrations with CAD solutions and will likely extend the capabilities, but their initial offering will probably prove to be enough for many companies moving from an unmanaged or ad hoc environment. Duro is definitely a vendor that high tech companies should keep on their radar screen.
Thank You
Thank you James White and Aphrodite Brinsmead for bringing this to my attention and to Mike Prom for your time explaining the product and future strategy.
For related research, read the commentary from our December, 2022 briefing with Duro about their goal to deliver agile PLM for hardware manufacturers.