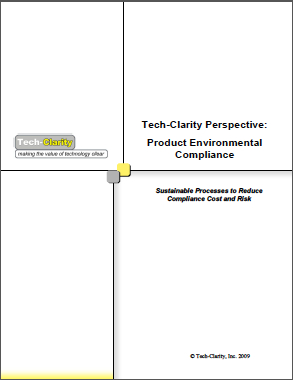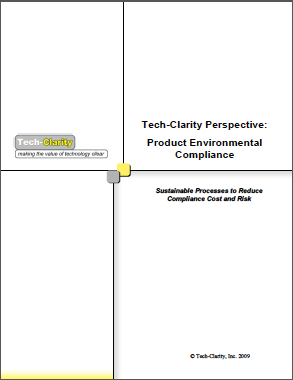 Tech-Clarity Perspective: Product Environmental Compliance –  Sustainable Processes to Reduce Compliance Cost and Risk discusses the key elements of a sustainable approach to developing and maintaining products that comply with environmental regulations such as RoHS and REACH while reducing compliance risk and cost.  Draws conclusions from over 300 responses to a web-based survey and several in-depth interviews with leading manufacturers.
Please enjoy the Executive Summary below, or click the report title above to download the full PDF (free of charge, no registration required).
Table of Contents
Executive Overview
The Changing Regulatory Landscape
Barriers and Challenges
Designing for Compliance
Documenting and Communicating Compliance
Collecting and Managing Supplier Data
Enabling Sustainable Compliance
Conclusion
Recommendations
About the Author
Executive Overview
Manufacturers today are under pressure to comply with an increasingly complex array of product-focused regulations. After exerting tremendous effort to comply with the European Union's RoHS mandate, they now face additional environmental compliance requirements to address REACH, WEEE, numerous local versions of RoHS, customer-specific requirements, company "green" policies, and more. Manufacturers need to comply with this tangle of legislation to ensure business continuity and reduce risk. This helps the environment, but it's also just good business because it protects revenue streams and mitigates potential losses from stopped shipments, fines, or brand damage.
Manufacturers have to comply to keep their market share, but to maintain profitability they also have to do it in a cost effective way, particularly in current economic conditions. Previous compliance benchmarks uncovered wide ranges in the total cost for companies to comply with regulatory demands. To better understand how some companies are able to achieve compliance at a significantly lower cost than others, Tech-Clarity surveyed product environmental compliance leaders from over 300 companies and interviewed several leading manufacturers. The study found developing and supporting compliant products using sustainable processes and enterprise solutions significantly reduces the cost of compliance.
RoHS has now been joined by REACH as the most commonly reported environmental regulation impacting products (79%). While some manufacturers took a project-based approach to RoHS, others chose a programmatic approach to address compliance across regulations. Those that took a project focus versus a process-oriented approach have learned that addressing regulations one by one consumes scarce resources that could be better put to use developing new, innovative products. Particularly today, as companies have to do more with less, leading companies are taking a more systematic approach to product compliance. Brute force is not the answer, particularly in obtaining supplier data which appears as the most common challenge in achieving product compliance (52%).
The research concludes that the key elements of a sustainable approach include:
Compiling a common set of product environmental performance requirement
Gaining a better understanding of the substances that make up components
Automating the analysis and monitoring of product structures and composition against requirements
Documenting proof of compliance electronically