Takeaways from Hexagon Live 2023
I attended my first Hexagon Live user conference this year. It was a well-attended, high-energy, polished event. I have to say, the content reminded me of my first conversation with Hexagon at a COFES industry conference a few years ago where I was overwhelmed with the scope and depth of their offerings. Hexagon covers a number of key solutions areas with their portfolio, including Design & Engineering, Production, and Metrology offerings that span both software and hardware. Some recent additions include quality management (QMS), connected worker, and asset performance management (APM). We feel there is strong potential for synergy across these areas as manufacturers face a convergence of technologies that demand integrated solutions. Because of this, others in our analyst team including Michelle Boucher (engineering practices research) and Julie Fraser (operations and manufacturing research) are also keenly interested in Hexagon's progress. Ironically, perhaps, the theme for COFES and my presentation the year I got to know Hexagon focused on technology convergence and how it impacts the engineering software industry.
Vision and Platform
President and CEO Paolo Guglielmini shared the Hexagon vision to deliver "digital twins of everything to improve and optimize at scale." That's a big goal. But Hexagon has a lot of solutions to apply toward that vision, having made over 170 acquisitions over the past 12 years. They plan to bring those together to create the "smart digital reality" that merges physical and virtual realities via the digital twin. This requires a lot of convergence and solution integration spanning both Hexagon products and the broader manufacturing and engineering software ecosystem. That's where their new Nexus platform comes in, intended to be the platform to connect from the shop floor to the top floor. Hexagon launched Nexus earlier this year to support discrete manufacturing but has eyes on expanding to more industry segments.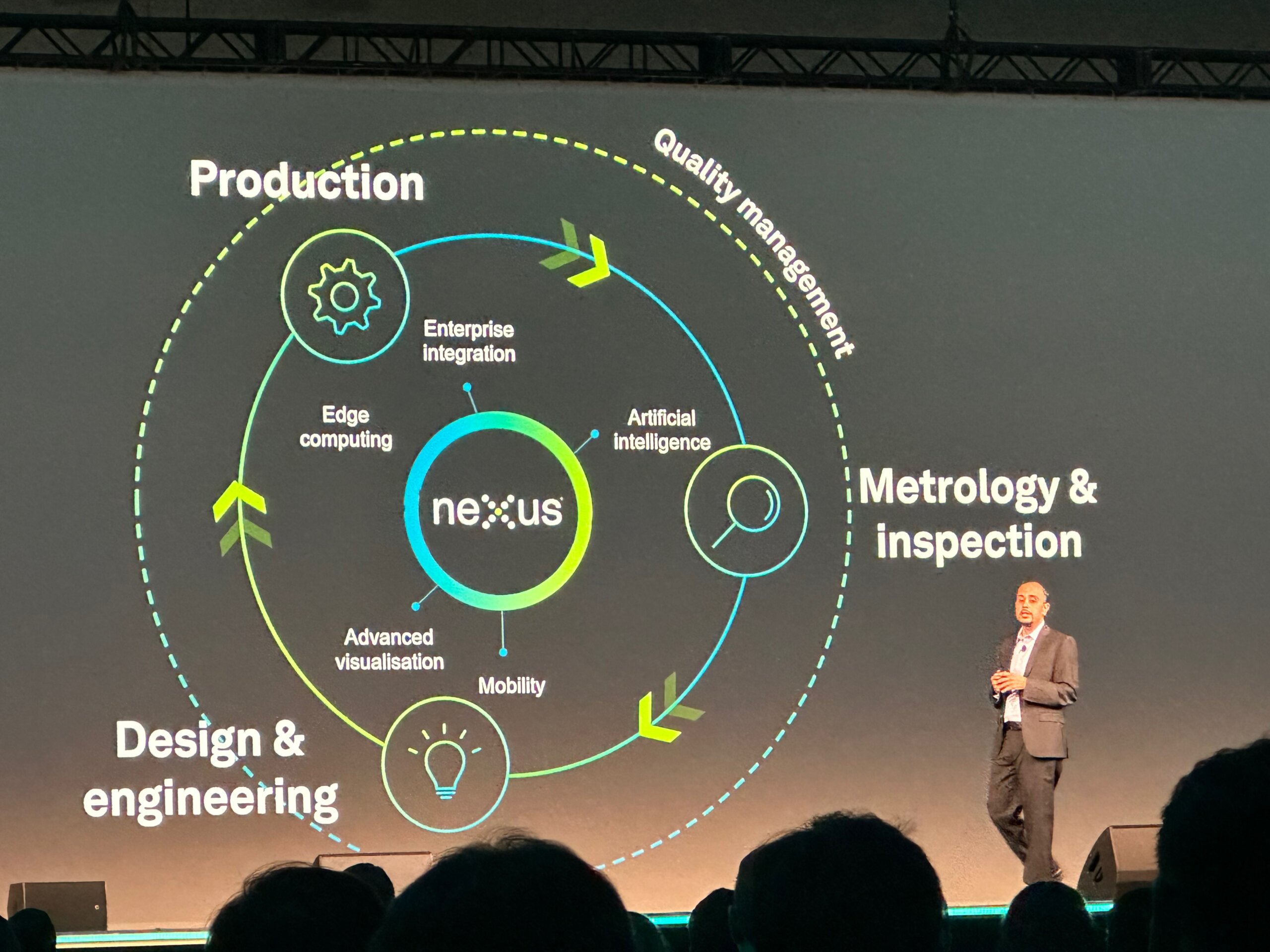 Nexus
I'm going to focus on Nexus because it's new, it's so important to the Hexagon vision, and it was one of my biggest takeaways from the conference. Why is it so important? 
It's an opportunity for convergence 

It provides an opportunity for Hexagon partners

It is the path to Hexagon's future technology 

It's a gateway to what we might expect from the industrial metaverse 
Convergence, Integration, Collaboration
The Nexus platform promises Hexagon's customers the power of convergence. Over time, it will provide common tools and a common interface across Hexagon's solutions through Platform Services. In addition, it will be the basis for new Hexagon and partner apps and solutions. Nexus will also serve as a single location to find Hexagon tools from across divisions, something that can be challenging given the large collection of Hexagon solutions across divisions. 
The platform also offers a path to integration. Nexus is designed to be open and connectable. Hexagon stated clearly that they want Nexus to be inclusive, making it easy to integrate with not only Hexagon and partner solutions but also with competitive solutions. This is critical in the heterogeneous manufacturing and engineering software environment.  Nexus also offers a common data schema that allows applications to work together more directly, the Nexus Smart Data Contract, which includes open engineering, quality, and production data at the center. This is an exciting aspect that deserves more attention.
Convergence and integration open up the opportunity for collaboration. Hexagon created Nexus to connect people and allow them to collaborate across disciplines in combination with today's latest technologies in what they call true, immersive collaboration. They shared a compelling example of a collaborative experience, and F1 engine mount, that showed a collaborative, connected workflow that leveraged connected data – all in the cloud. 
Partner Solutions
I was really impressed by how partner-centric Hexagon was during the conference. The approach to Nexus reinforced that. The Nexus offering (see image) includes both Nexus Apps and apps that are "Powered by Nexus."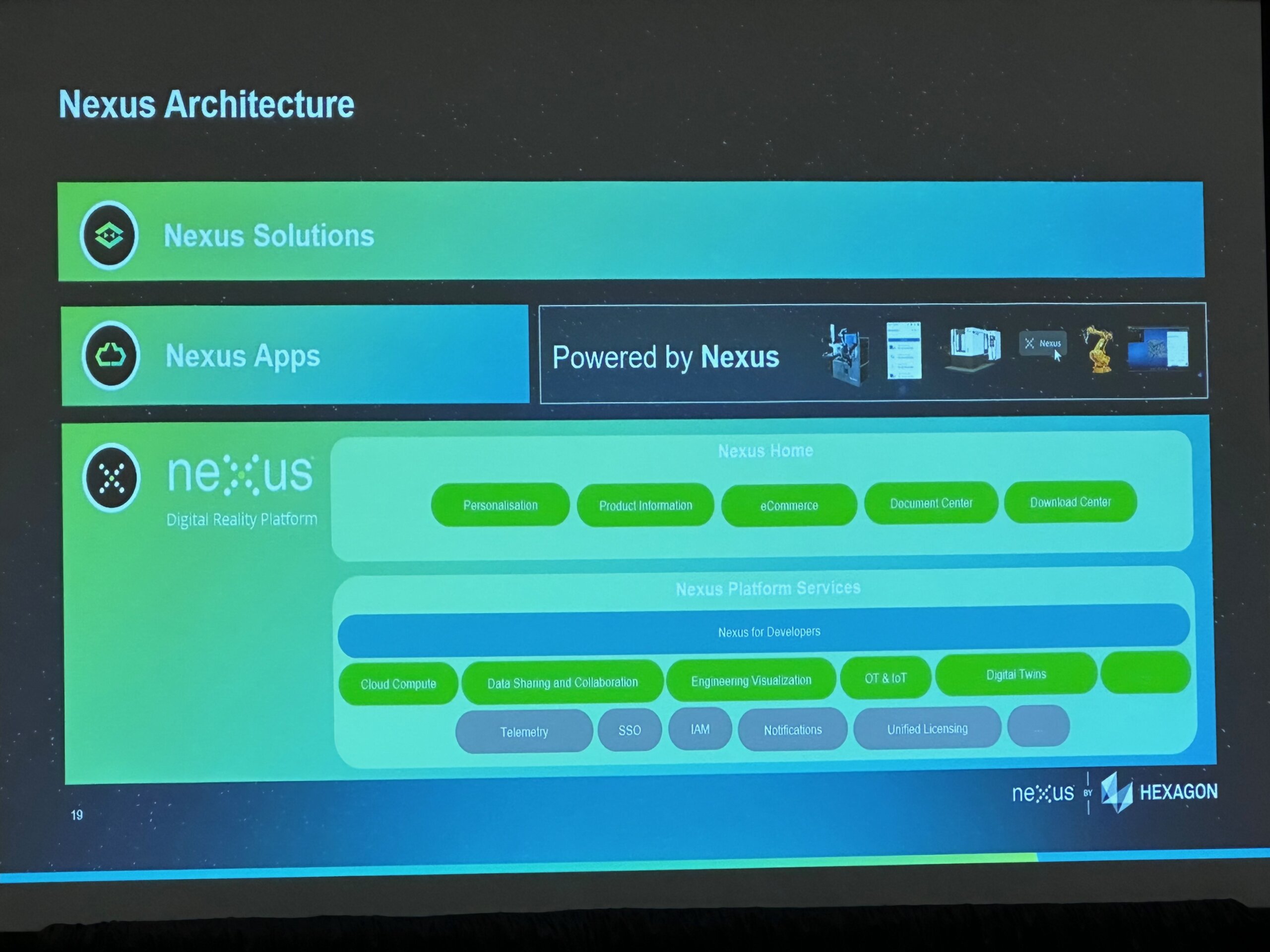 Two significant partners, NVIDIA and Microsoft, are already involved with Nexus. Jensen Huang, Founder and CEO of long-term partner NVIDIA, shared his vision for how Nexus and their Omniverse platform will work together to provide the benefits of AI to the industrial metaverse. Microsoft's VP of Customer Innovation, Andy Pratt, shared how Nexus will support digital twins. It's clear that a lot of thought has already been put into these partnerships around Nexus.
Beyond these larger partners, Hexagon announced Nexus for Developers at the conference. This capability provides APIs, SDKs, templates, and training that allow partners to build native apps, custom workflows, and "powered by Nexus communities." They shared that their partner Altium was the first to pilot Nexus for Developers by creating a new solution for the electronics industry. 
By opening up the platform, Hexagon provides partners (and customers) the opportunity to innovate and do more with their solutions than Hexagon can offer on their own.
Path to the Future
Nexus is a significant part of Hexagon's future technology plans and they are using it to build the next generation of their applications and create a path to the cloud. They've already launched a number of apps and are in the process of introducing more. In addition, they are developing more platform capabilities that can be leveraged by both Nexus and partner applications. There is more detail here than I can cover, I encourage you to look at their roadmap to learn more as it is growing rapidly. 
One of the important things to recognize about Nexus is that it's not a replacement for existing systems. EVP and Nexus GM Stephen Graham explained that Nexus is intended to complement enterprise systems. It's focused more on agility than control and works more as a system of engagement as compared to a typical system of record (like PLM). Nexus will bring automation and enable new feedback loops that will make processes more automated, efficient, and flexible. It will enhance current solutions by adding AI and visualization and support integration across solutions. This allows Hexagon to leverage their current solutions more effectively while they build out future offerings. The introduction of systems of engagement is an exciting new trend that we're following closely, and Hexagon looks well aligned to help customers get more from their systems of record.
Industrial Metaverse
There is a lot of hype around the industrial metaverse. Beyond all of the hype, there is also value. With Nexus, Hexagon's solutions offer the ability to connect real-world performance from the physical world with the digital twin. Their goal is to leverage simulation and AI to improve designs and the real world. Beyond that, Nexus has a goal to automate decisions in real-time to increase value by acting in the real world. This is an area that we look forward to learning more about. Look for more autonomy from Hexagon and Nexus in the future.
It's also an area where partner collaboration, for example with NVIDIA, offers the potential for a lot of future innovation. For example, VP of Omniverse & Simulation Technology for NVIDIA Rev Lebaredian explained how companies can combine and simulate designs earlier to save money, reduce waste, and increase sustainability. He shared an example where companies with complex factories could bring together digital twins of a variety of assets, such as buildings, conveyors, robotics, and other equipment from different suppliers to simulate and find problems earlier. The potential is compelling.
Wrapping Up
Nexus is a significant new direction for Hexagon. It's still relatively early, but their vision is strong and they've demonstrated real progress. 
There was a lot more to the conference, but I hope this is a start in understanding what's new with Hexagon. Thank you Robin Wolstenhome and Fiona Batchelor for your help coordinating schedules and customer discussions as I navigated my first Hexagon Live experience, and to countless Hexagon leaders who helped me learn more about Hexagon and their solutions.
You can read our initial reaction to the Nexus announcement here.