Motorola Addresses Conflict Minerals with Compliance Infrastructure explains how Motorola extended the comprehensive platform that allows them to design products for environmental compliance to address US Dodd-Frank act conflict minerals requirements. The eBook explains how the process and software platform that enables Motorola to comply with RoHS, REACH, and other regulations gave them a tremendous head start when the need to track conflict minerals through the supply chain emerged. Motorola takes a leadership position on product compliance in general and this case study demonstrates that conflict minerals is no exception.
Please enjoy the summary below, or click the report or title to download the full PDF (free of charge, no registration required).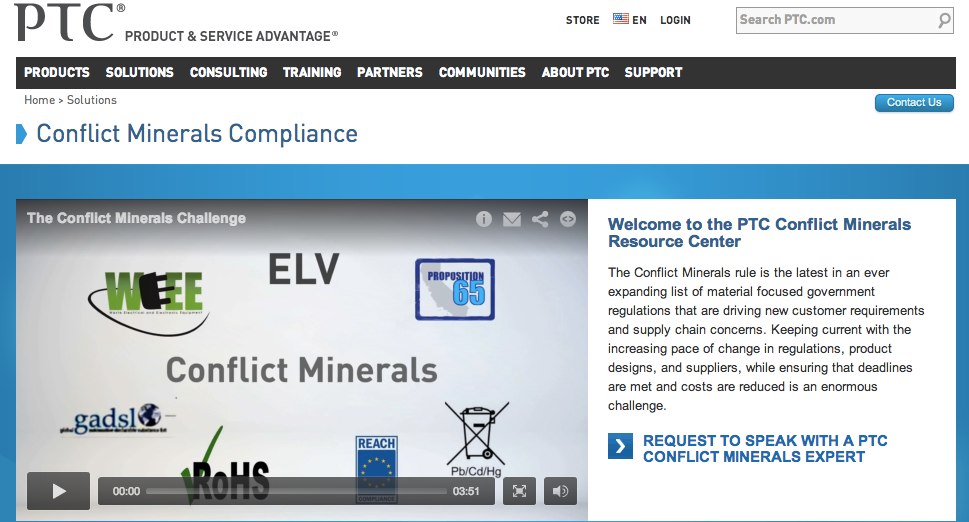 For more information on addressing Conflict Minerals, please visit our sponsor PTC's Conflict Minerals Page.
In 2009, Tech-Clarity observed that "Many companies are still addressing compliance on a project basis, and far too many are collecting insufficient information, such as simple letters of compliance, that will fall short of the needs generated by upcoming regulations like REACH. Those with a systematic approach will continue to lead, providing better product compliance at a lower total cost." Motorola achieved this vision. They can extend their materials compliance capabilities to meet the conflict minerals requirements because they already know what's in their products, they have a responsive supply chain, and they have adaptable infrastructure and automation in place.
Motorola is well positioned to meet the 2014 reporting requirements and the 2015 demand for part level data when "Undeterminable" filing expires. Motorola is far ahead of many of their competitors because of the infrastructure they have in place. These capabilities enable them to confidently state that they will be ready to comply with Dodd-Frank, as the Motorola Corporate Responsibility Website states, "Motorola Mobility will be fully compliant with the SEC reporting requirements before the deadline for submission of 31st May 2014." 
Motorola is extending the following key capabilities to confidently meet today's conflict minerals requirements.
Strong corporate sustainability mindset
Proven, scalable compliance processes
Rich part and supplier data
Responsive supply chain
Comprehensive automation and infrastructure
Experience extending capabilities to new regulations
Tech-Clarity expects Motorola to have better compliance at lower cost due to their sustainable approach.