How can increasing performance engineering maturity help manufacturers ensure they've fully optimized equipment performance? How does "shifting left" with simulation and closed-loop feedback help improve performance without compromising project due dates? 
Please enjoy the summary* below. For the full research, please visit our sponsor Siemens (registration required).
Table of Contents
The Performance Engineering Imperative
Predicting Equipment Performance Virtually
Create Holistic Equipment Models
Predict Performance Through Simulation
Improve Predictive Through Testing
Improve Predictions with Field Data
Improve Equipment Performance with Lower Overhead
Acknowledgments
The Performance Engineering Imperative
Increasing Market Demands
Engineers need to continuously improve and optimize equipment designs. Global competition is intense and the performance bar is constantly being raised. Equipment must meet increasingly challenging market demands for weight, fuel efficiency, sustainability, regulatory compliance, and more connected operations environments while still meeting aggressive time-to-market requirements. Some manufacturers are also evolving to new business models, such as product-as-a-service (PaaS), where profitability relies directly on equipment performance in the field.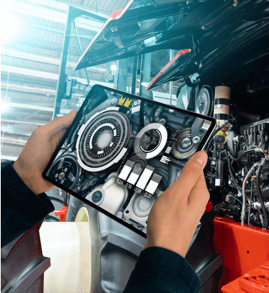 Increasing Product Complexity 
Harder targets are made even more challenging because of increased product complexity. Equipment is more electrified, autonomous, connected, and configurable than ever. Companies must adopt systems, and systems-of-systems, engineering approaches. At the same time, manufacturers are adopting new materials such as composites, advanced manufacturing methods including additive manufacturing, and innovative design techniques such as generative design. These innovations create designs that can't be easily validated using historical tests and product performance, demanding new approaches.
Simulation is Critical, but not Enough
Computer Aided Engineering (CAE) has clearly helped manufacturers overcome complexity and reach new performance levels. But the time has come to explore new digital technologies. Traditional simulation benefits may no longer meet the demands of digitalization trends.
In order to get products right the first time, and to "shift left" optimization to get to the best design faster, companies have to be able to predict equipment performance in a variety of facets, including:
Holistically by managing tradeoffs
Accurately by gaining a meaningful understanding of the impact of engineering decisions
Efficiently by making it feasible to optimize early and often throughout the design process
And they have to do this virtually, with fewer costly and time-consuming prototypes. Given these needs, how can they raise their maturity and performance?
Improve Equipment Performance with Lower Overhead
Adopt Predictive Performance Engineering
Like predictive service, which has proven value, predictive performance engineering has tremendous business potential. The approach allows companies to unlock new levels of innovation and performance while simultaneously improving efficiency and reducing cost. Manufacturers that improve performance engineering maturity will likely be able to develop more innovative, high-performance equipment at a lower cost. At the same time, they will no longer have to trade off hitting their certification and market readiness objectives in order to reach performance goals.
Improve Performance Engineering Maturity
Companies can increase performance engineering maturity by improving the following four processes:
Create holistic equipment models
Predict performance through simulation
Improve predictions through testing
Improve predictions with field data
Improvement in any of these areas can drive meaningful improvements and ROI. Each of these steps reduces engineering effort, product development time, and costly physical prototypes. At the same time, it allows equipment manufacturers to be more competitive by continuously raising the bar for safer, greener, more reliable, high-performing products.
Get Started
Companies should consider starting their performance engineering journey with a realistic assessment of current maturity. From there, they should explore the improvement opportunities in this eBook to increase performance engineering maturity, then adopt more advanced processes and technology to drive meaningful equipment and process improvement. After early improvement, they can expand on their success by continuing to improve performance engineering maturity.
*This summary is an abbreviated version of the research and does not contain the full content. For the full research, please visit our sponsor Siemens (registration required).
If you have difficulty obtaining a copy of the report, please contact us.