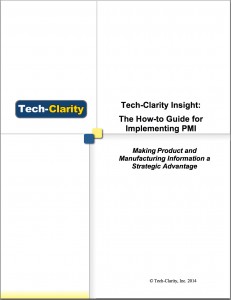 Tech-Clarity Insight: The How-to Guide for Implementing PMI – Making Product and Manufacturing Information a Strategic Advantage  explores how PMI can help a company and the business value it offers. The report provides guidance to successfully implement PMI, including recommendations to support adoption.
Please enjoy the summary below, or click the report to download a PDF overview (free of charge, no registration required).
For the full report, please visit our sponsor, Siemens PLM, and their Drafting and Documentation page (free of charge, no registration required).
Table of Contents
Executive Overview
What Is PMI?
Why Consider PMI?
Why Should You Consider PMI Now?
Plan for Success
Identify Who Should be Involved
Establish a Supportive Culture First
Define Training Plans
Create Demand Among Customers & Suppliers
Start with a Pilot
Capture Best Practices
Conclusion
Recommendations
About the Author
Executive Overview
With so much global competition, companies are struggling to competitively differentiate their products any way they can. Much of this differentiation will come from engineering so it is critical for engineers to focus the majority of their energy on design work that will create that differentiation. This requires streamlining the development process so that engineers are able to focus on innovation.
PMI (Product and Manufacturing Information) is a way to achieve this goal. With PMI, the need for 2D drawings is greatly reduced or eliminated altogether.  Explains Jeff Erno, a Consulting Engineer for the CAD Tools and Product Definition Group at GE Power & Water, "PMI is very important to our business and supports our overall Model Based Product Definition (MBPD) initiative." Adds Erno, "It also allows us to be more productive in producing our product definition as fewer views are needed to achieve the same goal and we can build the documentation faster than with classical drawing methods." GE Power & Water is a provider of power generation and water technologies for utilities, independent power producers and industrial applications. PMI also enables better communication, which leads to fewer mistakes and higher quality. Andreas Pietsch, Development Body in White Manager at Daimler AG says, "It is obvious PMI saves us money by saving documentation time." Pietsch continues, "Of course there are also less mistakes because specifications are more clear."
Enabling better communications improves relationships with suppliers. More importantly, 3D models can make it easier for customers to work with you, which is a competitive advantage.
While PMI offers many advantages, adopting it does require some organizational changes, which can be difficult for any organization. However, with proper planning for PMI, the adoption process can be much easier. This report serves as a how-to guide to implement PMI and make it a success at your company.