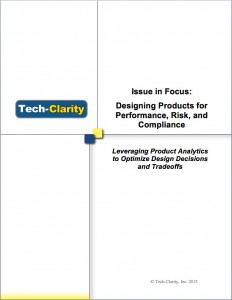 Issue in Focus: Designing Products for Performance, Risk, and Compliance – Leveraging Product Analytics to Optimize Design Decisions and Tradeoffs shares the importance of proactively providing designers with insight into the many impacts of their design decisions. Product analytics is critical to help companies design and develop products with optimal cost, compliance, weight, performance, and other characteristics. This paper extends Tech-Clarity's earlier research on Making Design Tradeoffs and introduces product analytics as an important part of the engineering / PLM software suite.
Please enjoy the summary below, or click the report or title to download the full PDF (free of charge, no registration required).
Table of Contents
Introducing the Issue
A New Addition to the Enterprise Ecosystem for Manufacturers
Leverage a Product Analytics Platform

Develop Requirements
Access Product Data
Collect and Manage Supply Chain Data
Analyze and Compare to Targets
Optimize Designs and Tradeoffs
Validate and Document Results
Monitor for Risk

Applying the Product Analytics Framework

Apply Analytics to Mitigate Supply Risk
Manage Commercial Risk
Measure Attainment of Technical Targets

Conclusion
Recommendations
About the Author
Introducing the Issue
What do product weight, environmental compliance, part obsolescence, and product cost have in common? These, among other product attributes, are important factors that impact the revenue and profitability of a product. In addition:
They result from a series of design decisions including component, material, and supplier choices
They are very difficult to change late in the design process
Designers rarely have the right data to make optimal choices (or even understand the impact of their decisions) to influence them during design
This is why Tech-Clarity's Making Product Development Tradeoffs concludes that "Leading companies are building compliance, cost, and sustainability analysis into their design processes." They do this because they recognize that design decisions impacting product characteristics must be made early in design, while design flexibility is at its highest and there is time to react. They have also learned the pain and disruption caused by late changes that lead to excess cost, delayed time to market, and sub-optimal products. Many have also realized how much time and effort goes into ineffective, after-the-fact processes like "Value-Added Engineering" when issues could have been dealt with much more readily upfront.
Unfortunately, few companies are able to provide visibility to the impact of design decisions in time for engineers to incorporate the feedback into designs. In many cases the lag time between a decision and visibility to the impacts takes long enough that the information is irrelevant because the bill of material (BOM) has already changed. Ideally, designers would have feedback so rapidly that designers could explore more options and review more "what if" scenarios to optimize the resulting product characteristics. Product analytics is an emerging discipline aimed at helping engineers optimize designs based on timely feedback.
One area that manufacturers have already invested in analytics is to address regulatory compliance. Compliance has taken priority because regulations such as RoHS, REACH and their regional derivatives, a host of other regulations, and now the Dodd-Frank regulations on "conflict minerals" threaten revenue streams due to brand damage and blocked market access. To address this, leading companies have invested in an automated, repeatable process to design for compliance. As the "Product Tradeoffs" report recommends "Enable design for product environmental compliance, sustainability, and cost … with integrated processes and systems for efficiency and to allow product developers to see the whole picture." This report discusses how this same infrastructure, the "Product Analytics Platform," can be extended to help designers make the right decisions to optimize products and mitigate risk with a holistic approach that addresses product characteristics beyond compliance.
Conclusion
Product Analytics is becoming an important competency for today's manufacturers. Effective and timely product analytics helps manufactures design products right the first time, hit their targets, and mitigate risk. Following the product analytics framework of processes offers manufacturers the opportunity to transition design validation from an ineffective, expensive, ad-hoc approach to a proactive, enterprise methodology. It helps designers make tradeoffs and optimize design decisions when they are most flexible and can make the most positive impact.
An effective product analytics platform enables the processes of the product analytics framework. This platform supports the "must do" need to design products for product environmental compliance and extends those capabilities to a class of issues ranging from technical requirements to supply chain characteristics. An effective solution makes DFX feasible by providing transparency and timely feedback to designers. At the same time, the solution can improve efficiency by reducing the overall cost of compliance and design. The product analytics platform is rapidly becoming an indispensable part of the enterprise systems ecosystem for manufacturers.
Recommendations
Based on industry experience and research for this report, Tech-Clarity offers the following recommendations:
Manage product requirements centrally and net out requirements, recognizing that many will compete and require tradeoffs
Analyze the impact of design choices in the context of the BOM by leveraging product data – configurations, BOMs, components – as it is developed
Provide feedback during design, before it is too late and while flexibility is at its highest
Validate against requirements and generate product documentation with efficiency and confidence, supporting audits and inquiries
Extend compliance processes to support supply risk, commercial risk, and attainment of technical targets in a consistent, cohesive methodology
Monitor adherence to requirements over the lifecycle of products as designs and requirements change
Leverage a platform approach to product analytics to enable efficient, consistent processes integrated around shared data