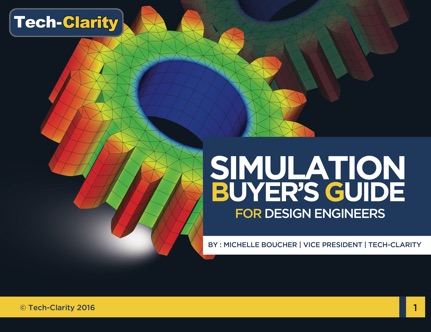 The Simulation Buyer's Guide for Design Engineers eBook identifies the top 10 buying criteria you should consider when buying a simulation solution for design engineers. You can then use this information as a checklist to select the right solution for you. The eBook includes a list of questions to help you determine your needs for simulation as well as how you can justify the investment.
Please enjoy the summary below (free of charge, no registration required).
For the full eBook, please visit our sponsor PTC (free of charge, registration required).
Table of Contents
Why Do Design Engineers Need a Simulation Solution?
Determine the Scope of Your Needs
Identify the Right Solution
Justify the Investment
Understand the Value
Realize Time Savings
Select the Right Simulation for Your Needs
About the Author
Why Do Design Engineers Need a Simulation Solution?
How do you know if you should be using simulation? Consider for a moment:
If you could save 7% of your material costs, would it help?
How would getting to market 14% faster improve your business?
What would you do with the extra time?
Would higher quality without adding cost or time make your products more competitive?
These are some of the many things simulation can help with. Even better, advancements to simulation tools have made it much easier for design engineers to adopt. In fact, Tech-Clarity's latest simulation survey reveals that at 90% of Top Performing companies, design engineers use simulation software.
The key is selecting the right solution. This Buyers Guide reveals what to look for in a simulation solution for design engineers.
Recommendations
Understand your needs for a simulation solution
Justify the investment with a focus on how it will empower design engineers to make better decisions that will make products more competitive, lower-cost, and faster to market
Select a simulation solution that will be easy for design engineers to adopt that will integrate with your existing CAD tool and support existing workflows
Consider a solution that makes it easy to set up an analysis and includes features such as automated mashing
Ensure the solution supports design optimization
Select a solution and vendor that can offer the right training resources to reduce the learning curve
*This summary is an abbreviated version of the report and does not contain the full content. A link to download the full report is available above.
If you have difficulty obtaining a copy of the report, please contact us through the "Contact" link below.