How can companies use the power of cloud computing to get more out of their simulation efforts? Tech-Clarity's Jim Brown shares his research on the value of simulation on the cloud in a lively web panel with Joby Aviation's Alec Clark and Jonathan Oakley of Dassault Systemes.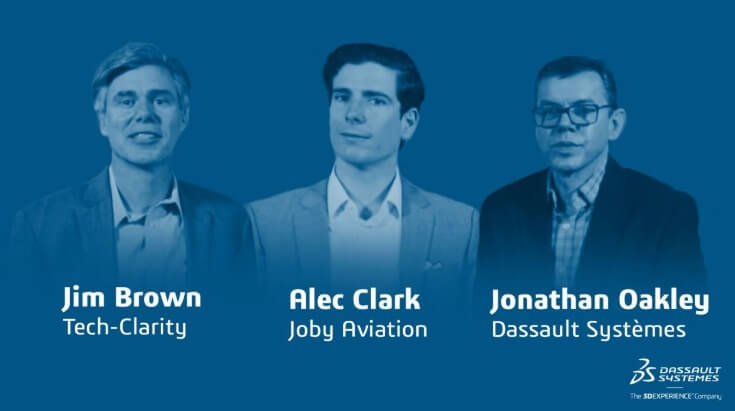 Read the guest post on the Dassault Systemes' Navigate the Future blog to get an overview of cloud value for product innovation and engineering and simulation on the cloud provides even greater value.
Watch the panel webcast to learn more about how to benefit from computing at the intersection of cloud and simulation courtesy of our sponsor, Dassault Systems (registration required).
Companies of all sizes are moving to the cloud, taking advantage of a variety of benefits. Many companies initially investigate the cloud to save money. Others want to focus their precious resources on designing and delivering innovative products instead of developing and supporting IT infrastructure. Regardless of the initial goal that drives their investigation, they can achieve value across multiple dimensions. Our research points to a number of important cloud benefits, including:
Implementation advantages that allow them to be more agile, accessing the capabilities and computing power they need when they need it
Operational advantages that allow them to improve performance and reduce IT resource needs
Business advantages to lower cost and reduce risk
But the cloud offers unique benefits for product innovation and engineering software. The guest post and webcast go beyond the basics to some key areas where the simulation on the cloud takes CAE to the next level, such as access to High-Performance Computing, or "HPC."
Please see the guest post or the webcast of our panel discussion for more information.