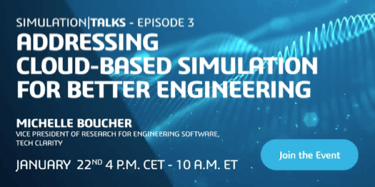 How can design engineers improve confidence in simulation results? Can cloud-based simulation help?
Watch Michelle Boucher as she shares best practices from her research to explain how design engineers can get even more value from simulation. 
Simulation can be a powerful design tool by providing engineers with design guidance. However, some are concerned they lack the knowledge and background to use it. Consequently, they are hesitant to try it. Hear how better collaboration and a cloud platform can help address this challenge.
Register and watch the Dassault Systèmes SIMULIA episode 3 of SIMULATION TALKS: Addressing Cloud-Based Simulation for Better Engineering here.
For more information on this topic, check out the related eBook here.