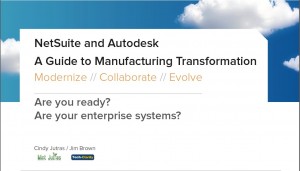 This eBook, A Guide to Manufacturing Transformation, discusses the current resurgence of global manufacturing and shares how ERP and PLM systems help. It offers advice for manufacturers to capitalize on new opportunities presented by the recovery and evolution of the manufacturing industry. The eBook is a collaboration between Cindy Jutras of Mint Jutras and Jim Brown of Tech-Clarity.
Please enjoy the summary below, or click the report to download the eBook (free of charge, no registration required).
Visit this page for more information and a case study on modernizing modern manufacturing, including how cloud systems can help, provided by our sponsors, Autodesk and NetSuite.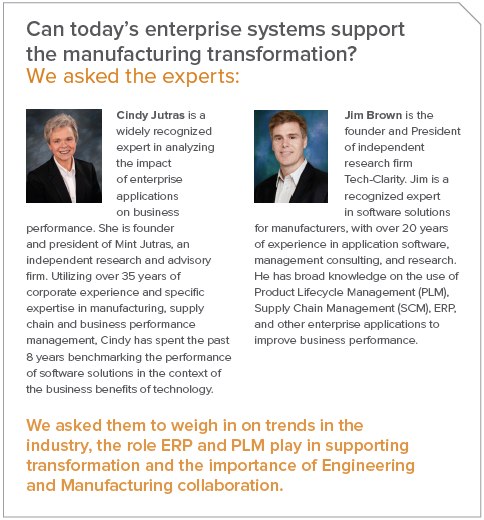 The manufacturing industry is undergoing one if its most significant transformations in decades. The years of industrialized nations gaining significant economic advantages from shifting production to low cost, developing nations are coming to an end. Today's economic landscape and rising wages in formerly low-cost countries make offshoring less attractive.
Developed nations are now "right shoring" their operations and adopting "design anywhere – build anywhere" strategies that allow them to shift work across the globe and produce closer to raw materials or customers. Manufacturers in emerging economies are moving up the value chain to develop more innovative, high quality products. These shifts are causing many changes and creating many opportunities. They are also introducing new competition and new threats.
Manufacturers are turning to systems and automation to help them take advantage of the manufacturing transformation. Enterprise systems are enabling the transformation much the same way Enterprise Resource Planning (ERP) played a significant role in streamlining and re-engineering manufacturing enterprises in the 1990's. As the bar is raised on expectations from today's manufacturers, both ERP and Product Lifecycle Management (PLM) can play a significant role in helping companies stay ahead or leapfrog their competition.
The manufacturing transformation is underway. The enterprise systems ecosystem supporting manufacturing is changing as well. Are today's enterprise systems ready to support this more competitive environment? Will they be within the reach of companies that weren't able to take advantage of them in the past?