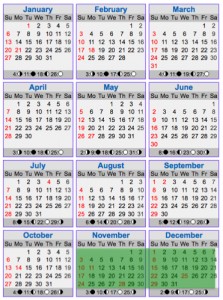 A quick peak into some research on meeting product development launch windows from Tech-Clarity's Issue in Focus: Meeting Fixed Product Launch Windows. The report explains how company's can use Product Portfolio Management (PPM) practices and tools in order to hit critical product launch deadlines.
You may also be interested in a related webcast featuring Jim Brown of Tech-Clarity, Monica Alderson of Hallmark Cards and Carrie Nauyalis of Planview. View the replay of this CGT webcast, sponsored by Planview.
The Research Findings
The report starts by describing how fixed product launch windows such as holidays for consumer goods companies or significant industry events like trade shows for electronics companies. For companies with these kinds of deadlines, time to market becomes critical because if you miss the deadline the product may be dead. The good news is that there are tools and practices available to help.
The report identifies a number of key factors important to meeting these inflexible launch dates:
Realistic portfolio planning – Spend the time and effort to develop an achievable portfolio plan. It should be clearly prioritized and balanced against available resources.
Mapping products/projects to windows – Develop a clear understanding of which products are targeted for which launch windows, and account for any inter-dependencies between products for a launch
Detailed project planning – Create a comprehensive project plan that identifies all resources required to launch the products and ensure availability or adjust. Pay particular attention to those not directly in R&D (Legal, Packaging, Procurement, others) who are crucial to launch readiness but often overlooked in planning.
Manage risk and uncertainty – Know that things will go wrong and adjust plans to allow for that fact. Address highly uncertain tasks sooner rather than later and delay spending on commercialization and other big ticket items until the hurdles are cleared.
How can this be one? The report describes how PPM systems help support these steps. PPM systems should enable:
Visibility to projects, priorities, and status
Consistent data to make decisions and tradeoffs
Resource balancing
A central, trusted source of project and portfolio information
Consistent, repeatable project execution
Please see the report for more detail.
Implications for Manufacturers
The implications are clear. Time to market is critical for most companies, but even more so for those with fixed launch windows. PPM solutions and best practices can help, as discussed in Tech-Clarity's Improving Portfolio Decision-Making paper. Companies that have not yet invested in PPM are at a disadvantage when it comes to hitting their time to market milestones.
So that was a quick peek into some recent research on hitting product launch dates, I hope you found it interesting. Does the research reflect your experiences? Do you see it differently? Let us know what it looks like from your perspective. Please feel free to review more free research and white papers about PPM and other enterprise software for manufacturers from Tech-Clarity.