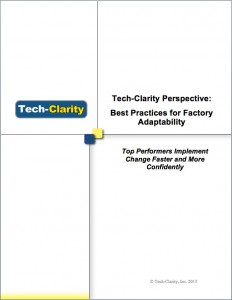 Tech-Clarity Perspective: Best Practices for Factory Adaptability – Top Performers Implement Change Faster and More Confidently shares survey results from over 250 manufacturers examining how they implement change in their factories. The study reviews the practices of the "top performers," those that implement change more effectively in their plants, to determine best practice processes and technology for engineering change management.
Please enjoy the summary below, or click the report to download a PDF overview (free of charge, no registration required).
For the full report, please visit Autodesk's Factory Design Software Page (free of charge, no registration required). Note: The link isn't instantly evident, look for the "become a top performer" section that looks like the thumbnail below.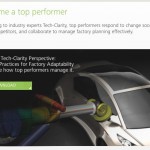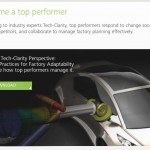 Table of Contents
Executive Overview
Adapt or Die: The Change Imperative
The Constancy of Change
Challenges Managing Change in the Factory
Business Impacts Encountered during Factory Change
Identifying the Top Performers
Top Performers Demonstrate Advantages in Adaptability
Top Performers Adhere to more Formal Change Processes
Best Practices followed by the Top Performers
Top Performers Demonstrate better Operational Capabilities
Top Performer Software Capabilities
Top Performer Software Enablers
Conclusion
Recommendations
About the Author
About the Research
Executive Overview
Manufacturers must adapt quickly to compete in today's fast-moving, competitive, global markets. They must be agile to take advantage of opportunities and sidestep competitive threats. They have to be able to confidently implement quality, efficiency, and cost improvements resulting from Lean Manufacturing initiatives.
There are a multitude of business drivers that demand change in the factory, ranging from tactical "tweaks" to strategic, market-facing overhauls like introducing new products or product lines. Unfortunately, the old adage that "change is hard" is very true in the factory. Manufacturers face numerous challenges adapting to change. These difficulties result in significant, negative business impacts, including:
Project impacts including cost overruns, unplanned labor, and missed due dates
Outcome-related impacts including poor product quality and low productivity
Changing the factory is complex and brings a lot of risk and uncertainty, but it is essential for survival. Change is simultaneously a harsh reality to deal with and the source of adaptability to differentiate and compete. It's important for manufacturers to make change management a core competency to avoid disruption while adapting to achieve intended benefits.
To determine best practices to manage change, Tech-Clarity analyzed survey responses from over 250 manufacturers to understand how they approach change in the factory. The analysis separated respondents into two performance bands based on their ability to hit targets for five change-related metrics. The "Top Performers" were identified as those that are able to meet project budgets, deadlines, resulting production rates, resulting quality, and agility (measured as time to implement changes) better than their competitors. Then, researchers analyzed the processes, organizational structure, capabilities, and enabling software used in order to determine what the Top Performers do differently than "Others."
The research shows that Top Performers are able to implement change more predictably. They are better at hitting target budgets and due dates on their change initiatives, and are better at achieving the desired outcome of their change. Specifically they come 25% closer to hitting their target production volume. Although they are still subject to risk and uncertainty, the Top Performers are in better control of their change management process and can implement changes faster and more confidently. This is particularly true for larger changes, where "getting it right" up front is critical because brute force can't make up for poor planning.  How do they do this? Three themes emerged from reviewing their responses:
Top Performers are much better at understanding the full scope and impact of changes during the planning phase. To achieve this, they leverage processes and technologies that allow them to determine the impact of planned changes, simulate changes before they are implemented, and use some emerging capabilities including reality capture and electronically visualizing changes in the context of the existing factory
Top Performers communicate and collaborate more effectively, sharing processes and information across departments. They accomplish this through organizational approaches such as cross-functional teams and change control boards (CCB), processes to share status and information, and technologies that provide online collaboration and a central repository for manufacturing and project information including BIM, PLM, and project management
Top performers adhere to more formal processes, including formal change management processes, six sigma for change, and formal requirements and impact analysis