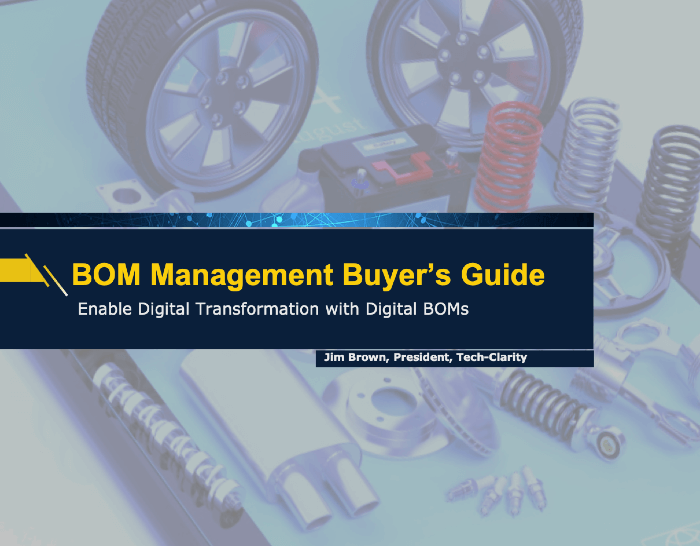 What is needed for manufacturers to improve the maturity of BOM-related processes to help to manage complexity, improve efficiency, prevent mistakes, and enhance collaboration across departments and the supply chain? Read our buyer's guide to find out.
Please enjoy the summary below. Click here for the full report, thank you to our sponsor PTC.
Table of Contents
Introducing the Buyer's Guide
Diagnosing BOM Management Issues
The BOM Management Status Quo
The BOM Management Business Case
Analyze BOM Management Solution Capabilities
Assess Service Requirements
Consider Vendor Requirements
Special Considerations
Prepare for the Digital Enterprise
Conclusion
Recommendations
About the Author
About the Research
Acknowledgments
Introducing the Buyer's Guide
BOM Fundamentals
Managing Bills of Material (BOMs) is a fundamental need for any manufacturer. Without effective control of product structures, companies struggle with inefficiency and errors. On the other hand, improving the maturity of BOM-related processes helps manage complexity, improve efficiency, prevent mistakes, and enhance collaboration across departments and the supply chain. Improving the maturity of BOM-related processes helps manage complexity, improve efficiency, prevent mistakes, and enhance collaboration across departments and the supply chain. The resulting benefits can be strategic, leading to increased agility and faster time to market that impact top-line financial performance. This Buyer's Guide is a reference tool for manufacturers selecting a system to improve the maturity of their BOM. It also shares that digital BOM management is critical to support digital transformation initiatives including the digital twin, the Internet of Things (IoT), Virtual Reality (VR), and Augmented Reality (AR).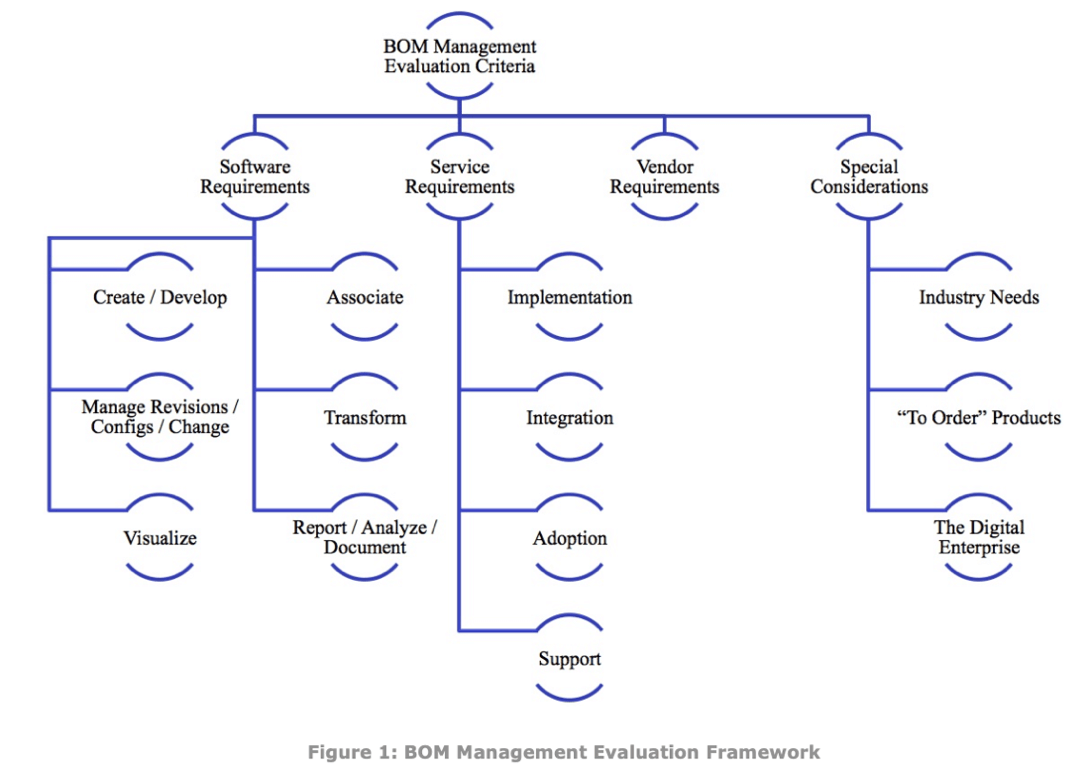 Diagnosing BOM Management Issues
Many companies operate with ineffective and immature BOM management processes without recognizing what it costs them in poor efficiency, excess cost, and lost time. Ineffective BOM management manifests itself in many ways including:
Errors in manufacturing
Poor first pass yield
Ordering the wrong parts
Delays due to part shortages
Inability to confidently adopt engineering changes
Slow time to full volume production
Late identification of manufacturability or serviceability flaws
Poor traceability
Compliance issues or excess effort to comply
Scrap and rework
Slow review and approval processes
These BOM-related challenges result in delayed time to market, quality problems, poor productivity, and excess cost. But all too frequently, companies suffer from costly issues without recognizing the root cause is poor BOM and configuration management.
The BOM Management Status Quo
Today, many companies manage BOMs through methods that aren't enterprise ready, including documents, spreadsheets, or embedding the BOM into CAD drawings. These approaches lead to negative consequences because there isn't a single place to find current, accurate BOM information.
Some companies try to provide downstream access to product structures in ad-hoc ways such as emailing spreadsheets. These informal methods inevitably lead to inaccurate data and multiple, conflicting versions. This leads people to make errors and bad decisions because they're working on the wrong data.
Because the data is developed in an Engineering-centric view, many departments will copy the data into their own spreadsheets or systems, compounding the problem.In addition, the information isn't easily refreshed as designs mature or engineering changes are made. This is part of the reason that our Reducing Non-Value Added Work in Engineering research shows that engineers work on outdated data 20% of the time, on average.
Analyzing BOM Management Solution Capabilities
Perhaps the most obvious place to start when evaluating new software solutions is functionality. For the purposes of this analysis, we've broken BOM management into six main focus areas:
Develop Product Structures
Manage Revisions, Configurations, Change
Visualize Products
Associate Information
Transform BOMs
Report / Analyze / Document

It's important to recognize that these requirements are in addition to the basic needs of managing product data, as most companies will extend their PDM or PLM environment to manage BOMs. These solutions provide platform capabilities such as access control and IP protection that serve as a critical foundation for effective BOM management.
Conclusion
BOM management helps manage complexity and streamlines operations. It provides an important, foundational element that serves as the backbone for all engineering, manufacturing, and service activity. An accessible, trusted source of product structure information is valuable and improves traceability and control. Effective BOM management provides enterprise-level benefits, improving business performance and alleviating disconnects across the business. Supporting BOM management at the enterprise level requires the right solution. It's important to evaluate key solution characteristics, but also to go beyond.
Recommendations
Based on industry experience and research on this report, Tech-Clarity offers the following recommendations:
Think big, but remain agile and take BOM management improvements in steps
Recognize the importance of accurate, complete, timely, and accessible product structures
Know your needs
Understand the value
Look for functionality, but extend requirements to vendor and service
Consider any special needs for your business, industry, or geography
Build the foundation for the digital enterprise, recognizing that BOM management is a key enabler
Get started
If you have difficulty obtaining a copy of the research, please contact us.