Tech-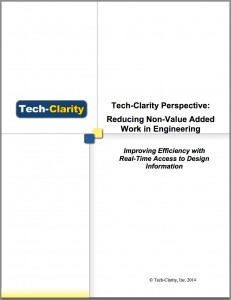 Clarity Perspective: Reducing Non-Value Added Work in Engineering – Improving Efficiency with Real-Time Access to Design Information shares survey results from nearly 250 manufacturers identifying areas that hurt engineering efficiency and distract from developing better products.  The study examines the practices of the "Top Performers," those that are more profitable, to determine best practices to streamline access to design information.  
Please enjoy the summary below, or click the report or title to download the full PDF (free of charge, no registration required, courtesy of Dassault Systemes).
For more information on accessing design data in real-time, please visit the Dassault Systemes Enovia Page.
Table of Contents
Executive Overview
Empower Engineers to Innovate
Identify Bottlenecks and Contributors to Non-Value Added Work
Recognize the Time Required for Check-ins
Understand the Impact of Outdated Information on Changes
Consider the Impact of Outdated Information on Collaboration
Identifying the Top Performers
What Sets Top Performers Apart?
Use Technology to Support Real-Time Communication
Consider the Security Risks of Email
Support Real-time CAD Updates
Conclusion
Recommendations
About the Author
About the Research
Executive Overview
To be successful in today's market, companies need to keep engineers focused on developing differentiated products that stand out from the competition. Engineers can create this differentiation by developing products that offer higher quality, better performance, and greater innovation at a reasonable price. Unfortunately, engineers report that rather than focusing on this important work, on average, they spend a third of their time on non-value added work. Even worse, 20% of their time is spent working with outdated information, which often leads to wasted effort and rework. Providing engineers with real time access to design data, in the right context, is one way to improve efficiency and streamline engineering decisions.
To determine best practices for accessing design information, Tech-Clarity analyzed survey responses from nearly 250 manufacturers to understand how they manage data, communicate engineering changes, and collaborate with both internal and external members of the development team. The analysis separated respondents into two performance bands based on their ability to hit targets for five product development-related metrics. The "Top Performers" were identified as those who are better than their competitors at quickly and efficiently designing high quality, innovative products that meet cost targets. Then, researchers analyzed what Top Performers are doing differently compared to  "Others."
This report explores best practices for streamlining access to real time design data. It also exposes some challenges manufacturers should be aware of as they strive to maintain a competitive edge in today's complex and cutthroat environment. With this information, manufacturers can plan for a design environment that will prepare them for long-term competitiveness.The research shows that compared to competitors, Top Performers are nearly 2-times more likely to maintain up-to-date models. The fact that they get real-time updates is supported by PDM/PLM.