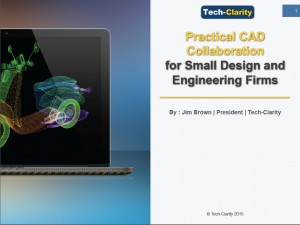 The CAD Collaboration for Small Design and Engineering Firms eBook explores the challenges of sharing CAD and related design data with customers and 3rd parties and how cloud-based CAD management solutions can help. The report furthers the discussion started in Tech-Clarity Insight – The Basics of Managing CAD  about whether a simpler, lower overhead, cloud-based data management solution can cover the basics without the cost and time required to implement more formal solutions. This eBook shares the experiences of small engineering firms including Mechanical Color, Paul Hammerstrom Design, and Zalaco, LLC. The research concludes that Cloud-based CAD collaboration tools can provide the best of both worlds for smaller firms – the basic CAD management features they need with the ease of use of personal file sharing tools like Box, Dropbox, Google Drive, SkyDrive, and others.
Please enjoy the summary below, or click the report to download a PDF overview (free of charge, no registration required).
For the full CAD Collaboration ebook, please visit our sponsor GrabCAD (free, registration required).