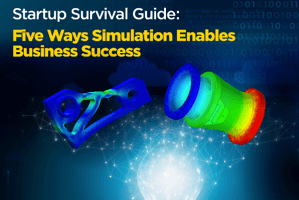 How can startup companies improve their chances of success?
Our Startup Survival Guide reveals both how and why simulation can provide startups an edge to launch a successful product. As part of a cloud platform, simulation can also be more accessible to startups.
Please enjoy the summary* below. For the full research, please visit our sponsor Dassault Systèmes (registration required).
For more information on simulation, see our related research How to Survive and Win New Markets By Getting Even More Value from Simulation and How to Engineer High-Performing, Quality Products without Extra Cost.
Executive Summary
Endless Possibilities
Recessions and the years following them often mark the birth of new businesses, making this a very exciting time for entrepreneurs. With expanded options for funding and opportunities for new technologies to enable innovation, there are endless possibilities for startups. As a result, we are now seeing more successful new companies than ever before.
Unfortunately, for every success story, there are even more startups that do not make it. It is hard to start a new business from scratch as funding is limited, and competing with more established companies that have more resources can be challenging.
The good news is that for many, modern software tools are closing the resource gap. New software solutions, supported by a modern infrastructure, allow even the smallest businesses access to resources that previously were available only to large companies with deep pockets.
Cloud-Based Simulation
A cloud-based simulation software platform is one such tool. Simulation software allows you to evaluate more options in less time, optimize the design, and catch problems early in the design process. In addition, startups can avoid significant upfront investments in software and hardware by using a cloud-based solution. Plus, companies do not need to worry about investing precious resources in an IT department to implement and maintain it.
This Report
This report discusses the most common reasons startups fail and explains how a cloud-based simulation platform can help. By taking advantage of the technology, it can allow you to:
Access more funding
Improve profitability
Get the product right
Validate market needs
Leverage the right talent
This powerful combination can help you add your company's name to the growing list of successful startups.
Typically, it is not a single problem that leads to failure, but the ability to simultaneously address all of this will go a long way toward improving your chance of success. A cloud-based simulation solution can help you tackle the multifaceted challenges of starting a new business to profitably bring your ideas to reality.

Table of Contents
The Opportunities for Startups
1. Access More Funding
2. Improve Profitability
3. Get the Product Right
4. Validate Market Needs
5. Leverage the Right Talent
Recommendations
Acknowledgments
Recommendations
Recommendations and Next Steps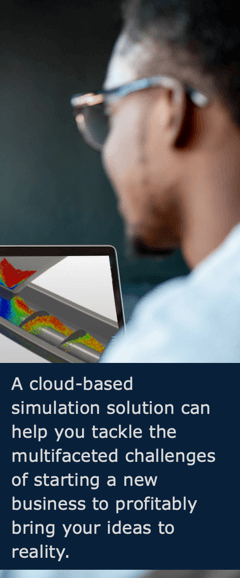 Based on industry experience and research for this report, Tech-Clarity offers the following recommendations:
Use simulation to demonstrate progress to investors to help justify additional funding.
Leverage a cloud platform to preserve capital by avoiding high upfront costs for software licenses and investments in high-end hardware.
Optimize your product for quality and cost to maximize profitability and allow you to price your product competitively.
Support rapid iterations with simulation to develop a more innovative, competitive product.
Take advantage of simulation in the cloud to validate your product early and often with potential customers to verify it will meet market needs.
Tap into additional expertise as needed with a simulation cloud platform that will provide flexibility to easily collaborate with third parties.
*This summary is an abbreviated version of the research and does not contain the full content. For the full research, please visit our sponsor Dassault Systèmes (registration required).
If you have difficulty obtaining a copy of the report, please contact us.