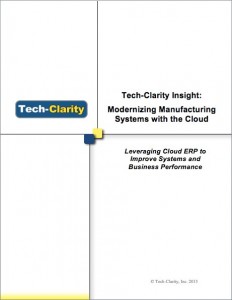 Tech-Clarity Insight: Modernizing Manufacturing Systems with the Cloud – Leveraging Cloud ERP to Improve Systems and Business Performance shares insights from three manufacturers and Tech-Clarity's research into cloud enterprise systems to assess the cloud opportunity for ERP. The report discusses how the cloud ERP business model helps overcome financial and IT resource contraints that keep manufacturers in the Old ERP Trap.
Please enjoy the summary below, or click the report or title to download the full PDF (free of charge, no registration required).
Table of Contents
 Executive Overview
Understanding the Old ERP Trap
Living with the Implications of the Old ERP Trap
Cloud Overcomes the Financial Obstacles to Better Systems
Cloud Breaks the IT Resource Barriers
Cloud Keeps you Out of the Old ERP Trap
Understand Myths and Realities of Cloud
Take Advantage of Better Information and Decision-Making
Conclusion
Recommendations
About the Author
Executive Overview
Tech-Clarity recently evaluated the benefits, requirements, and considerations of cloud-based enterprise software for manufacturers. Two recent reports, Assessing the Cloud PLM Opportunity and Integrating Cloud PLM, discussed the potential value of transitioning to cloud solutions. They also addressed a number of important factors manufacturers should examine before making the transition. This report extends those findings to help manufacturers determine if cloud ERP can help solve a far-too-common problem, companies stuck running insufficient, outdated manufacturing systems.
Manufacturing appears to be on the verge of a rebirth and a period of opportunity not seen in our industry for many years. Unfortunately, most companies will not be able to take full advantage of this macroeconomic trend because they are stuck in one of two dead-end situations – the "Old ERP Trap" or the "No ERP Trap." In these scenarios companies are bound to either legacy ERP applications running on outdated infrastructure or a hodgepodge of homegrown and/or informal systems. There are multiple disadvantages to running these antiquated systems. The primary reason identified by this research was not technical in nature. Manufactures will simply not be able to take full advantage of the economic revival without improving their ability to rapidly identify opportunities and adapt their business.
Cloud ERP offers a potential new path to modernize manufacturing systems and helps companies overcome financial and resource barriers to change. But many manufacturers are concerned about the potential pitfalls of cloud-based solutions. Most of the concerns, as the previous reports discusses, are unfounded and easily mitigated. In fact, interviews for this report indicate that despite concerns, cloud ERP results in a better, lower risk implementation than most companies could support inhouse, offering web class performance and reliability. "People think they have better control and security with onsite software, but based on what I've seen that's not the case," observes Randy Copperman, VP Support Services for piezoelectric ceramics manufacturer Channeltech. "It's not our business to build big data centers and protect information, someone else will do that better than I ever will. That's the whole concept of outsourcing, that's what the cloud vendors do."
Clearly there are some important factors to keep in mind. Not all cloud vendors are created equal. It's important to evaluate the cloud ERP vendors' capabilities for backup, recovery, support, performance, reliability, and security. Industry certifications such as SSAE 16 Type 2 are a good place to start. Most companies will find that their concerns are quickly alleviated and that cloud providers offer a higher level of service than they could provide internally. Once the misunderstandings about "going to the cloud" are clarified, cloud ERP offers a new path to modernizing systems that is worth serious consideration.