The Exploring Cloud Options for Product Innovation and Development eBook shares our thoughts about the cloud software choices available for product innovation, product development, and engineering software including PLM, PDM, CAD, CAE, and more. The eBook details the different software models available and provides considerations for each. It also helps put the various options into context with a sample flowchart on the decision to identify the appropriate deployment platform for a cloud solution, including how to consider your existing vendors' solutions in the process.
Please enjoy the summary below, or click the report or title to download the full PDF (free of charge, no registration required thanks to our sponsor, Siemens PLM).
For more information on cloud computing please visit Siemens Offers Business-ready Cloud Solutions on the Siemens site.
Table of Contents
It's Time for a Cloud Strategy
Understanding the Options *
Comparing Your Options *
Assessing Company Readiness *
Sample Cloud Decision Tree *
Reviewing Vendor Cloud Maturity *
Special Cloud Opportunities for Product Innovation and Engineering *
Weighing the Options, Looking at Timing *
Next Steps
It's Time for a Cloud Strategy
The shift toward cloud computing is undeniable. An increasing number of companies are transitioning to cloud solutions in order to take advantage of significant advantages, including:
Cost reduction
Reduced IT resource needs
Scalability
Agility
Rapid deployment
Shifting capital investments to expenses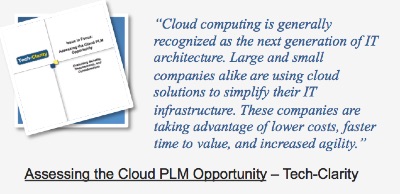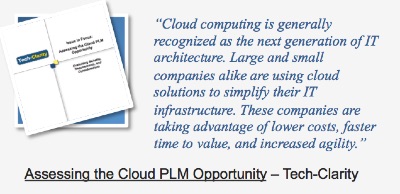 Software for product innovation, product development, and engineering – including PLM, CAD, and CAE – has evolved toward the cloud at a cautious pace. This market is closer to the beginning of the cloud transformation than some others such as CRM and ERP where cloud adoption is already more prevalent. But it's happening. Initial skepticism is fading away and companies are learning how to effectively manage cloud software.
The market is responding with the entry of new cloud offerings and incumbents evolving to the cloud. For manufacturers planning to implement or replace product-related software, it's time to develop a strategy that reflects the reality of today's market. The strategy needs to consider:
Cloud delivery models
Software capabilities and scope
Timing and transition
This eBook is intended to provide education and insight to help manufacturers develop a practical strategy to leverage the cloud appropriately while supporting their product development processes.
Next Steps
The time is right to take advantage of the cloud, but it's not a trivial decision or transition for product innovation, product development, and engineering software. The reality of the market maturity requires companies to develop a strategy that jointly considers vendor cloud maturity, company readiness, and the availability of needed capabilities.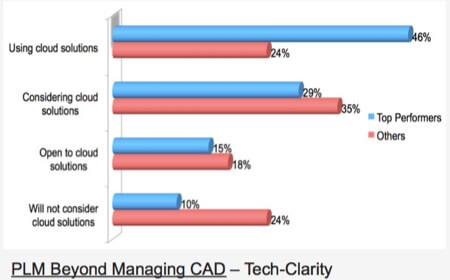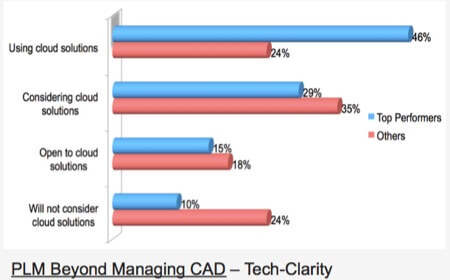 A considered cloud transition is important to reap the benefits without major disruption. Most companies are taking a very deliberate, methodical approach to leverage the cloud. For most, a staged program with a hybrid mix of solutions will be the most reasonable approach, as few companies can justify wholesale replacement of existing systems.
Fortunately, companies may not have to do it all on their own. They can adopt a pragmatic, staged approach that coordinates with their vendor's timeline. Many existing vendors have predefined relationships with cloud services companies and trained service providers. These partnerships can provide an IaaS or managed services approach that provides benefits without having to replace existing software. In addition, many vendors offer complementary solutions that provide unique opportunities only realistically available from the cloud. It's important to understand the potential of these solutions in your transformation strategy.
The transition to the cloud is underway. It's time for manufacturers to take a closer look and develop a practical strategy and timeline that works for their business.
*This summary is an abbreviated version of the report and does not contain the full content. A link to download the full report is available above thanks to Siemens PLM.