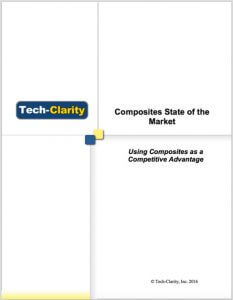 Tech-Clarity's research report, Composites State of the Market: Using Composites as a Competitive Advantage, examines survey findings on material trends and composites. Over 240 companies participated in the survey. The research finds that new materials are a significant source of product complexity. The research also finds that of new materials, composites in particular, will see a lot of growth. However, there are engineering knowledge gaps when using composites. The report highlights how Top Performing companies supplement their engineering knowledge so that they can successfully develop and produce composite parts.
Please enjoy the summary below or click the report to download a PDF overview (free of charge, no registration required).
For more research on composites, check out our new survey for A&D companies.
For the full report, please visit our sponsor Siemens PLM (free of charge, no registration required).
Executive Overview
Today's products are growing in complexity and new materials are a significant source of that complexity. Composites, in particular, are getting a lot of attention. In fact, the use of composites is growing and is expected to increase over the next 15 years. With this growth, the number of engineers working with composites should also increase by 15% over the next five years. Complicating this, even engineers currently working with composites rate their knowledge of composites as average. The combination of complexity, growth in composite use, and increase in the number of engineers using composites means companies will need better ways to supplement their engineering knowledge of composites.
Composites have been key for helping many companies differentiate their products by reducing weight, improving performance, and lowering the cost of ownership. However, with the expense of composite material, companies must find ways to make better decisions to optimize the amount of composite material used to achieve performance requirements, without over-engineering and maintaining profitability.
To understand best approaches, Tech-Clarity surveyed 244 companies to identify their goals for composites, best practices, and top selection criteria for technology. Further analysis identified how Top Performing companies address the top challenges of designing and producing composite parts. Top Performing companies are those who are more successful than their competitors. Compared to competitors, they are more efficient, faster, produce higher quality products, and do a better job meeting cost targets. When compared to peers, some of the things Top Performers do to achieve this success includes:
2.2 times more likely to optimize the part design to improve consistency during production
59% more likely to use tools that automatically link design and analysis data
2.5 times more likely to use tools that automatically update the composite definition as changes are implemented
This report examines the state of the market for composite design and production and provides guidance on best practices. These practices will help companies leverage the benefits of composites to improve the competitiveness of their products, while managing cost, quality, and efficiency.
Table of Contents
Executive Overview
Identify the Meaning of Complexity
Prepare for Growth in Composites
Realize Opportunities with Composites
Address Challenges
Identifying Top Performers
Understand Production Requirements
Support Design Decisions
Select the Right Technology
Conclusion
Recommendations
About the Research
About the Author