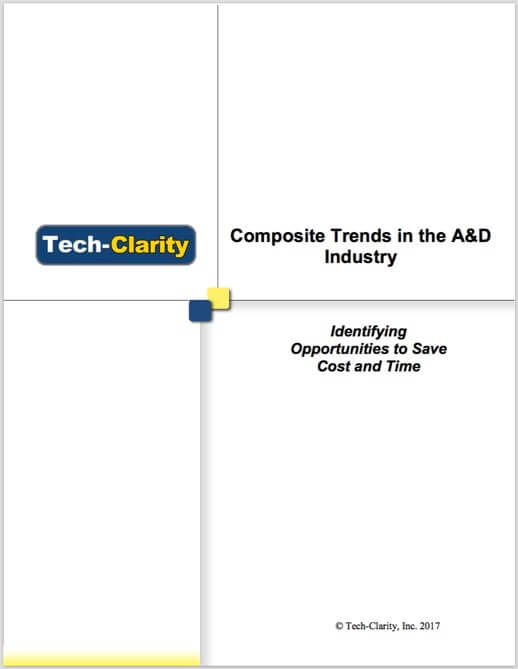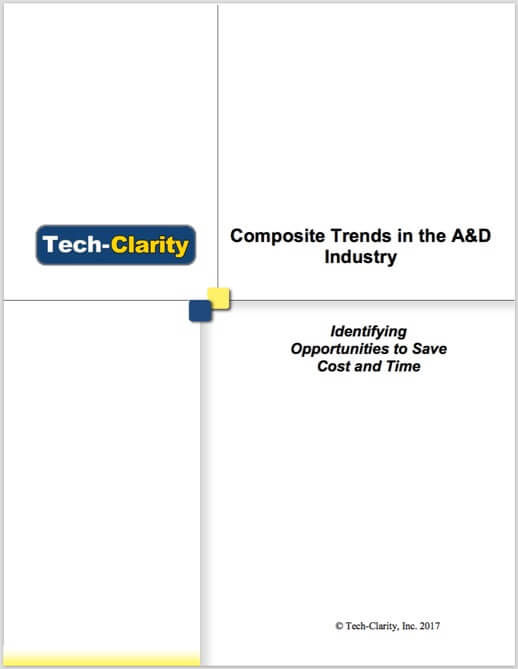 Composite Trends in the A&D Industry: Identifying Opportunities to Save Cost and Time reveals survey findings on design and manufacturing trends for composites in the Aerospace & Defense industry. The research examines two areas that can be a source for bottlenecks when working with composites: springback and manufacturing planning. The report details best practices to minimize or avoid distortions due to springback. It also looks at ways to streamline manufacturing planning while reducing errors and supporting changing.
Please enjoy the summary below, or click the report to download a PDF overview (free of charge, no registration required) thanks to our sponsor Siemens PLM.
Executive Overview
Composites have become increasingly important to the Aerospace and Defense (A&D) industry. In fact, Tech-Clarity's Composite State of the Market study, found that A&D companies overwhelmingly turn to composites to help with light weighting so that they can improve performance and realize better fuel economy. The study also found that while composites offer significant benefits, the expense of the material means companies should look at ways to get better insight. This way they can make better decisions during design to produce better composite parts. This is especially important to the A&D industry, which is under significant pressure to manage costs.
To further examine the use of composites in the A&D industry, Tech-Clarity surveyed 181 A&D manufacturers. The study examines two areas that can be a source for bottlenecks when working with composites: springback and manufacturing planning.
Springback can cause significant issues for A&D companies. Springback is a manufacturing defect that can occur while the composite part is curing. Due to shrinkage, the material can deviate from the original molded shape. When this happens, the part is out of tolerance. Depending on how severe the distortion is, manufacturers have to spend extra time correcting the part to get it within tolerance so that they can assemble it. In a worst case scenario, they may even have to scrap the part. This results in a lot of wasted time and excess cost.
The good news is that companies who have adopted best practices for composites are much less likely to experience springback. One of those best practices includes using design guidelines. Another best practice involves communicating ply level design information by providing direct access to the composite data in the engineering model.
Manufacturing planning is another important part of producing quality composite parts. With composites, it is especially crucial to produce parts exactly as designed. Even a slight deviation in fiber orientation significantly impacts part strength. By following manufacturing planning best practices you are more likely to produce composite parts as-designed. Best practices involve leveraging an accurate engineering model. In addition, manufacturers should look at ways to automate changes to avoid wasted time manually reworking manufacturing plans.
This report examines design and manufacturing trends in the use of composites in the A&D industry. It also offers advice to overcome common problems to help A&D companies lower cost
Table of Contents
Executive Overview
Understanding Springback
Corrective Actions for Springback
Identifying the Top Performers
Avoiding Springback
Planning for Manufacturing
Don't Overlook the Time Impact of Changes
Considering Programming Trends
Conclusion
Recommendations
About the Author
About the Research
Copyright Notice
Conclusion
Many A&D companies have turned to composites to help them improve performance and realize better fuel economy. However, the A&D industry is also under significant pressure to lower costs. Addressing manufacturing defects such as springback as well as better manufacturing planning can help A&D companies take advantage of the benefits of composites while improving design and production efficiency and lowering costs.
Springback can be a considerable source of excess cost and waste. Typically, springback causes parts to be out of tolerance so manufactures have to waste time correcting parts, or worse, scrapping them. By adopting best practices, such as using design guidelines, A&D manufacturers can avoid springback.
Adopting best practices for manufacturing planning is another area where A&D manufacturers can improve quality. It is crucial that composite parts are manufactured as designed to ensure performance. By adopting practices such as leveraging the engineering composite model for manufacturing planning and automating changes, A&D manufacturers will be better positioned to produce parts as designed without quality issues.
Recommendations
Based on industry experience and research for this report, Tech-Clarity offers the following recommendations:
To avoid springback, focus of identify potential occurrences during design
Take advantage of design guidelines to help avoid springback.
Consider solutions that offer embedded intelligence to provide guidance and support better decision to reduce the occurrence of springback.
Communicate ply level design data to manufacturing via the engineering model