A quick peek into some research on … the benefits and savings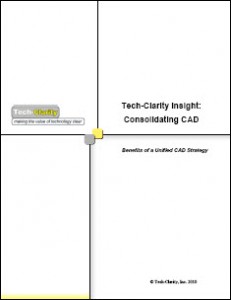 available from consolidating onto a common CAD package in your business. Tech-Clarity Insight: Consolidating CAD – Benefits of a Unified CAD Strategy explores the strategic and operational benefits of leveraging a single package. As the research concludes, "… not all businesses have the opportunity to unify their CAD solutions … but there are multiple advantages for those that can."
The Research Findings
The paper addresses benefits including enabling strategic initiatives and simple cost reduction. Strategically, a single tool can help support business strategies like a "design anywhere – build anywhere" approach. The report also explain how utilizing a single tool can help promote design reuse and simplify collaboration. Of course the biggest benefit may come from the ability to enable a more strategic, integrated PLM environment. These solutions typically involve a suite of pre-integrated solutions that are tailor-made for each other.
The report also details the very tangible reductions in total cost of ownership for the CAD solution. By evaluating a multitude of cost drivers, the report suggests a framework and a sample set of calculations to quantify the cost savings available from consolidation. Some of the cost drivers are obvious, while others may be more subtle. For example:
Removal of redundant CAD licenses (ok, no surprise yet)
Reduce cost of upgrading software tools (maybe less obvious?)
Eliminate need to develop training for redundant solution (maybe you wouldn't have thought of this?)
See the report for a more complete listing and an educated (and conservative) example of the cost savings available. While the strategic benefits are compelling, many companies today may consider this strategy simply to achieve leaner IT overhead for their engineering software.
Implications for Manufacturers
What does this mean for manufacturers? I discussed that question with Paul Hoch, Team Leader of Product Engineering Services for lighting solutions manufacturer Zumtobel AG. He echoed a number of the benefits in the report, including cost savings and explaining that they "don't get the full benefit from <their> 3D CAD models" without PLM. But the most strategic benefit Paul discussed was corporate flexibility, which is critical as companies try to survive in difficult, global markets.
"Our common tool is the basic infrastructure that allows us to make quick decisions on product and plant locations, it provides management with the flexibility and agility they need."
I am not sure I can add anything more to the power of that statement, other than to suggest again that many companies may pursue consolidation for much more tactical reasons.
So that was a quick peek into some recent research on consolidating CAD, I hope you found it interesting. Does the research reflect your experiences? Do you see it differently? Let us know what it looks like from your perspective.
Please feel free to review more free research and white papers about PLM and other enterprise software for manufacturers from Tech-Clarity.