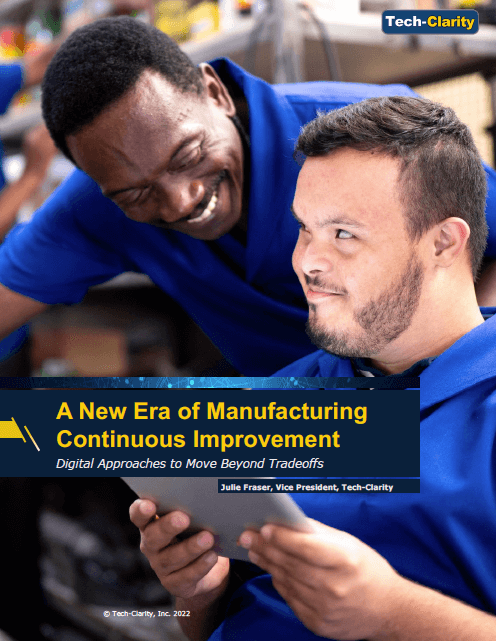 Has the time come to do continuous improvement (CI) on the approach to CI? We think so.  There is a new era in manufacturing, so it's time for a new era in continuous improvement programs. We interviewed manufacturers, consultants, and associations to validate the notion we explain in this white paper. 
Please enjoy the summary* below. For the full research please visit our sponsor, PTC (registration required).
For related research, read Getting Beyond Percentages to Insights with OEE to learn how to accelerate improvements with your equipment.
Table of Contents
Executive Overview

New Era in Manufacturing
The Problem-Solving Story
Five New-Era CI Needs
New Era in Manufacturing
Expected and Engaging
Distributed and Elevated
Diverse Yet Harmonized
Learning-focused and Digital
Enabling CI Sequels
Recommendations
References
About the Author
Executive Overview
There's a new Era in Manufacturing; it is time for a new era of continuous improvement (CI). This is a time of digital approaches delivering an array of new capabilities and insights that can move the business beyond unpleasant trade-offs.
In this new era, CI gets enterprise-wide standardization and support and keeps the enthusiasm of local teams and employees. It delivers both local breakthroughs and views that support executives in understanding progress and prioritizing resources for the following CI projects in ways that make sense to everyone.
Appropriate digitalization enables CI teams to get reliable access to all of the data they need from a wide variety of sources. Beyond that, it supports them in gaining rich insights from the data with far less effort than ever before.
Goals and results are translated into a shared, visceral unit of improvement that matters to shop floor operators, supervisors, managers, and executives: time. By feeding shared understanding, this digitally-supported CI is more likely to keep generating enthusiasm and benefits even as the business shifts and changes.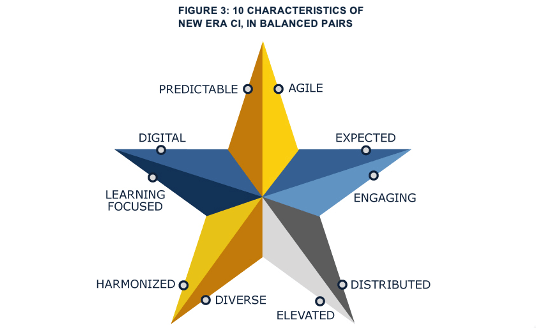 Recommendations
Based on industry experience and research for this report, Tech-Clarity offers the following recommendations:
Assess and understand how well your CI program matches your current and future needs for competitiveness and responsiveness to the unexpected

Continue to train on CI best practices from organizations such as AME

Make CI systematic, and begin to ingrain good practices in the culture and processes

Engage everyone: top executives through all levels of management to associates

Leverage industry resources such as MESA's Analytics Guidebook to develop a strategy that harmonizes business and operational metrics

Go beyond financial to time metrics to harmonize and prioritize projects

Explore modern software explicitly designed to support performance improvement and measurement in manufacturing

Use digital means to support your CI process and your organization's ongoing success
This summary is an abbreviated version of the research and does not contain the full content. For the full research, please visit our sponsor PTC (registration required).
If you have difficulty obtaining a copy of the report, please contact us.