I had the chance to talk with … Dassault Systemes recently about acquiring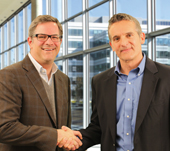 process PLM vendor Enginuity PLM, see the announcement here. As soon as I saw my friend Dr. John Sottery's name on the webcast along with Enovia CEO Mich Tellier, I had a pretty good guess about what they were going to tell me. DS made an investment in taking their PLM solution for recipe-based industries like CPG, food & beverage, personal care and pharmaceutical to the next level. This move combines strength on strength, because Enovia and Enginuity PLM serve very different roles in the R&D and product development process.
What did they do Before the Acquisition?
CPG, recipes, and formulas are not new to Dassault Systemes. DS acquired MatrixOne in 2006, and the MatrixOne platform is now the architecture behind Enovia V6. MatrixOne enjoyed some significant success in the CPG industry, and include specification management capabilities that are running in a number of CPG companies, most notably P&G. As an interesting note, P&G is also an Enginuity customer so they have already been running both solutions. DS was already competitive in the CPG industry, and frankly didn't have much to offer in the way of formulation or recipe design. This acquisition changes that.
Now what do they Offer?
When a big company like Dassault Systems buys a smaller company like Enginuity, there is typically instant synergy. That is true in this case because:
Enginuity provides deep domain expertise to DS.
DS provides scale and market access that Enginuity could not achieve.
That is a typical scenario that happens when a suite provider like DS buys a specialist like Enginuity. But the synergy here is even more pronounced because:
Enovia brings specification management, collaboration, and other PLM capabilities.
Enginuity brings R&D tools to the chemists, and was built to fit into a broader PLM environment.
As a bonus, other DS brands have a lot to offer to the CPG industry as well. This includes 3DVIA with their shopper solutions and CATIA and SolidWorks for packaging design. I believe this provides a pretty unique and compelling offer.
So Where Does Enginuity Fit in DS?
One of the interesting implications of the acquisition is considering what type of solution Enginuity really is. DS is adding Enginuity to the Enovia brand, which makes sense. I know Enginuity has been labeled a PLM system. But I have known Enginuity for years, and I will be the first to tell you that I believe Enginuity is much stronger as a design tool than a PLM system. In fact, I would go so far as to say it is more like "CATIA for chemists." But that is good news, because Enovia already has the PLM capabilities and Enginuity fills the design gap. Not to mention that Enginuity adds compliance capabilities to help formulators develop products that not only match product performance specifications but also meet regulatory needs as well. Read more about how compliance puts a "hidden tax" on innovation in the process industries here, in fact I interviewed a number of Enginuity customers for this research.
Why is it important to look at Enginuity as a design tool? Partially because it makes it clear that it is a complementary solution, but more importantly because it opens up the possibility that they will build even more advanced tools for formulators . Enginuity already handles more complex design functions than any other formulation system I have seen. On the phone, Dr. Sottery mentioned simulation and predictive modeling as well. Those kinds of sophisticated design tools are more like a specialty design solution in CATIA than what PLM can already offer (collaboration, change management, IP protection, etc.). With the resources of DS, Enginuity has the opportunity to explore those potential capabilities more deeply.
The key that makes this acquisition a good move is that the Enginuity solution is built based on strong formulation knowledge, and helps chemists develop the recipe in the first place. That is the part that has been missing from the major PLM systems. PLM can manage the specs well enough, but provided little value to the innovators at the bench level. Enginuity changes that. So I agree with DS for including the offering in Enovia, but for clarification I think that it is much more of a design tool that now fits in well with the existing specification management / PLM capabilities already in Enovia (again, from MatrixOne). To me, this adds to the synergy that DS and Enginuity gain from being a part of the same business.
Implications for Manufacturers
Some of you may know I spent quite a bit of time working with software for the formula-based industries, so this is an area that is near and dear to my heart. I have long been a proponent that recipe-based manufacturing (processing, dare I say) requires different solutions than discrete PLM offers. This move by DS opens up the opportunity for those that produce from a recipe or formula to arm their chemists and formulators with tools they need to innovate along with the PLM solution to support the enterprise in bringing the product to market. This is what we had the vision for ten years ago when I was with Sequencia (sold a decade ago), and I am happy to see that the solution is available from a major PLM brand.
So that's what I hear from Dassault Systemes and Enginuity, I hope you found it useful. What do you think? What else should I have asked them?