Smart products are the new norm. How can manufacturers differentiate and grow profitability as even their smart products become commodities?
Our survey of over 150 companies shows that manufacturers are targeting much larger goals as they mature their smart product strategies beyond their products by adopting smart, connected, digital business models.
Please enjoy the summary* below. For the full research, please visit our sponsor PTC.
You can also register for a webcast sharing the results.
Table of Contents
The Smart Product Imperative
The Continuing Smart Product Revolution
What's Driving Smart Products?
Beyond Smart Equipment to Digital Business Models
Multi-faceted Business Benefits
Smart Products Improve Profitability
Business Challenges
Technical Issues
How Can Companies Improve Performance?
What Do Top Performers Do Differently?
Top Performers Have More Integrated Systems
Conclusions
About the Research
Acknowledgments
The Smart Product Imperative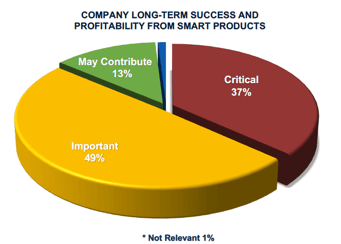 Smart Products are Mandatory
Our research on smart products has clearly shown the importance and expected growth of smart products. Since our earlier studies, our experience shows that companies have been aggressively transitioning to smarter products as predicted. At this time, survey respondents clearly indicate how critical the transformation has become. A full 86% of respondents indicate that smart products are important to support the long-term success and profitability of their company. Over one-third say they are critical.
Smart Product Requirements are Expanding
The move to smart products, however, is a journey. Not all companies with smart products have reached their full potential. Already in 2017, our research showed that over one-half of companies developing smart products feared losing market share unless they continually made products smarter2.
Are Smart Products Enough?
At this time researchers set out to investigate whether even making products "smarter" is enough to continually leverage smart products for profitability. There is a wide variety of maturity in how these products are used to drive value. We believe that smart products merely set the stage for even greater levels of business value unlocked by new, digital business models. Let's take a look.
How Can Companies Improve Performance?
Identifying the Top Performers
Researchers used our performance banding process to understand what companies that excel at profiting from smart products do differently. Respondents were asked to compare their performance as compared to their competition over the prior 24 months in a number of business metrics for smart products:
Revenue growth
Profit margin expansion
Service cost reduction
Customer retention
Researchers identified companies that performed the best across the combination of these metrics and labeled them the "Top Performers." Then, they categorized the lower-performing companies as "Others."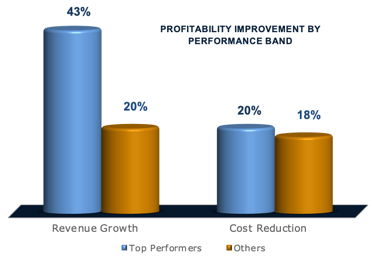 Quantifying the Advantage
Researchers quantified the reported performance advantages by comparing the profitability improvements of the Top Performers as compared to the Others.
They found that Top Performers have, on average, increased revenue by 43%. That's twice as much as Others. They have also decreased cost by about 11% more than Others. Clearly, these companies are doing something differently.
Identifying Best Practices
Researchers examined the practices, capabilities, and technology of the Top Performers in order to understand what they do differently. They found important differences in the capabilities and technology that reflect higher maturity related to smart products. Then, they used this information to make recommendations to Others to improve their own performance.
Conclusions
Smart Products are Mandatory
Smart products are important or critical to the long-term profitability of most manufacturers. The vast majority of companies surveyed have transitioned to smart products and about one-half of their equipment, devices, and machines are smart.
The Benefits are Compelling
The transition to smart products provides significant business benefits, including double-digit revenue increase and cost reduction. The leaders, the Top Performers, are gaining even more significant gains from smart equipment, including on average:
43% revenue growth
20% cost reduction
Challenges Persist
The benefits are available, but challenges remain. Manufacturers face both business and technical challenges, but business challenges are considered the biggest inhibitor to profitability and must be addressed.
The Leaders Continue to Raise the Bar
Top Performers, those that outperform their competitors in profiting from smart products, have better practices including the basics of smart product connectivity and remote monitoring. They support this with more enterprise software solutions and more integrated systems powered by integration platforms. These leaders have increased their maturity, going beyond smart products and adopting digitally connected products with associated digital business models. We expect that those companies that don't evolve beyond smart equipment, devices, and machines to also incorporate digitally transformed business models will be at risk of commoditization and reduced long-term business sustainability.
*This summary is an abbreviated version of the ebook and does not contain the full content. For the full research, please visit our sponsor PTC.
If you have difficulty obtaining a copy of the research, please contact us.