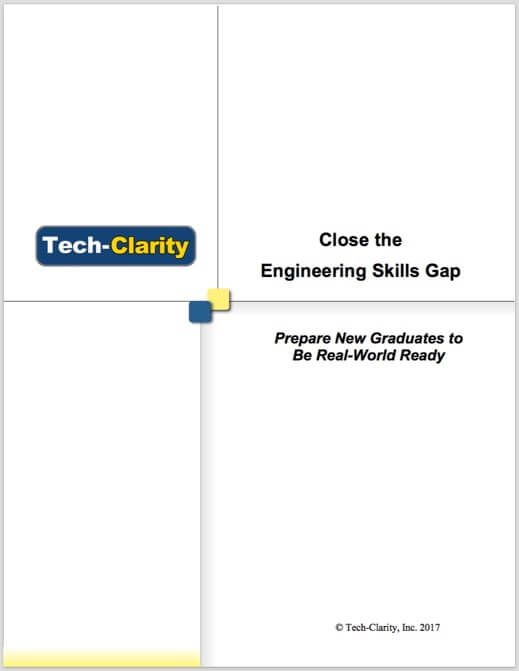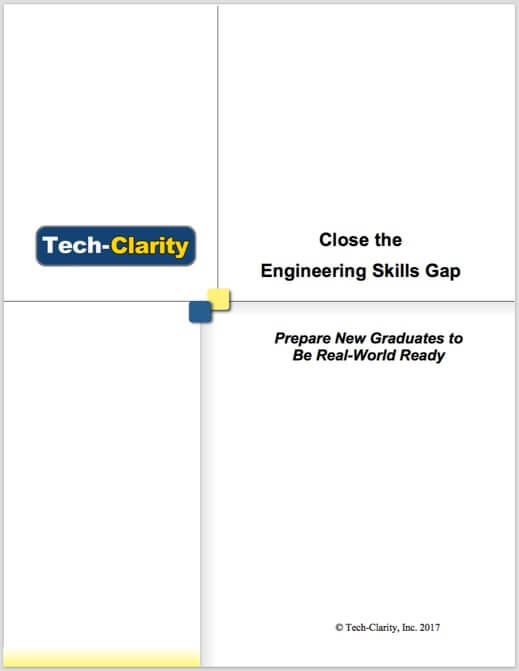 Close the Engineering Skills Gap:Prepare New Graduates to Be Real-World Ready shares new research on the gap between the skills graduating engineers have and skills companies would like to see. The research examines the evolving needs of the engineering department. The results reveal that engineering departments expect to grow so we will need more engineers. On top of that, the required skills will also expand. Complicating the situation, as the most experienced engineers approach retirement age, companies must figure out how to replace that knowledge. This makes the skills of new engineers especially critical. The study identifies these needed skills. It also reveals the types of program that give new graduates the experience hiring managers want to see.
Please enjoy the summary below, or click the report to download a PDF overview (free of charge, no registration required) thanks to our sponsor Siemens PLM.
For more information, please visit the Siemens PLM Community blog to read Engineering our way out of the skills gap.
Executive Overview
As globalization trends make it that much harder to stand out in today's competitive environment, companies must rely even more on innovation to engineer winning products that will stand out, capture market share, and secure future revenue streams. Unfortunately, shortages in engineering talent with the right skills make this a challenge. A majority of companies (69%) project their engineering department will need to grow over the next five to ten years. Complicating this further, many of the engineers in the largest segment of the engineering workforce, those with over 20 years of experience, will approach retirement soon. As they leave the workforce, it will put even more pressure on hiring strategies to recruit new engineers.
Tech-Clarity research finds that an overwhelming 80% of companies indicate that hiring the right engineers will be either highly or very critical to the future success of their business. Underscoring why it is so critical, 98% of companies report there will be a negative business impact if they can not find and hire the right engineers. These impacts range from loss of competitiveness, poor innovation, higher costs, to lost revenue. Unfortunately, the top challenge of managing the engineering workforce is finding engineering staff with the right skills. Part of the problem is due to the gap between the skills new engineering graduates have and what industry needs. This situation creates a sense of urgency to improve how engineers are prepared during their schooling so that we can close the skills gap.
To identify these gaps, Tech-Clarity conducted a global survey of 201 companies. Respondents represented companies of different sizes, across a wide variety of industries, and multiple geographic regions.
The results show that manufacturers have a clear preference for how to prepare engineering students for the real-world. They favor students with in-depth project experience involving multiple roles, complete lifecycle stages, and simulate a corporate environment. Schools that incorporate this type of experience into their engineering curriculum will have an advantage as there should be more demand for their graduates in the workforce.
Industry would like to see new graduates better prepared to use several skills. Engineering software is very prevalent on this list. This is largely because most companies (75%) want students to be able to apply the technology to solve problems, not just know the "picks and clicks" of the software.
The research also finds that industry needs to be more involved in academia to close the skills gap. Interestingly, companies report they are not as engaged as they expect others to be. To close the skills gap, engineering companies should at least double their current involvement with academia.
This report identifies the top skills that create the engineering skills gap. The report further explores the types of academic programs and experiences that provide students with the right skills they need to be successful in industry.
Table of Contents
Executive Overview
State of the Engineering Department
Impact of the Engineering Shortage
Identifying the Top Performers
Look for the Right Engineering Skills
Consider Programs that Offer Real World Experience
Develop a Good Hiring Strategy
Get Involved in the Engineering Curriculum
Conclusion
Recommendations
About the Author
About the Research
Copyright Notice
Recommendations
Based on industry experience and research for this report, Tech-Clarity offers the following recommendations:
Invest in your engineering staff to support growth and ensure you can recover from the loss of experienced staff to retirement
Ensure you have the right mix of engineering talent to support the development of products that involve multiple engineering disciplines
Hire from engineering programs that go beyond just learning theory and software menu picks, but provide opportunities to apply technology to solve problems
Work with engineering schools to help them develop the curriculum that will develop the skills you would like to see in new hires
Look at programs that offer students the opportunities to work on team-based projects, similar to the type of work they will do when employed
Get involved in engineering programs to ensure enough industry exposure during schooling and develop an exceptional pool of talent to hire from