Where do Enovia and PLM fit in Dassault Systèmes' 3DExperience strategy? As I posted in Dassault Systèmes PLM Vision 2014+, DS is "moving beyond the core of PLM." Many of their existing manufacturing customers, particularly in Engineering, may not find a reason to care. Some might even be concerned that DS has lost focus on their roots. So what does their new, broader strategy mean to product innovation, product development, and engineering professionals using Enovia as the DS portfolio expands? I visited DS in Waltham to find out.
Let's be clear, Dassault Systèmes has big plans and is looking for growth outside of their core manufacturing customer base. They aim to serve Financial Services and other industries that may not have a CAD seat in the house. But they are also deepening their focus on R&D as I reported about DS extending into the scientific lifecycle by acquiring Accelrys. So should you be concerned if you are an Engineering manager looking to meet tight deadlines across a global team? As I said in my strategy post, if anybody is concerned that Enovia has lost their focus on manufacturing they should rest assured that the Enovia team is still hard at work solving the challenges global manufacturers face in their product lifecycles. There is a lot more to the Dassault Systemes' story these days than PDM, cPDM, or even core just PLM. But the core PLM business is moving forward to help customers fulfill the promise of (what I still call) PLM.
As they say, though, "the proof is in the pudding." I, for one, don't really know the origin of the phrase so let's go with "actions speak louder than words." I had the chance to spend time this month with the Enovia braintrust along with a number of my analyst colleagues. We had an open discussion and asked lots of questions. My takeaway is that not only is DS still focused on PLM, they are determined to be the leader at solving the critical PLM problems manufacturers still face today. There is still a lot of work to do in PLM, a lot of problems to be solved, and a lot of value to be created. Andy Kalambi reminded us of a great Tesla story at the 3DExperience Forum to set the stage on how DS delivers "social business experiences," and then we dove into PLM. He identified a series of challenges that PLM has not yet fully solved, and that he feels are key drivers to manufacturing success.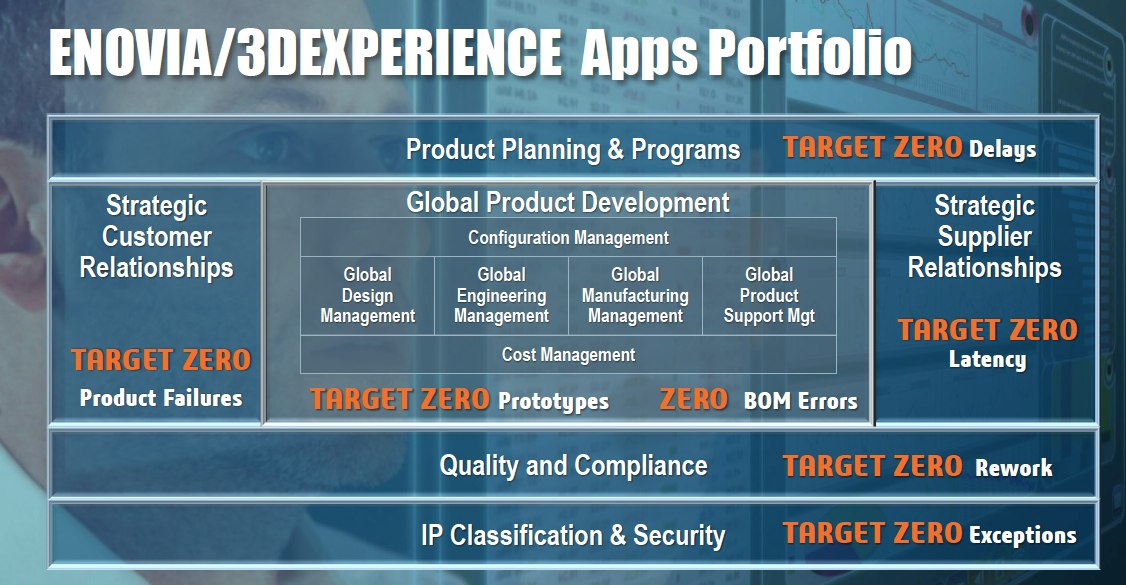 DS is using the 3DExperience Platform to develop an integrated design and product development suite. The platform leverages the acquired MatrixOne technology and serves as the backbone across DS applications. Andy said what he would like Enovia to deliver to customers is "the power of zero." He explained that means zero prototypes, product failures (commercial failure), delays, BOM Errors, exceptions, rework, and latency. To some that may sound tactical. To me, those are the key issues that stop manufacturers from growing as profitably as they can. The discussion tells me that the Enovia team is still focused on solving the challenges their customers need them to solve. How will they solve them? By continuing to invest in core PLM applications that support processes from early concepts through product delivery, in an integrated, modern technology. In particular, the Enovia team shared their capabilities to support variant assemblies / configuration where DS explains their database-oriented approach bypasses many of the challenges created by traditional file-based assembly structures. Further they shared their view toward "functional mockups" that include concepts and behavior early in design to get products (and product experiences) right up front. 
The other aspect that is a clear investment area for DS and Enovia is deepening their capabilities for vertical industries. They are spending time on solving specific industry problems by pulling together solutions that bring a collection of DS product capabilities into a cohesive, integrated workflow. This is how "Industry Experiences" become relevant to manufacturing companies.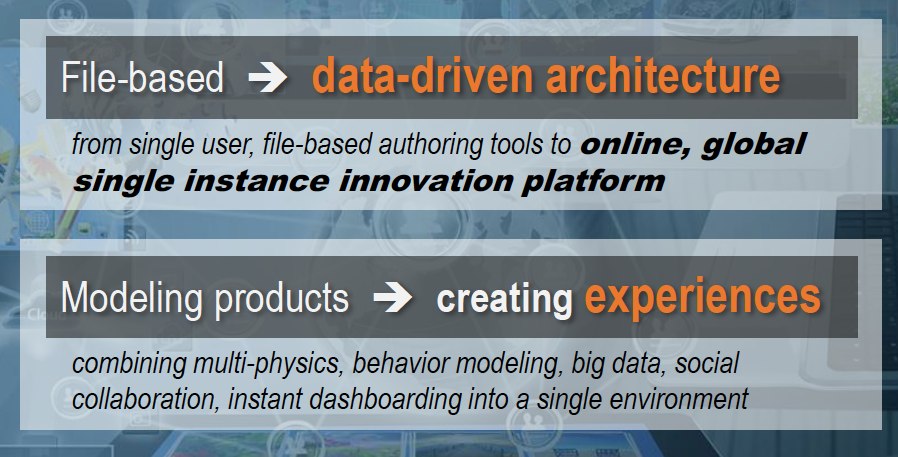 To me, the graphic above tells the Enovia story well because it shares the PLM mission of Enovia in context with its role in delivering the "3DExperience." The bottom line is that the Enovia team plays a key role in delivering on the 3DExperience message, but has not lost sight of the need to solve the problems most of their customers bought PLM to address. Both of these facts are good news for DS customers, as Enovia plays a critical role in support DS' strategy for the future but also continues to get investment to better solve the problems of today.