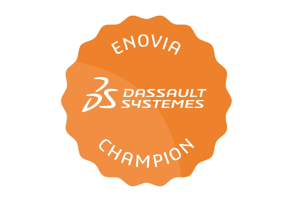 I had the pleasure of joining Dassault Systemes' special ENOVIA Champions Advisory Board Meeting at the end of 2021.  It was a unique learning opportunity because the Champions are a global community of people that use or support ENOVIA and the 3DEXPERIENCE platform at their companies. It was also nice to see some industry friends at the meeting.
I was impressed by the group's Program activities and participation.  The awards presented at the event reflect significant community engagement. The participants are active and not only have a great networking opportunity, they are empowered to learn, engage and influence the ENOVIA leadership team to help drive solution strategy to benefit their companies. Individuals who apply to the ENOVIA Champions Program represent a wide variety of Dassault Systemes customers across virtually every industry from across the globe.
I was also pleased to see the level of organization and support provided by Dassault Systemes. Its logistics support makes participation in the sessions and other related community activities relatively easy. The involvement by the Dassault Systems ENOVIA team, including executive participation by ENOVIA CEO Stéphane Declee and Program leadership by Susan Lenzi, demonstrates that Dassault Systemes' values interaction with its users. This program is a good example of a highly, mutually-beneficial vendor–customer relationship.
My Message to ENOVIA Champions
I shared two key things from our research:
The business imperative of digital transformation for manufacturers

How PLM supports digital transformation at the highest level while driving engineering efficiency gains
To see the post, including excerpts from our research, see the guest post on the Dassault Systemes site. Registration is required to see the full post.
In addition, the post shares an invitation from Dassault Systemes to download some of our research and an invitation to join the ENOVIA Champions Program.