A quick peek into some research on … the adoption of Enterprise 2.0 technologies. The report, The State of Enterprise Adoption Q4 2009, is an interesting read from the "2.0 Adoption Council." The analysis is brief, but the insights are strong and the authors promise more detail in the future. My first introduction to the research came from a blog post on ReadWrite Enterprise titled Enterprise 2.0: Study Shows Adoption is Real with a strong statement that "Manufacturing Has Surprising High Adoption."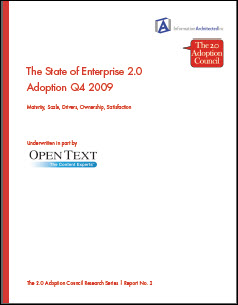 I would suggest reading the underlying research, because (as you will see below) I have a different interpretation of the results. But with my high level of interest in Social Computing in Product Development and PLM I do see some positive signs from the study. Thanks to Oleg for his Enterprise 2.0 Adoption and Social PLM post which pointed me to a blog (and then subsequently to the underlying research). I have a slightly different take on the implications of the findings, but that may be because research is frequently left open for some level of interpretation. Regardless, we both agree that things are moving in a positive direction in regards to PLM and social computing.
The Research Findings
As always, I encourage you to read the study. The report clearly shows that participants are adopting "Enterprise 2.0." The report itself does not provide a definition of Enterprise 2.0, but because the participants were pre-qualified I assume they have a good understanding. For the rest of us, here is a definition we can use that I took from Wikepedia:
Enterprise social software (also known as or regarded as a major component of Enterprise 2.0), comprises social software as used in "enterprise" (business/commercial) contexts. It includes social and networked modifications to corporate intranets and other classic software platforms used by large companies to organize their communication.
The report shows that the majority of survey participants still see Enterprise 2.0 in the stages of early adoption. But in their own companies, there are typically multiple projects going on. This to me indicates that there will clearly be leaders and laggards in the adoption of social computing techniques in the enterprise. This is where companies will be able to differentiate themselves and gain advantage over their competition.
Manufacturing is well represented in the survey respondents, but I wouldn't read too much into that. The industry chart just shows the participants in the research, and the fact that 15 companies out of 77 that took the survey describe themselves as "high tech" and 7 describe themselves as "manufacturing" doesn't really point to a larger trend that manufacturing is leading in social computing. What I do find interesting is the anecdotal comments in the report that "It is heartening to see that a drive to improve collaboration has taken hold in an industry (manufacturing) which is notoriously difficult to change rapidly" and "… our manufacturing members express the most frustration with introducing change." This clearly reflects the conversations I have been having with manufacturers.
Implications for Manufacturers
So what does this mean for manufacturers? As much as I would love to jump to the conclusion that social computing is booming, I interpret this differently. I see this as:
Manufacturers are very interested in social computing
The early adopters are hard at work figuring it out
Progress has been cautious (for the most part)
My beliefs on how manufacturers will adopt social computing in product development has not changed:
Most manufacturers will start with the low-hanging fruit of improving collaboration, and most will start internally
Manufacturers will be more likely to adopt social computing techniques when they are incorporated into applications they trust such as PLM, which will protect their intellectual property (IP)
There will be significant value gained by those manufacturers that adopt social computing to improve product innovation, product development, and engineering performance
This study offers some good validation that some thought-leading manufacturers are moving towards Enterprise 2.0. I wouldn't read too much into it in regards to a general trend, but there is clearly something going on that manufacturers need to learn about and start experimenting with.
So that was a quick peek into some recent research on the adoption of Enterprise 2.0, I hope you found it interesting. Does the research reflect your experiences? Do you see it differently? Let us know what it looks like from your perspective. Please feel free to review more free research and white papers from Tech-Clarity.