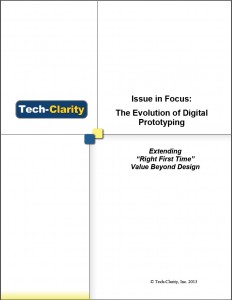 Issue in Focus – The Evolution of Digital Prototyping – Extending "Right First Time" Value Beyond Design explains that manufacturers must go beyond getting form, fit, and function right to compete in today's global markets. Digital prototyping offers tremendous business benefits by letting designers get innovative products right. But it also allows them to make intelligent tradeoffs to optimize products for sustainability, cost, weight, supply, and more. Digital Prototyping can add significant additional value by allowing companies to get products "right for market" and get manufacturing processes right early in design. The evolution and expansion of 3D design, simulation, and digital prototyping suites now makes these capabilities more accessible.
Please enjoy the summary below, or click the report or title to download the full PDF (free of charge, no registration required).
For more information on digital prototyping and how to improve product performance, visit our sponsor Autodesk's Manufacturing Genius Site.
Table of Contents
Introducing the Issue
Extended Digital Prototyping
The Business Value of Digital Prototyping
Move Beyond Form, Fit, and Function
Pursue Right to Market
Go Beyond Design for Manufacturability
Conclusion
Recommendations
About the Author
Executive Summary
Digital prototyping helps manufacturers get products right the first time by letting them define, design, develop, and validate products in a virtual environment before committing to time-consuming and expensive physical prototyping. The technique enables them to efficiently develop high performance, high quality products and optimize them for form, fit, and function. Formerly accessible only by those with deep pockets and highly trained simulation specialists, digital prototyping has become much more accessible in the last decade due to reduced solution cost and complexity. This ease of access has allowed many manufacturers to take advantage of the significant business value and competitive advantage available from leveraging digital prototyping.
The best product, however, is no longer enough to differentiate and compete in today's crowded, competitive, global markets. Manufacturers have to be agile to adapt to threats and take advantage of opportunities on a global scale. They must be able to shift production as business strategies dictate, for example moving manufacturing closer to consumers or raw materials or shifting production from developing countries as advantages fade due to changing economic and business conditions. They must be ready to take on new competitors as formerly "low cost" countries take a more direct role in innovating and bringing their own products to market. They must be able to respond to new competitors as they arise, potentially competing with new business models like 3D product models sold to be printed at home via 3D printing. In addition, they must find innovative ways to engage with customers to rise above the noise.
To compete in this environment manufacturers must holistically improve the way they design, develop, produce, and sell products. Status quo is a failing strategy. They have to enhance their ability to innovate and deliver products from concept to customers rapidly, efficiently, and with confidence. Digital prototyping has evolved to meet these needs and now offers manufacturers a significant opportunity to achieve benefits beyond getting product design right up front.