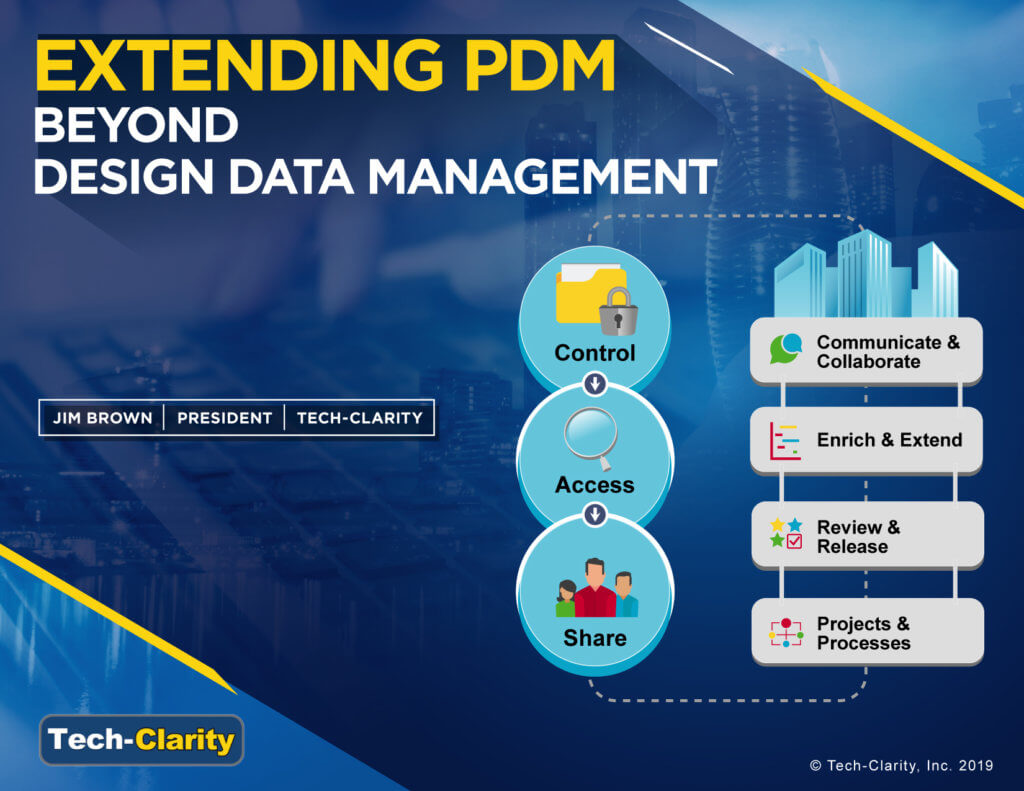 How do top performing companies better leverage Product Data Management to hit their product development targets? We surveyed over 165 manufacturers and gained some telling insights. Our research finds that the current state of design data management continues to yield too many problems, too much wasted time, and missed product development targets. Top Performing companies, on other hand, spend less non-value-added time on data management and are better able to hit their product development goals. How do these Top Performing manufacturers improve product development performance and spend less time managing data? Let's find out.
Please enjoy the summary below. For the full report, please visit our sponsor Autodesk (registration required).
Table of Contents
It's Time to Get More from Product Data Management
Design Data Management Challenges Persist
Data Management Challenges Hamper Performance
Challenges, Impacts will Increase with Complexity
Top Performers Beat NPD Targets, Waste Less Time
Top Performers Rely Less on Informal Technology
Top Performers Extend PDM
Weighing the Cloud PDM Option to Improve ROI
PDM Provides Extendable Value
About the Research
Acknowledgments
Design Data Management Problems Persist
Back to the Basics: Finding Files
For those that work with CAD files every day it's probably no surprise to see "finding the right information" and "wasted time searching for data" are challenges reported by almost one-half of respondents. Many companies struggle with the basics of PDM; controlling, accessing, and sharing product data.
The top data management challenges, however, go beyond managing files. They include change management and managing configurations and BOMs. These processes require more than controlling files, they demand the ability to put the data into a product context. This involves managing the complex relationships between parts and assemblies to accurately manage and communicate product details.
NPD Extends Challenges
Beyond core data management challenges, companies struggle when supporting new product development (NPD). NPD crosses both departmental and company boundaries, raising the stakes on data management. Not surprisingly, the top challenges stem from collaborating with others across the business and the supply chain, and managing designs along with their associated NPD projects. Challenges also include extending designs to incorporate manufacturing information and supporting cross-departmental processes.
Data Management Challenges Hamper Performance
Challenges Have Significant Business Impacts
Design data management challenges cost businesses time and money. They also limit the amount of time engineers and designers can focus on innovation.
Too Much Wasted Time
The most common impact of data management challenges is "wasted time and effort." In fact, the survey shows that companies waste an average of 20.3% of their technical resources' time on nonproductive data management tasks. That's about one work day a week of non-value-added time. Some companies report even more waste.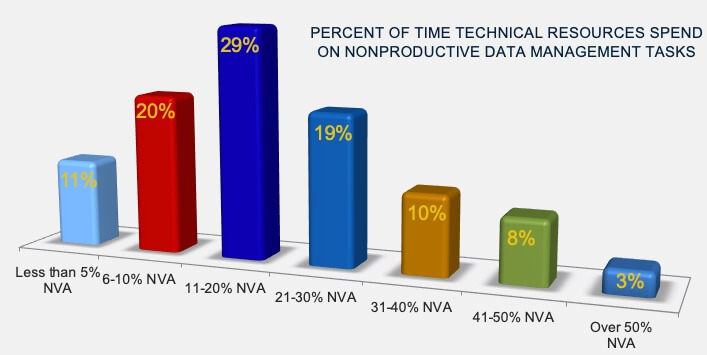 Companies Routinely Miss NPD Targets
The impacts of these challenges also include missed deadlines and budgets. About two-thirds of companies routinely miss design due dates, project/program budgets, and time to market goals by more than 5%. About one-third miss quality targets at that level. Manufacturers lose time and money because of inadequate data management.
PDM Provides Extendable Value
PDM Provides Tangible Business Benefits
PDM provides significant value by helping companies control, access, and share product data. PDM helps companies reduce non-value-added data management time and better hit their product development targets. It's important to note that the benefits are not only available to the select Top Performers, but to all.
PDM Provides a Platform for Future Value
PDM implementations – and value – can expand over time. Only about one-third of respondents implemented PDM in a single implementation. Over one-half implemented in multiple or phased projects, while a small number adopted a continuous improvement approach.
PDM value increases as companies extend usage. Companies can extends PDM in multiple directions to gain more value, including:
More people / roles
More departments
More locations
More processes
More product details
Each of these expansions can increase value.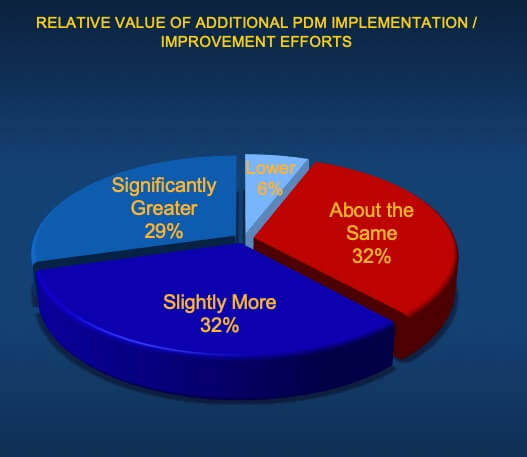 Get Started and Grow Value
PDM offers an opportunity for companies to get started and grow. Our research, "The Facts About Managing Product Data," details that it doesn't have to take a lot of time and money to implement PDM. Further, it shows that starting small doesn't seem to hamper performance, an almost identical percentage of Top Performers start with limited scope as do Others.
Based on these findings, we recommend that companies start small, gain value, and then extend PDM scope and benefits over time.
*This summary is an abbreviated version of the research and does not contain the full content. A link to download the full report is available above.
If you have difficulty obtaining a copy of the report, please contact us using the "Contact" link below.